Písať ódy na Colosseum, najlepšiu rockovú kapelu, ktorá fúzovala džez a pritom nešlo o fusion, by som dokázal od rána do večera. Počas svojej krátkej existencie v rokoch 1968-1971 vydala niekoľko nadčasových a dodnes neprekonaných albumov. Hrali v nej špičkoví hráči a to aj na pomery súčasnosti, kedy sa technika hry dostala, často vďaka štúdiovým vymoženostiam, za hranice ľudských možností. Keď v roku 1994 ohlásila reunion, logicky sa natískala myšlienka, že šlo len o ťažobný projekt zo zašlej slávy, 90. roky priali návratom ku koreňom. Lenže kapela tvrdohlavo pretrvala až do roka 2015 a dokonca vydala tri nové štúdiové albumy! Tomorrow's Blues je z nich prostredný.
Našťastie v tých rokoch existovala televízna stanica WDR, ktorá dávala po nociach všakovaké koncerty, záznam reunionového koncertu nevynímajúc. Vyšiel aj na DVD, ale podstatné je, že šlo o tak parádne zahranú klasiku, až som z toho "čumel". Keďže som v tom čase začínal hrať na bicie, bol som paf z toho, aké bubenícke eskapády tam Hiseman, jeden z najlepších bubeníkov všetkých čias, stváral a to bubenícke sólo! Štvrtého júna 1997 v poloprázdnej sále PKO v Bratislave som to potom videl naživo a bol to zážitok, o ktorý ma nepripraví ani Alzheimer!
Napriek tomu som sa o novodobé albumy nezaujímal, tvorba z prelomu 60. a 70. rokov je natoľko úžasná, že som si nechcel kaziť náladu, obzvlášť, keď ohlasy na webe neprekračovali zdvorilé frázy o zručne produkovanej muzike, ktorá, medzi riadkami, na pôvodnú tvorbu nemá. Potvrdilo sa mi to v roku 2014, kedy som si kúpil ich posledný album Time On Our Side, dielo, ktoré je nesmierne príjemné, ale porovnávanie naozaj nie je namieste a nebolo by ani fér. Lenže občas sa stane, že sa zjaví príležitosť (výpredaj) a človek si môže vybrať za pár šupov tituly, ktoré síce nemal vo vlhkých zberateľských snoch, avšak, keď sa dá…
Týmto spôsobom som si nedávno kúpil aj Tomorrow's Blues, album, z ktorého som počul iba titulnú skladbu (je prítomná na skvelej kompilácii Morituri Te Salutant). Desať prítomných skladieb je silno ukotvených v blues. Kapela netlačí na pílu, zvuk je čistý, tempá pozvoľné, vpredu žiari Dick Heckstall-Smith, fenomenálny hráč na dvoch saxofónoch naraz. Dnes už nie je medzi nami, jeho odkaz je však nesmrteľný. Úvodná titulná skladba Tomorrow's Blues núka (na blues) sviežu rytmiku a patrí k tomu naj, čo album núka. Album sa počúva sám, priaznivci blues sa určite nudiť nebudú, štipka džezu a dychy rozhodne neškodia. Iste, už to nie je o tom, aby páni v rokoch vypotili krv a ohurovali inštrumentálnymi výkonmi (ktoré sú stále vysoko nad priemerom súčasných rockových muzikantov), jednoducho nemusia nikomu nič dokazovať. Hrajú s ľahkosťou a prirodzene, tak, ako to dokážu len naozajstní majstri svojho remesla. Občas sa človek ocitne ospalý v nočnom bare (In The Heat Of The Night), inokedy cíti nepokojné napätie, ktoré v muzike milujem (Hard Times Rising). Nechýbajú ani melodické hardrockové kúsky typu Thief In The Night. Dalo by sa pokračovať, ale nechcem odradiť prípadného poslucháča siahodlhými opismi počutého. Radšej si urobte názor sami z priložených ukážok.
Pri počúvaní mi prišiel na rozum citát, ktorý sa čas od času objaví na nete a s vervou stokrát opakovanej lži túži stať sa pravdou. Ide o označenie "blues pre 21. storočie", ktoré jeho šíritelia spájajú s Captainom Beefheartom. Ako úderný slogan je to parádne motto, styk s realitou dopadá horšie, ktorú reklamnú kampaň to však odradilo? Reálne hral Beefheart blues naozaj parádne, jeho poňatie šlo skôr silno ku koreňom, než k budúcim pukom. Z 21. storočia už máme 18 rokov za sebou, bluesová scéna je košatá, ale nič nenasvedčuje tomu, že by jej dominovala muzika Dona Van Vlieta. Iste, nájdu sa jedinci ako Mayor McCA, ale to sú skôr výnimky potvrdzujúce pravidlo, než vizionári nasledovaní masami.
Trúfam si povedať, že sa v bluesovej muzike orientujem celkom slušne, trend pre súčasnosť nespočíva v kombinácii bluesových koreňov s avantgardou. Captain Beefheart tak ostáva jedinečným interpretom "toho svojho", kde si kraľuje, mimo trendov, štýlotvorných prúdov, skrátka, je anomáliou, ktoré sú tak potrebné pre pestrosť, sotva však ovplyvnia svetové dianie. To v blues ovplyvňujú zástupy zručných gitaristov (často zameniteľných), ide o dlhodobý trend a nezdá sa, že by sa na tom v dohľadnom čase niečo zmenilo. Táto úvaha nie je myslená konfrontačne, pri počúvaní albumu som si na to označenie mimovoľne spomenul, a tak som sa zamyslel, nakoľko zodpovedá dnešným bluesovým prejavom.
Celkovo je album Tomorrow's Blues z kategórie – úplná (bluesová) pohoda. Nevylučujem, že niekoho by mohol aj nudiť, mne dobre padne, keď túžim po utlmení, vypnutí a upokojení. Neľutujem, že ku mne naveľa doputoval, je dobrý.
Skladby:
Tomorrow's Blues 6:38
Come BackRight 4:29
In The Heat Of The Night 5:34
Hard Times Rising 6:38
Arena In The Sun 3:22
Thief In The Night 5:44
Take The Dark Times With The Sun 5:09
The Net Man 5:36
Leisure Complex Blues 5:09
No Demons 4:34
Zostava:
Jon Hiseman: bicie
Chris Farlowe: spev (1-4, 6, 7, 10)
Dick Heckstall-Smith: saxofóny
Dave Greenslade: klávesy
Mark Clarke: basa, vokály, spev (9)
Clem Clempson: gitara, vokály
a
Steve Sidwell: trúbka (2, 7)
Simon Gardner: trúbka (2, 7)
Chris White: tenor saxofón (2, 7)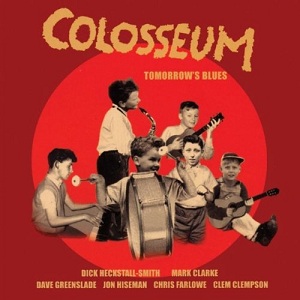 Tomorrow's Blues
Colosseum
jazz rock, blues rock
Q-rious Music
2003
CD
10