Dobrodružství objevování neznámé hudby se nedá ničím nahradit. Platí jak pro staré vykopávky, tak pro úplně čerstvé novinky. Pokaždé je musím zvolna poznávat, odkrývat, odhalovat tajemství, nacházet kouzlo. Silou, radostí, i uměleckým významem jsou si jednotlivé epochy u mne rovny. Roli nehraje hudební styl, renomé interpreta, ani názory ostatních. Je to úplně jedno. Rozhodovací moc zůstává v hudbě samotné. Ta je také nenahraditelná.
Každá neznámá nahrávka před prvním poslechem je jako zamčená truhla, v níž se může nacházet drahokam. Nebo aspoň polodrahokam. Většinou je ale úplně prázdná, či naplněná tretkami a zbytečnostmi. Takových je záplava. Ty vzácné nenajdeš na viditelných místech, ani se necpou dopředu v žebříčcích popularity. Je životně důležité věřit, že tam někde jsou. Jinak tě opustí síly a přestaneš hledat. Objevování nového hudebního světa je trvalá dřina a občasná blaženost.
CODE 18 jsem objevil čirou náhodou, prostě to byla jedna z těch mnoha nahrávek s přídomkem "prog", které jsem zkusil na Bandcamp odkrýt. I přes její umírněnost a zdánlivou obyčejnost, skýtala již na první poslech jisté naděje. Prog rockových projektů existuje opravdu hodně, a jak se jimi člověk probírá, má často pocit jisté jednotvárnosti, nedostatku přesvědčivosti, bezradnosti, dostává se mu pouze mělkého muzicírování a skladatelské prázdnoty. Ne však zde, naopak, bylo mi jasné, že nahrávce Human Error! musím dát příležitost, aby ukázala, co v ní je. Říkejme tomu intuice, kterou mám za ta desetiletí vypracovanou a vcelku spolehlivě zarezonuje s tou správnou muzikou.
Součástí objevovacího procesu je získávání informací. Kdo, kdy, jak, s kým, kde, a hlavně proč. Co k vede někoho k tomu, aby dělal něco tak pošetilého, nevýdělečného a současně obtížného, jako je tvorba progresivní hudby. Takto se ptám vždy, protože v tom musí být spousta vůle a energie. Jinak by dílo nevzniklo. Samozřejmě, ani sebevětší pracnost, ani snaha o co nejušlechtilejší umění, ani doba strávená s projektem, nezajistí, aby vzniklo dílo, které mne zaujme. Přitom stačí tak málo. Aby v něm bylo to, co od hudby žádám. Aby mě Hudba dostala.
Kdo za tento neobyčejný artefakt může? V první řadě mistr klávesových nástrojů Johnny Maz. Kam mu paměť sahá, vždycky skládal hudbu. Začínal s klasickými kousky, a jako teenager přešel na progresivní rock poté, co objevil Dark Side Of The Moon a Tarkus. Počítačové nahrávání mu umožnovalo v 90. letech jen omezený zvuk. Jak se technologie vyvíjela, nastal čas, aby náležitě vylepšil svoje předchozí nahrávky a zapojil do nich další muzikanty, a odhalil tak jejich skutečný potenciál. Toto hledání vyústilo ve spolupráci s vynikajícími hudebníky, která dala vzniknout CODE 18.
Na kytary hraje Jean-François Rémillard. Hudbou byl fascinován již v raném věku. Ve věku 11 let začal po několika "povinných" hodinách klavíru hrát na kytaru. Zpočátku jej ovlivnili Jimmy Page, Ritchie Blackmore, Jimi Hendrix, abychom jmenovali alespoň některé. Během let hrál v různých kapelách, a jeho hlavním zájem se posunul k hudební skladbě se složitými harmoniemi a rytmickými vzory, které se častěji vyskytují v jazzové fúzi a progresivním rocku. V roce 2008 měl JF příležitost setkat se s Johnnym Mazem, zkušeným hudebníkem, který sdílí jeho hudební vášeň, a který má snahu věci uskutečňovat.
Bönz, zpěv a basová kytara. Spolupracuje s Johnnym Mazem na řadě projektů a v různých kapelách hudební scény v Ottawě. Začínal jako zpěvák v mladistvém věku, brzy ho také začala přitahovat hra na basovou kytaru, a od té doby vykonává obě role. Vždy se zkouší najít správný charakter a tón, který odpovídá duchu prováděné skladby. Pro posouvání svých uměleckých schopností se také snaží naplňovat v písních jejich někdy temnou, jindy jemnou, a občas i agresivní stránku, správným dávkováním příslušných poloh svého zpěvu.
Album Human Error! přišlo na svět 1.9.2020 po dlouhé genezi, která je zmíněna v BIOGRAFII skupiny. Některé z písní na albu byly složeny již dávno jako instrumentálky, když byl Johnny teenager. V průběhu let se písně vyvíjely, a Johnnyho manželka navrhla pak téma koncepčního alba. Mělo pojednávat o tom, že USA si kvůli suchu v některých státech vezmou veškerou vodu z Velkých jezer. Tyto ekologické, společenské, a politické myšlenky jej zaujaly, a začal tedy přidávat texty a psát nové písně. Všechny stopy byly zaznamenány v letech 2008 až 2016, proces míchání trval také několik let (od roku 2014 do roku 2019), protože Johnny byl neustále zaneprázdněn jinými aktuálními projekty.
V konceptu bojujících zemí o mimořádně vzácnou vodu, je tímto symbolem zastoupen boj o přežití, lidskou identitu, budoucnost. Dílo místy staví na cinematických efektech, které můžeme slyšet na pozadí a slouží k dramatizaci příběhu. Vlastní progresivní rock s výraznými a plynule tvarovanými melodiemi je doslova vzrušujícím způsobem spojován s klasickým art rockem, půjčuje si od klasického hard rocku i prog metalu. Můžeme zaznamenat až pompézní klávesové plochy a emocionálně vypjatá kytarová sóla. Tato nahrávka by rozhodně měla oslovit náročné příznivce prog rockových koncepčních alb.
Hudba na albu bývá přirovnávána k různým legendárním skupinám, a já si kladu otázku, proč vlastně. Neslyším je tam. Mám pocit, že jde částečně o marketingový tah, případně manýru některých recenzentů. Ale CODE 18 toho nemají zapotřebí. Deska je plná svébytné a plnohodnotné progresivní hudby, která se snad občas zlehka některých svých vzorů dotkne, ovšem není to nic, co bych mohl zmínit, jako významný jev. Tedy, žádný zřejmý předobraz. A když, tak spíše duch neo progresivního hnutí z přelomu 80. a 90. let. Mistrovsky zkomponovaný, zahraný a nahraný. To prosím zdůrazňuji. Je znát doba, po kterou skladby vyzrávaly, je cítit pečlivost s níž byly tvořeny. A velmi si vážím střídmosti, s níž jsou provedeny, neboť jedna z odnoží progresivní hudby, mám na mysli symfonický prog, má tendenci všechno zamatlat do přeprodukované nestravitelné kaše. Tomuto se pan Maz dovedně vyhnul, a má za to můj převeliký dík.
Jsou zde samozřejmě skladby, v nichž hrají prim klávesy, alespoň v některých jejich částech. Johnny Maze se nikdy nepředvádí, nedává na odiv svoji virtuozitu. Po většinu hudební plochy je spíše nenápadný, v pozadí, stará se o náladotvorný podkres. Neopominutelná role. Je obdivuhodné, jakým způsobem klade svoje tóny, až jsou tajuplně vesmírné a hladivé. Ani se neutíká k laciným efektům, je to vždy účelná kompoziční složka. Některé pasáže jeho hry mne dostávají do jiné dimenze. Ať to jsou jednotlivá interludia, kde si občas připadám jako ve sci-fi románu, či například skladba Drought, kterou zlehka a rozjímavě začíná, aby po několika minutách začala těžknout, jako sen, v němž se začne dít něco nemilého. Vrcholem této kompozice je naprosto fantastické (podtrhuji "naprosto" i "fantastické") kytarové sólo, které obstaral hostující Michel St-Père ze skupiny MYSTERY. Tato pasáž je pro mne jednou z emocionálních erupcí na albu, z nichž vždy umírám blahem. Jo, pro tohle poslouchám muziku.
Nejdelší skladba má název Waste a díky umístění mezi Underlude I a Underlude II, se tyčí jako jako skalnatý štít nad mírně zvlněnou krajinou. Výpravný příběh, který tvoří koncept alba, se tu začíná zřetelně rozvíjet a získává na zápletce. Zde se začíná odehrávat děj vykreslený hudbou a slovy. Poznenáhlu vyrůstá v našich myslích, pokud bedlivě nasloucháme. Klavírní tóny a nad nimi se klenoucí nitky kytarových vyhrávek dovedou zapůsobit. Je tu také přítomna typicky progresivní pasáž, kdy se linky jednotlivých nástrojů proměňují v ornamentální výšivku, ale nikdy ne v samoúčelné sólování. Nemůžu si pomoci, ale střední pasáž této skladby, obzvláště kytarové aranže a jejich zapojení do celku, mi silně připomíná moje zapomenuté oblíbence SOUL CAGES se špetkou kanadských kolegů SAGA. V této skladbě vyvěrá jako gejzír to nejlepší, co nám tu zanechala progresivní hudba konce 20. století. Takto provedený odkaz mne dojímá a přispívá k zážitku z alba.
Skladby They Took It All a River Of Blood jsou až progmetalové. Jedná se o expresivní kousky, které ve strmé architektuře kytar, kláves, zpěvů a rytmiky budují přesvědčivou a dramatickou atmosféru. Přičemž v té druhé je napětí umocněno fiktivní reportáží, co přináší zprávy z krvavé bitvy. Závěrečné kytarové sólo odnáší všechnu bolest a zmar s až fyzickým pocitem trýznivosti každé války. Proti nim bych postavil instrumentální mezihry pojmenované Underlude I až Underlude III. Společně s krátkou The March tvoří přemostění mezi solitéry této desky. Přemostění někdy romantické, jindy hypnotizující, pokaždé schopné nás přesunout převážně elektro klávesovou cestou do jiné hudební scenérie. Underlude I je tajuplně kosmická, Unterlude II je jako od Jarrého v dobách jeho největší slávy, Underlude III je chrámově vznešená a ohromující, aby se zlomila v rychlý nářez, kdy nás tlukoucí bicí unášejí do finále desky s pějící Rachelle Behrens v čarokrásné a opojné písni Bed Time Story. Závěr, v němž se srdce může zastavit.
Působení této hudby je přesně takové, jakému podléhám. Nejvíce mne dílo dostává svojí již zmíněnou mírnosti a nenápadností, v níž si musím sám odkrýt její bohatství. Pozornost a soustředění zasluhuje i vyžaduje. Pusť si ji jako kulisu, neobjevíš nic. Zkus se do ní pohroužit, obejme tě svojí bezedností. To je v dnešní době instantních zážitkových efektů něco jako zázrak. Podařilo se mi naštěstí takových pokladů objevit v pohnutém roce 2020 již nemálo, a tak cítím, že to s muzikou je pořád dobré. Že tu jsou skryté klenoty, které dávají důvod hledat. Mají něco společného. Ano, v žebříčcích spousty našich posluchačů progu je nenajdete, neboť o nich nemají tucha, a jedou si pořád svých pár zavedených jmen, co už dávno vyprázdnily truhlice. Tím spíše mne těší, že jinde celosvětově objevuji, jak takovou muziku, tak posluchače, co jsou stále progresivní ve svém přístupu. Taková komunita je důležitá, a životaschopná. Jsem idealista? Jistě, a jsem tomu rád.
Poznámka k hodnocení. Strašně dlouho jsem si byl jistý, že nedám plný počet. Že to není úplně jasných 100%, Není, ale i těch 90% rád zaokrouhluji nahoru. Jinde jsem to neudělal, i když hudba a její síla byly podobné, například MAD CRAYON 2020. Ano, někdy stačí jen špetka rozdílu. Zde se podařilo několika nepatrnými tahy klávesových éterických akordů překlopit misky vah spravedlnosti na stranu pěti hvězd. Berte jako fakt, že CODE 18 – Human Error! je mistrovské dílo.
01. Crystal Of Time – 05:35
02. Underlude I – 02:37
03. Waste – 14:30
04. Underlude II – 02:39
05. They Took It All – 05:58
06. The March – 01:30
07. River Of Blood – 06:48
08. Drought – 08:46
09. Underlude III – 03:11
10. Bed Time Story – 08:57
Total 60:30
Dynamic range – DR8
Sestava:
– Johnny Maz – klávesy
– JF Rémillard – kytary
– Bönz – basa, zpěv
Hosté:
– Dan Lacasse (NATHAN MAHL, SPYRAL JONES) – bicí (1, 3, 8, 10)
– Sonny Tremblay (BLIND WITNESS, BURN HALO) – bicí (5, 7, 9)
– Donald Prince (NATHAN MAHL, SPYRAL JONES) – basa (8)
– Michel St-Père (MYSTERY, HUIS)  – kytara (8)
– Rachelle Behrens – sólový zpěv (10)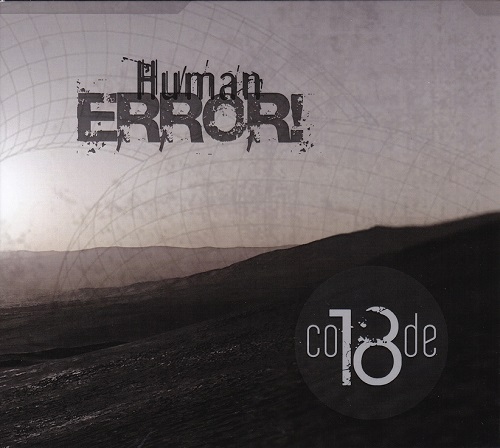 Human Error!
UNCR-5097
Code 18
Progressive rock
Unicorn Digital
2020
CD
10