Spomedzi zabudnutých kapiel z prelomu 60. a 70. rokov si môžeme vyberať prakticky nepreberné množstvo formácií, ktoré nahrali jeden album a šmitec! Patrí k nim aj texaská formácia Christopher.
Toto americké psychedelické rockové trio pochádzalo z Houstonu. Vzniklo pod názvom United Gas v roku 1968 a pôvodne ho tvorila trojica hudobníkov, menovite Richard Avitts (gitara), Doug Walden (basa, piano) a Doug Tull (bicie). Trio sa na nič nehralo, ráznejšie rockové kúsky korenilo psychedelickou jemnosťou a rýchlo sa stalo populárne na klubovej scéne v Las Vegas. Tu pravdepodobne stretlo nezávislého producenta Rona Kramera, ktorý ho presvedčil, aby sa presťahovalo do Los Angeles, kde následne uspelo v Gazzari's na Sunset Strip. Rovnako sa mu darilo na drogových párty usporadúvaných miestnymi motorkármi The Barons of Earth.
S nadobudnutými skúsenosťami sa kapele dostávalo čoraz väčšej pozornosti, predskakovala napr. Taj Mahalovi alebo Three Dog Night. Podarilo sa jej tiež podpísať zmluvu na album s malou spoločnosťou Metromedia. Tá jej odporučila zmeniť názov, aby sa neplietol s Pacific Gas & Electric. Vznikla kapela Christopher a mohlo sa ísť do štúdia Sound City vo Van Nuys v Kalifornii. Uprostred nahrávania si drogovo závislý bubeník Tull podrezal žily a neostalo iné, iba ho vykopnúť a zohnať náhradu. Napokon im pomohla dvojica John Simpson a Terrance Hand. Na perkusie si zahral aj producent Kramer. V sídle "Barónov zeme" sa kapela odfotila na obal platne a v roku 1970 bez povšimnutia vyšiel chabý tisíckusový náklad (discogs uvádza iba čosi viac ako 200 kusov) eponymného debutu. Skupina sa síce zjavila v houstonskej televíznej šou Larryho Kanea, následne pôsobila pod názvom United Gas, ale čoskoro sa rozpadla. V kapele chvíľku pôsobil aj basák Leon Rudnicki. Doug Tull sa stal členom kapely Josefus, s ktorou nahral dva albumy a napokon spáchal samovraždu.
Čo sa týka samotného albumu, kúpil som si ho naslepo pred cca siedmimi rokmi. Muzika nesie všetky znaky dávnych dôb, kedy sa rocková hudba ešte nezbavila puncu autenticity. Najviac ma potešilo, keď som sa dozvedel o jej prepojení na Josefus. Iste, v podstate to nič neznamená, ale ako občasného rockového historika-amatéra ma tieto zistenia bavia.
Hudba je to pomerne priama. All Along The Watchtower v Hendrixovskom prevedení stála za vzor podmazu úvodnej hardrockovej skladbe Dark Road. Vykvákané rýchle i kĺzavé medzihry sú samozrejmosťou, tak ich ani nemusím zmieňovať osobitne. Magic Cycles je akustická i mierne psychedelická dumka, nechýbajú viaceré hlasy i flauta. Ďalší hard rock s psychickým nátlakom, Wilbur Lite, nemá chybu. Rytmika duní, akoby sa chcela prepracovať na čelo príčin spôsobujúcich snehové lavíny, gitara do toho hudie tak, že víchor, čo spôsobil polom v Tatrách, vedľa nej vyzerá ako fúknutie krídel komára uprostred podunajskej nížiny. A na striedačku si zatrilkuje melancholická skladba In Your Time. Hippiesácky opar spevnej skladby Beautiful Lady v pohodovom tempe mi evokuje Vanilla Fudge bez klávesov. A rovnako, akurát tvrdšie, sa prezentuje psychedelická Lies. Disaster hrozí s vervou ľavicového diktátora, The Wind bluesuje s nervovým zrútením pravicového extrémistu, ktorému práve oznámili, že jeho predkami boli kočovníci z Ázie. Queen Mary má priam pozitívnu náladu a celé to ukončí Burns Decision, naliehavý melodický hardrockový kúsok, ktorý mohol vzniknúť iba koncom 60. rokov.
Nemôžem si pomôcť, pre tieto vykopávkové jednoalbumovky mám slabosť. Album Christopher je zlatou žilou (teraz nemyslím hemeroidy) pre každého rockového zlatokopa. Na CD vyšiel trikrát (Buy Or Die Records – 1994, Gear Fab Records – 2007 a Kismet – 2010), LP možno získať (okrem pôvodných vydaní) od Akarmy (1999) a Out-Sider (2014). Neváhal by som.
(upravené, pôvodne zverejnené na progboarde)
Skladby:
Dark Road (2:54)
Magic Cycles(5:07)
Wilbur Lite (3:58)
In Your Time(5:29)
Beautiful Lady (2:32)
Lies (3:07)
Disaster (3:45)
The Wind (5:03)
Queen Mary (3:26)
Burns Decision (5:14)
Zostava:
Doug Walden: basa, spev
Richard Avitts: gitara, spev
Doug Tull: bicie
a
Terence Hand: bicie
John Simpson: bicie
Ron Kramer: perkusie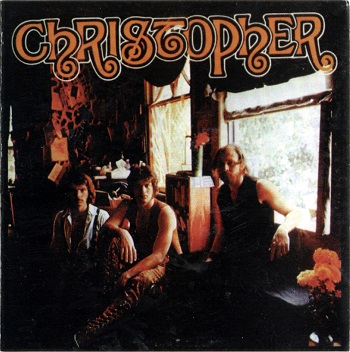 Christopher
Christopher
psychedelic rock
Metromedia Records
1970
LP, CD
10