Colosseum, jedna z najkolosálnejších džezrockových kapiel všetkých čias, sa v 90. rokoch minulého storočia vrátila nielen na pódiá, ale aj do štúdia. Výsledkom bol album Bread & Circuses.
Ku kapele mám vyhranený vzťah. Nikdy ma nesklamala a pochybujem, že sa tak niekedy stane. Kapelník a bubeník v jednej osobe, Jon Hiseman, patrí k najlepším hráčom svojej generácie, takže mám ako bubeník o dôvod viac kochať sa jeho hrou. Je fakt, že v čase svojej premiéry (1968-1971) stihla nahrať len tri štúdiovky, jeden koncertný album a dve kompilácie obsahujúce aj nepublikovaný materiál. No a čo! Dodnes je to muzika, ktorú málokto napodobní, takmer nik nevytvorí a nikto nezahrá tak, ako originál. V 70. rokoch síce vznikla aj formácia Colosseum II (3 albumy a Gary Moore v zostave), napriek tomu k reunionu došlo až v roku 1994.
Mal som šťastie. V tej dobe som sa akurát začal učiť hrať na bicie a zároveň som postupne objavoval hudbu, ktorú sme mali doma na kazetách a platniach. Navyše, po roku 1989 sa otvorili netušené možnosti získavania muziky zo Západu. A ešte aj samotná doba priala návratu k rockovej muzike. Niet sa čo čudovať, že nastal rozmach vydávania muziky zo 60. a 70. rokov, čo pomohlo veteránom opäť naštartovať svoju kariéru. Iste, ešte lepšie by bolo zažiť prelom 60. a 70. rokov naživo a mimo Železnej opony, ale aj takto sa považujem za šťastného človeka. Záznam reunionového koncertu na videu (z Nemeckej stanice WDR) som hltal ako hypochonder pilule a 4.7.1997 som dokonca videl kapelu naživo, v dnes už neexistujúcom PKO. Bolo to niečo neuveriteľné.
V tom istom roku vyšiel album Bread & Circuses. V Nemecku, kde kapela v 90. rokoch úspešne koncertovala, takže sa nemožno čudovať. Navyše, práve nemecké vydavateľstvá ako Repertoire (a kopa pirátov tváriacich sa ako Kórejci, Kanaďania a pod.) chrlili do sveta prvé cédečkové vydania mnohých dovtedy nedostupných raritiek zo "zlatej" éry rocku. A ja som si ho, samozrejme, nekúpil. Zo skromných študentských príjmov som sporil na tie pôvodné diela zo 60. a 70. rokov, novšie albumy šli na poradovník, až budem veľa zarábať. Ono, dať vtedy 600 korún za album, 1200 za dvojalbum a za raritu aj viac, nebolo práve ľahké. Vtedy sa každý prírastok cenil ako niečo s hodnotou blízkou objavenia Tutanchamóna. Sem-tam sa našiel niekto s napaľovačkou (stála 15 000 korún, to bola mega drahá záležitosť) a za nemalý (ale stále menší) poplatok cédečka prepálil pre všetkých. Zbierali sme to, čo sme mohli a čo kúpil niekto iný, skončilo v zbierke ako vypálený nosič. Dnes už okruh mojich známych, ktorí by zbierali originály, vykazuje preferencie Rada Procházku. A teda niet čo napaľovať. Načo aj, dnes je všetko na webe. Tak som si postupne obmenil väčšinu napálených vecí za originály. Z roka na rok je to ťažšie, boom raritiek na fyzickom nosiči je dávno preč a niektoré veci už nikdy nevyšli nanovo. Ale baví ma to.
No, dosť bolo spomienok! Album Bread & Circuses som konečne zohnal tento rok a mohol ho bez predsudkov vstrebať. Nečakal som žánrovotvorné dielo ako zamladi, takže si ho vychutnávam tak, ako je. A je na ňom presne jedenásť skladieb prívetivého (blues) rocku s džezovým ladením. Už v úvodnej skladbe Watching Your Every Move zachytíte ostré gitarové rifovanie a jedno je jasné. Táto muzika sa od svojich koreňov nevzdialila ani na piaď. Všetky ingrediencie sú na svojom mieste, takže, ak kapelu poznáte, budete sa radovať. Ak nie, môžete začať doháňať resty. Svetoví inštrumentalisti, ako napríklad Dick Heckstall-Smith (špecialitou je jeho hra na dva saxofóny naraz) a s prehľadom podaná pomalšia muzika, ktorej nechýbajú ostré náboje, to je to, o čo tu ide. Bluesové veci hrala kapela aj v 70. rokoch, nikdy netvorili gro materiálu ako tu.
Poctivú muziku bez falošných názvukov mám rád. Colosseum v 90. rokoch už nehrá tak ostro a ani tak inštrumentálne ohromujúco, ako kedysi. Muzika odzrkadľuje majstrov svojho remesla hrať to, čo ich baví. Bez toho, aby si museli niečo dokazovať. A tak sa mi to páči.
Skladby:
Watching Your Every Move 4:03
Bread & Circuses 3:37
Wherever I Go 4:15
High Time 4:06
Big Deal 5:11
The Playground 5:07
No Pleasin' 5:02
I Could Tell You Tales 5:04
Storms Behind The Breeze 4:42
The One That Got Away (Instrumental) 4:15
The Other Side Of The Sky 4:42
Zostava:
Jon Hiseman: bicie
Chris Farlowe: spev
Dick Heckstall-Smith: saxofóny
Dave Greenslade: klávesy
Clem Clempson: gitara, vokály
Mark Clarke: basa, vokály
a
Dave O'Higgins: doplnkové dychy
Chris "Snake" Davis: doplnkové dychy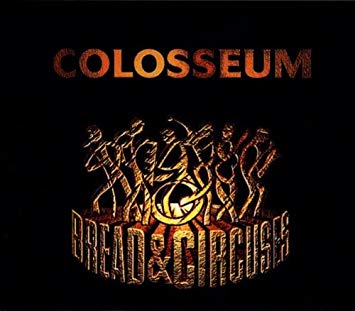 Bread & Circuses
Colosseum
džez rock, blues rock
Cloud Nine Records
1997
CD
11