Americká skupina Child je dnes prakticky zabudnutá a jej jediný eponymný album z roka 1969 predstavuje ukážku dosahu Vanilla Fudge na rockovú hudbu.
O skupine toho veľa nevieme, zostavu v booklete CD od Dodo Records z roku 2001 ozrejmujú iba krstné mená. Na internene sú uvedené aj celé. Pätica hudobníkov, Teddy Graybill (spev, perkusie), Paul Alagna (spev, gitara, harmonika), Joseph "Joey" Merone (organ, piano, zvonkohra), Frances "Chimes" Rizzo (basa) a Thomas "Tommy" Cruz (bicie, perkusie), spáchala v roku 1969 (podľa CD od Dodo Records alebo 1968 podľa discogs) jediný album, ktorý ponúkol osem skladieb po vzore Vanilla Fudge. Až na tri išlo o cover verzie, dominujú klávesy a viachlasé vokály. Platňa vyšla pod záštitou Jubilee Records, produkovali ju Mike Lewis a Stuart Wiener (Lewis-Wiener Production), nahrávala sa v New Yorku v Select Sound Studios pod taktovkou Eddieho Youngblooda. Obal i fotky zadovážila spoločnosť The Graffiteria pod umeleckou suprvíziou Janie Gansovej. Sprevádzal ho aj singel You'll Never Walk Alone/Little Light.
Osem skladieb je "vanillovských" (nezamieňať s Milli Vanilli) až na dreň. Vokály, stredné až pomalé tempá, rozkvákaná gitara a hlavne tie Hammondky! Sú všade a nemajú chybu. Prevaha cover verzií neprekvapí, skvelé živelné výkony prinášajú radosť. Kým Hold On I'm Comin' znie drsne, melodramatická balada Little Light utešene graduje do frenetického záveru. Aunt Millie vracia slovo rýchlejšiemu (na pomery skupiny, nie šprintérov z Afriky) brázdeniu, gitarista dominuje. Keby ma niekto nevaroval, nikdy by som neuznal, že preemotivovaný lepák You'll Never Walk Alone nespáchali Bogert, Appice, Martell a Stein. Veselá pohoda sa zrazu rozbehne do hardrockového jačania, Soft Rocks má grády a je potešiteľné, že ide o autorskú skladbu, skupina mala talent i potenciál, škoda, že sa neuchytila. Organové intro načne parádny kúsok Exodus, to je asi najvypätejšia skladba na albume. Atmosféru nenarúšajú ani posledné dve skladby A Child Begins To Cry a Ol' Man River. Posledná menovaná je síce notorická klasika, avšak znie neskutočne, patina jej nesmierne prospieva. Nikto sa nepomýli, že tu máme nejaké novodobé čudo a nie historickú perlu.
Starina bez škrupúľ, pomalé cover verzie v hardrockovom šate, takúto hudbu milujem, čo tam po moderne. Album vyšiel na CD len párkrát, aj to na pochybných vydaniach (1998 od nemeckých Lizard Records, 2001 od Dodo Records a 2014 od ruského piráta Lizard Records, plus existuje nevročené pirátske kanadské vydanie od Jubilee), takže zberatelia sa asi zapotia. Stojí to za to.
P. S. Teddy Graybill a Paul Alagna nahrali v roku 1971 album America The Beautiful s formáciou The Third World.
(upravené, pôvodne zverejnené na progboarde)
Skladby:
Hold On I'm Coming 5:07
Little Light 3:53
Aunt Millie 3:17
You'll Never Walk Alone 4:44
Soft Rocks 4:08
Exodus 4:34
A Child Begins To Cry 3:41
Ol' Man River 6:38
Zostava:
Teddy: spev (1-4, 7, 8), perkusie
Paul: spev (1, 5, 7), gitara, harmonika
Joey: organ, piano, zvonkohra
Chimes: basa
Tommy: bicie, perkusie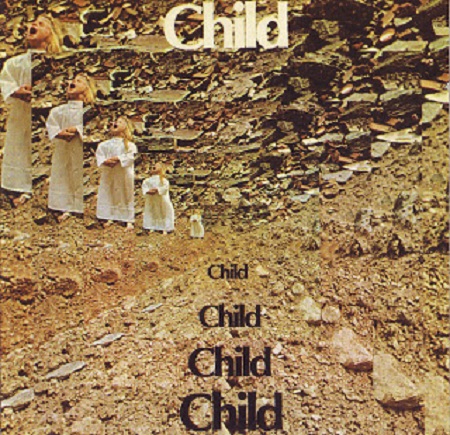 Child
Child
hard rock
Jubilee
1968/1969
CD (Dodo Records, 2001)
8