Peter Hammill je nepochybne srdcom, dušou (upísanou Diablovi) i hnacím motorom kapely Van Der Graaf Generator. Prakticky neexistuje druhá taká depresívno-podmanivá formácia, i keď by sa samozrejme našlo niekoľko nasledovateľov. Nie je to muzika prístupná, človek si ju buď odžije a zamiluje alebo odtrpí a už sa k nej nevráti. Ja som vytrval a nedám na ňu dopustiť. Nečudo, že jeho sólová tvorba sa vyznačuje rovnakou dávkou expresívnych emócií, z ktorých by aj Pápež stratil vieru v Boha. Ak nerátame prekvapivo pozitívny (a skvelý) sólový debut Fool's Mate (1971), ktorý však obsahoval material z predchádzajúcej dekády, tak je Chameleon In The Shadow Of The Night (1973) prvou naozaj "Hammillovskou" doskou. Depresívnou, melancholickou, svojskou…
Akustické pradeno dopĺňa citlivé recitovanie ústredného predstaviteľa, ale nebojte sa, Peter sa čoskoro rozohní a začne do svojho prejavu vkladať typickú nadrozmernú dávku expresionizmu. German Overalls viac nepotrebuje. Napriek tomu sa dostavuje istá psychedelická šialenosť, tak dobre známa už z čias Van Der Graaf Generatoru. Ešte o level pokojnejšia a, ak chcete, melancholickejšia skladba je Slender Threads. Hammill sa prejavuje ako zdatný minimalista, vedomý si toho, že jeho hlas dokáže udržať pozornosť poslucháča aj bez hudobného sprievodu.
Prvou elektrifikovanou skladbou je Rock And Rôle, pridáva sa celá zostava Van Der Graaf Generator a naozaj mi nie je jasné, prečo to v tom čase kapela zabalila, nakoľko hrala prakticky na všetkých Hammillových sólovkách a znelo to stále rovnako dobre. Teda, dobre v zmysle toho, že túto hudbu vnímam ako umelecké stvárnenie všetkých psychiatrických kliník, čo ich ľudstvo v priebehu histórie vytvorilo. A že sa tamojšie "liečebné" metódy často nedali rozoznať od Mengeleho "vedy".
Návrat k melanchólii naznačí klavírna balada In The End. Už tradične je to exhibícia vokálneho recitálu. Na to, že Hammill nemá práve pestrý výrazový diapazón, zvláda zo svojich slabín vytvoriť citovo uveriteľnú, ba dokonca hypnotizujúcu náladu. Až by sa zdalo, že sa minul povolaním a nestratil by sa ani za kazateľnicou alebo na zjazde politickej strany túžiacej po nastolení diktatúry. Našťastie ostal pri muzike. What's It Worth poteší flautou a akustickou gitarou, opäť sme na poli clivej, ale tiež kúštik zlovestnej muziky. Márne rozmýšľam, či toto ešte niekto zvláda tak, ako Hammill. Pokus o trošku odľahčenejší flegmatický slaďák  sa volá Easy To Slip Away a to prvé prídavné meno berte s veľkou rezervou. Hammill zvykne zavŕšiť svoje albumy absolútnou pekelnou kompozíciou, nuž neprekvapuje, že v kontraste s týmto faktom je predposledná skladba na albume totálne pokojná a melancholická záležitosť. Nečakajte preto od Dropping The Torch nič viac a ani menej.
A je to tu! Van Der Graaf Generator je späť s najtemnejšou náladou, akú si len dokážete predstaviť. (In The) Black Room/The Tower je jedenásťminútový opus magnum padlého Svetlonosa, soundtrack k masovým popravám, reklamná znelka na gilotínu… Toľko variácií na "podrezal si žily" sa v jednej skladbe len tak nepočuje. A ukazuje to, že Hammill, akokoľvek podmanivý sólista, je s kapelou trikrát pôsobivejší.
Chameleon In The Shadow Of The Night mám z Hammillových sólových albumov z prvej polovice 70. rokov najmenej zažitý. Ako aj pri nasledujúcom albume, aj tu mi chýba častejšia "celokapelová" muzika. Hoci je Hammill neskutočne presvedčivý "pesničkár" a pomerne osobitý (čítaj sofistikovaný) textár, Van Der Graaf Generator mi vyhovuje viac. Aj preto musím skonštatovať, že hoci tento album má svoje čaro a je nepochybne dobrý, ba dokonca výnimočný, nakoľko nemá veľa nasledovateľov, nemám pri ňom chuť rozhadzovať hodnotiace hviezdičky. Náladou sa však do upršaného fujaku za oknami hodí náramne.
Skúste, či vám Hammill otvorí svoje taje, podľa mňa to stojí za námahu a za pokus nič nedáte. Ale pozor, táto muzika rozhodne neroztiahne nohy už na prvom rande.
P.S. Cédečko obsahuje tri bonusy, dvakrát si vypočujeme, ako zneli albumové kúsky naživo o pár rokov neskôr, Rain 3am zasa naznačuje, že na archívnych pásoch sa dá nájsť aj po rokoch všelijaká raritka. Je to skôr demo, akustika a spev v jemnejšej polohe (korene skladby sú v 60. rokoch). Dokumentárna hodnota bonusov je nevyčísliteľná, ale albumu veľmi neprospievajú.
Skladby:
German Overalls 7:05
Slender Threads 5:00
Rock And Rôle 6:41
In The End 7:23
What's It Worth 3:58
Easy To Slip Away 5:19
Dropping The Torch 4:12
(In The) Black Room/The Tower 11:02
Bonus:
Rain 3am 4:45
Easy To Slip Away (live 1978) 4:47
In The End (live 1978) 7:23
Zostava:
Peter Hammill: spev, gitary, klávesy
Guy Evans: bicie, perkusie
David Jackson: saxofóny, flauta
Hugh Banton: klávesy, basa
Nic Potter: basa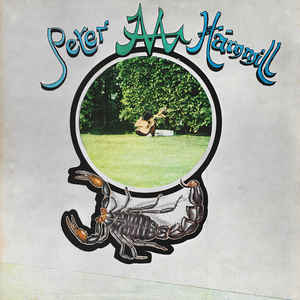 Chameleon In The Shadow Of The Night
Peter Hammill
art rock
Charisma
1973
LP, CD
8