Každý máme rád něco jiného. To, co jednomu vyhovuje a vede u něj k bezmeznému nadšení, může u druhého, byť podobně laděného člověka, vést k nevraživosti. Proto je velmi obtížné klasifikovat umění jako lepší nebo horší, zvlášť když se jedná o jemné nuance špičkové tvorby. Každopádně u nyní představované skupiny CELESTE lze bez rozpaků říci, že bude vyhovovat odpůrcům vypjatého a dramatického pojetí zpěvu, někdy označovaného jako "harsh".
V oblasti italského progrocku lze nalézt mnoho různých přístupů k pěvecké lince, tento soubor představuje tu nejklidnější a současně nejmystičtější polohu, která svým pokojem a vemlouvavostí se dovede zarýt hluboko do vědomí. To platí také pro velkou část instrumentální tvorby, která je ve své výrazné progresivitě a dramatičnosti současně vzdušná a rozjímavě milá.
Stejně jako MUSEO ROSENBACH rodí se CELESTE z popela legendy italské rockové scény Il SISTEMA. Místo vzniku je San Remo a tato skupina vydává veškerou svoji tvorbu až po svém rozpadu; těžko dnes zjistit, proč tomu tak vlastně bylo. Lze jen konstatovat, že se jim jako mnohým dostalo osudu zapomenuté klasiky, ve své době výrazné a uznávané, která dnes musí čekat na své znovuobjevení příznivci progresivní hudby. Nedovedu si představit sbírku progrocku bez zařazení skvělé a mimořádně unikátní tvorby této skupiny.
Zakládá je bubeník Ciro Perrino a hráč na saxofon Leonardo Lagorio (který byl také členem MUSEO ROSENBACH v jejich raném období). Jako plně zformovaná čtveřice hráli CELESTE zcela odlišnou hudbu od svých začátků, jejich tvorba je charakterizovatelná jako velmi akustický, atmosférický, odlehčený a delikátní progrock. Působili především jako studiová seskupení, jejich zkušenosti z živým vystupováním měli velmi malé.
První album, Principe di un giorno (Princ dne), bylo vydáno malým vydavatelstvím Grog až v roce 1976, přičemž vlastní skladby byly zkomponovány během roku 1973 a nahrávka vznikla roku 1974. Album obsahuje sedm skladeb s pastorálními texty, uklidňujícím až konejšivě hypnotickým zpěvem a především kompozicemi, které jsou svojí hloubkou a atmosférou velmi blízké mírnější části tvorby raného období KING CRIMSON, případně též PIERROT LUNAIRE, ALPHATAURUS a I SANTONI, nebo Per un amico období PREMIATA FORNERIE MARCONI.
Druhé album, které bylo nahráno roku 1977, vydává firma Mellow až v roce 1991 jako limitovaný LP náklad, některé kusy jsou s vloženým listem podepsaným Cirem Perrinoem, se samozřejmým názvem Celeste II. Hudba na tomto albu obsažená je tentokrát velmi blízká jazzrocku a je velmi odlišná od prvního alba souboru. Navíc úroveň nahrávky trpí nízkou kvalitou studiového snímku a také zjevnou nedokončeností skladeb. Na CD se titul objevuje až v roce 1994 pod názvem Second Plus a je oproti původnímu vydání obohacen o 20 minut bonusového materiálu.
Další album vzniklo jako soundtrack k filmu I suoni in una sfera (Zvuky v kouli) a vydáno bylo až v roce 1992. Zvukový materiál byl ovšem pořízen v roce 1974, stejně jako první album, se kterým se dvěma skladbami shoduje. Hudebně je také dosti podobné prvnímu počinu skupiny.
Po rozpadu CELESTE se Ciro Perrino objevuje ve skupinách SAINT TROPEZ, COMPAGNIA DIGITALE a SNC, a v roce 1980 mu také vychází sólová nahrávka Solare. Později zakládá společně s Maurem Moronim mimořádně důležitý label Mellow, který je již mnoho let velmi zasloužilý v oblasti vydavatelské činnosti a propagace italského progrocku na světovém fóru.
Tím však historie neskončila. V průběhu roku 2016 se začaly objevovat zprávy, že Perrino píše pokračovatele debutu. Skutečně, postupně v období 2016-2018 připravil materiál pro nahrávání nového alba. Roku 2018 byla zřízena crowdfundingová kampaň na podporu jeho vydání, ta však nevynesla ani třetinu potřebné částky. Perrino vše financoval z vlastního. Dlouho byl znám název desky Il Risveglio del Principe (Probuzení prince), avšak datum vydání se stále odsouvalo. Nahrávky byly za pomoci mnoha hostů provedeny roku 2018, ale k vydání alba došlo až v lednu 2019 v Japonsku a v únoru téhož roku v Evropě.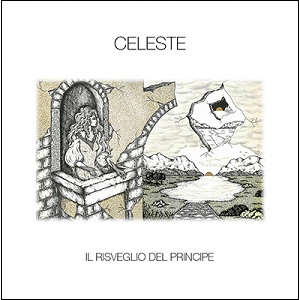 Poslední zápis do albové diskografie je z dubna 2020. Vychází kolekce studiových archivních rarit pod názvem Flashes From Archives Of Oblivion (A Collection Of Antiques And Curios), kde je obsaženo 20 písní z období 1972-1977, plus bonus z japonské verze Il Risveglio del Principe. Jsou zde jak alternativní verze již vydaných skladeb, tak i archivní kousky, co trpělivě čekaly skoro padesát let na vydání. Geneze hudebního vývoje kapely je tu pěkně viditelná. Booklet obsahuje spoustu historických informací, starých fotografií, je to takový malý sběratelský poklad.
Na závěr zmíním, že Ciro Perrino, kterého lze po právu považovat za nositele značky CELESTE, má i poměrně bohatou kolekci vlastních sólových alb ke slyšení i zakoupení na stránkách Bandcamp. Pro seznámení s tvorbou této významné a výrazné osobnosti italské rockové hudby je to místo jako stvořené.
CELESTE – albová diskografie:
Principe di un giorno (1976), nahráno 1974
Celeste II (1991), nahráno 1977, na CD jako Second Plus
I suoni in una sfera (1992), nahráno 1974, soundtrack
Il Risveglio del Principe (2019), nahráno 2018
Flashes From Archives Of Oblivion (A Collection Of Antiques And Curios) (2020), nahráno 1972-1977
(uveřejněno 2017 na PgB, přepracováno a doplněno 2020)