Poviem vám, ešte aj dnes nachádzam v historickej rockovej studni albumy, ktoré ma dokážu prekvapiť. Japonský produkt Carmen Maki Blues Creation z roka 1971 je presne ten prípad.
Keď som sa pred cca siedmimi rokmi zoznámil s dielom hardrockovej úderky Blues Creation – Demon & Eleven Children (1971), netušil som, že ich poznám od detstva. Zistil som to až tento rok. Už pár rokov si čistím zbierku, aby bola bez napálených nosičov z dôb 90. rokov a prvej dekády po roku 2000. V tejto súvislosti často navštevujem predajňu Roxy. Počas jednej obnovovacej návštevy mi predavač ponúkol pár rarít, čo sa mu nahromadilo a album Carmen Maki Blues Creation bol medzi nimi. Pri pohľade na obal mi v hlave zablikalo výstražné svetielko. Nič to, odolal som. Doma som vygúglil, čože sa to stalo a podvedomá spomienka nabrala jasné kontúry. Však je to niečo, čo sme mali doma na platni. Hudbu som si vôbec nepamätal, ale ten obal, predná i zadná strana, niet pochýb! A navyše sa ukázalo, že Blues Creation nie je názov albumu, ale kapely, ktorú žeriem. Neostalo mi iné, než sa na druhý deň vrátiť do obchodu a cédečko zahabať. S radostnými očakávaniami som vybalil nosič, vložil do veže a… Som uhranutý. Nie, že ma dielo nesklamalo, ono ma nadchlo! Počúvam ho posledné mesiace často. Prečo?
Úvodná hardrocková smršť Understand akoby vypadla z albumu Demon & Eleven Children. Akurát spev je o svetelné roky vpredu. Na rozdiel od prapodivného prízvuku angličtiny má Carmen Maki nielen presvedčivú výslovnosť, ale najmä joplinovsky uškriekaný, zároveň však hutný hlasisko. Album je následne skôr pomalý. Krehké veci ako And You, dopĺňajú husté bluesové hody typu Lord, I Can't Be Going No More, I Can't Live For Today, či St. James Infirmary, kde je joplinovský formát folkovej speváčky priam na nerozoznanie, alebo ťažkotonážne rockové balady, ako napríklad Empty Heart. Na hard rock sa dostane v búrlivej Motherless Child, ktorá však na ploche vyše ôsmich minút núka aj baladické polohy. Podobne Mean Old Boogie najprv ukolíše pozornosť vcelku tuctovým boogie, aby o chvíľku vytasilo ostrý hardrockový meč a rozťalo poslucháčove predstavy o selanke.
Hudobníci sú prvotriedni, nuž nečudo, že ma tento album bluesrockového razenia oslovuje priam populistickým štýlom. Akurát, že na rozdiel od prázdnych rečí núka nesmierne bohatú dávku úprimnej muziky. Dokonalé!
Skladby:
Understand 5:01
And You 2:59
Lord, I Can't Be Going No More 3:34
Empty Heart 8:32
Motherless Child 6:57
I Can't Live For Today 4:37
Mean Old Boogie 5:02
St. James Infirmary 6:45
Zostava:
Kazuo Takeda: gitara, vokály, harmonika
Hiromi Osawa: spev
Masashi Saeki: basa
Akiyoshi Higuchi: bicie
Carmen Maki: spev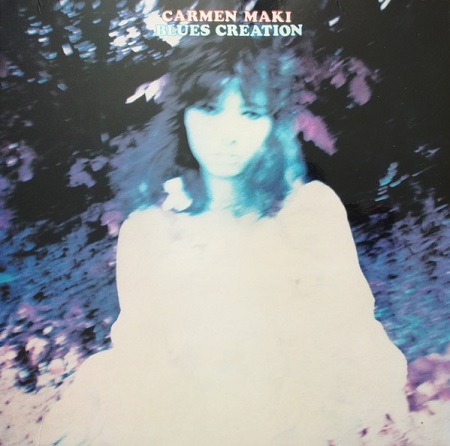 Carmen Maki Blues Creation
Carmen Maki & Blues Creation
blues rock, hard rock
Denon
1971
CD (Phoenix Records, 2012)
8