Dnešný deň, 24. júl, vo mne vyvoláva spomienku na koncert Cactus, čo bola jedna z tých lepších amerických skupín. Bolo to v roku 2013 a tu sú moje dojmy…
CACTUS
Dátum: 24.07.2013
Miesto: Múzeum obchodu, Linzbothova 16, Bratislava
Zostava:
Carmine Appice: bicie, vokály
Jim McCarty: gitara
Jimmy Kunes: spev, harmonika
Pete Bremy: basa, vokály

A je to tu opäť. Ani vo sne by mi nenapadlo, že uvidím jednu z najlepších blues-hard rockových amerických kapiel v histórii v Bratislave. A stalo sa. Carmine Appice, bubeník, ktorý zakladal hardrockový štýl hrania na tento nešetrný nástroj, sa vrátil s legendárnou kapelou Cactus, aby dokázal, že aj v šesťdesiatich šiestich rokoch má energie na rozdávanie. Pre tých, ktorým jeho meno nič nevraví, dodávam, že ste ho určite videli vo videoklipoch speváka Roda Stewarta ako napríklad Hot Leg, s ktorým svojho času spolupracoval.
Na oficiálnej stránke kapely sa už nejaký čas hrdo hlásalo, že sa 24. 7. 2013 uskutoční koncert na pľaci zvanom Muzeum v exotickom meste Bratidlava, Slovakia (to d je správne). A bolo jasné, že každý rockový maniak, ktorého v tom čase neskláti choroba, Zubatá alebo ešte niečo horšie (návšteva svokry), má program na večer jasný.
Rýchlovka z dejín skupiny asi nebude od veci, takže, v druhej polovici 60. rokov vznikla v USA kapela Vanilla Fudge, kde hrala jedna z najlepších rockových rytmík sveta (Appice-Bogert). Táto skupina v podstate poslúžila ako priekopníčka štýlu hard rock, pričom stála za vzor takým veličinám ako Deep Purple (prvé tri albumy sú na nerozoznanie), Led Zeppelin (Bonham odkopíroval svoj herný prejav od Appiceho, na čo si ten svojho času vždy rád posťažoval) alebo hoci Uriah Heep (vokálne vrstvenie). Po jej rozpade sa spomínaná dvojica chcela spichnúť s renomovaným gitaristom Jeffom Beckom, ale nevyšlo to, nuž založili mohutnú rockovú kapelu Cactus. Spieval v nej nebohý chrapľák Rusty Day a gitary sa chopil Jim McCarthy. Blues a hard rock v neskutočne našliapnutom prevedení dosvedčila v čase jej existencie trojica albumov Cactus (1970), One way… or another (1971) a Restrictions (1971).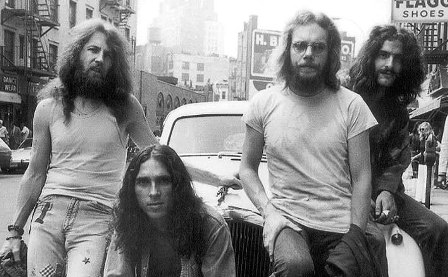 Posledný album 'ot'n'sweaty (1972), ktorý je čiastočne koncertný, priniesol zemetrasenie v zostave, preč boli McCarty a Day, spevu sa ujal ďalší chrapľúň Pete French (kapely Leaf Hound a Atomic Rooster hovoria samé za seba), gitaru držal v rukách Werner Fritzschins a zvuk obohatil klávesák Duane Hitchings. Lenže Jeff Beck presvedčil ústrednú rytmiku, že je na čase predsa len založiť superskupinu Beck, Bogert & Appice, nuž bolo po Cactuse. V roku 1973 síce vyšiel album kapely The New Cactus Band – Son of Cactus, ktorú spáchal Hitchings s Mikeom Pinerom z Iron Butterfly, ale to bol len taký pokus vyťažiť z mena nejaké tie slávne okamžiky/peniažky. Rusty Day potom založil ďalší Cactus, avšak v roku 1982 zomrel a zdalo sa, že je to definitívny koniec jej histórie. Appice sa stal známym a žiadaným bubeníkom, hral s kdekým, až tu zrazu v roku 2006 preživšia trojica hráčov vrátila kapelu na mapu rockovej hudby. Spevu sa ujal Jimmy Kunes, ktorý pôsobil s mnohými interpretmi, z ktorých je bluesmanom najbližšia formácia Savoy Brown. Výsledkom bol album V. Keďže McCarty po chvíľke odišiel, post gitaristu bol často preobsadzovaný. Ešte aj Bogert začal trpieť zdravotnými problémami, nuž za neho zaskakoval basák Pete Bremy (pôsobiaci paralelne v obnovenej skupine Vanilla Fudge). Od roku 2011 je McCarty späť a kapele vypomáha harmonikár Randy Pratt.
Dosť bolo faktografie, hajde ku koncertu!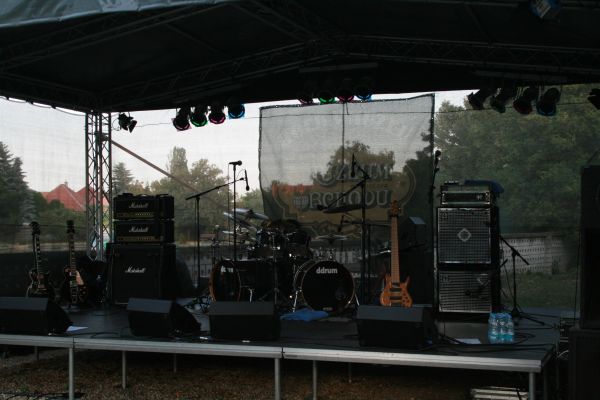 Zostava piatich rodinných príslušníkov dorazila na miesto činu okolo siedmej, okamžite ma nepríjemne prekvapila cena lístku. Tridsaťštyri EUR, keď o deň skôr hrali v Prahe za 250 KČ? No nič. Okamžitý nákup limitovanej edície CD a DVD The Collecion, ktorú mimo koncertov nedostať, doplnili signované paličky, pretože Appice používa moju obľúbenú značku Vic Firth. Navyše má hlavičky na oboch koncoch, pretože pri hraní si ich furt prehadzuje. Koncert mal začať o 19:30, ale kapela nabehla až okolo ôsmej. To už bol areál Múzea obchodu plný, až praskal vo švíkoch, nevídané! Kapela netrpela žiadnymi maniermi, okamžite prinútila ľudí preniesť stoličky až k pódiu a nevadili jej ani blesky z foťákov. Konečne jedna normálna banda.
Počas cca hodiny a pol odznelo dvanásť skladieb aj s prídavkom a bubeníckym sólom. Klasické hrmotavé kúsky Long Tall Sally a Let Me Swim dokázali, že bubeník je energetická bomba, basák vie, čo robiť so šesťstrunovou basou, gitarista sa rokmi zlepšil a spevák, ktorého som dovtedy nepočul, má v sebe kus jačáku, spolu s jeho okázalým pozérstvom mi občas pripomínal nebohého Ronnieho Jamesa Dia.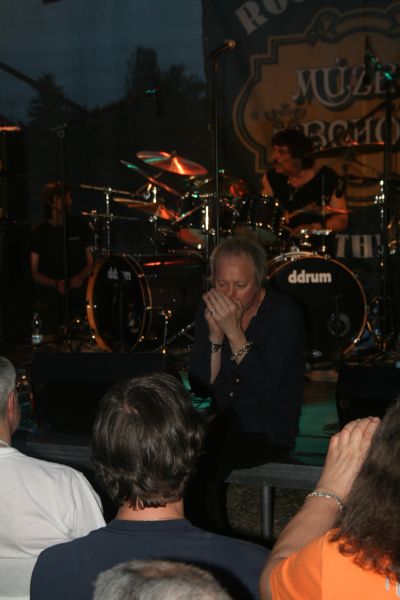 Vždy, keď videl, že ho niekto fotí, robil pózy ako primadona, ale beriem to tak, že ponúkol ľuďom to, čo chceli. One Way… Or Another dedikoval Rustymu Dayovi. Keďže harmonikár Pratt sa nedostavil, chopil sa jej v skladbe Bro. Bill samotný Kunes a sem-tam ju mimo spevu aj prefúkol. Zároveň si vyskúšal, ako vie publikum odspievať refrén a, čuduj sa svete, vyšlo to. Klasický bluesový kúsok You Can't Judge A Book By The Cover Kaktusáci hrajú neskutočne. Vôbec sú skladby Cactusu plné brilantných rytmických figúr, páuz, gradácií i ďalších dynamických pokleskov. Tak sa hrá muzika, človek rýchlo zabudne na to, čo sa za posledné desaťročie vydáva za rockovú hudbu. Počas celého koncertu sa namakal aj bedňák, ktorý každú chvíľu priťahoval nejaký činel, pričom som čakal, kedy ho Appice klepne po prstoch, keďže do nich tĺkol i počas tohto úkonu.
Po osvedčených klasikách prišla trojica skladieb z poslednej štúdiovky z roku 2006 a veru sa mi páčili. V Musle & Soul si Kunes vypýtal gestami jedno pivo, ktoré mu výčapník zakrátko doniesol, Electric Blue i The Groover potvrdili, že bola chyba novodobý album ignorovať, ešte šťastie, že je takmer celý na zakúpenom limitovanom CD/DVD.
Koncert vrcholil v skladbe Evil, ktorú mám od skupiny najradšej. Jasné, je to staré klasické blues, ale v prevedení á la Cactus je to hard rock, ktorému by Zeppelíni mohli tak akurát slepo závidieť.
A Appice sa tam vyblázni ako nemenovaný prezident na hokeji. Nečudo, že skladba plynulo prešla do bubeníckeho sóla. Každý velikán sa dnes snaží svoje exhibície ozvláštniť divácky pôsobivými srandičkami, Appice aj počas skladieb neustále otáčal paličky a hral obomi koncami, v sóle si ich aj trošku pohodil. Následne hral iba s jednou, ktorú si bleskovo prehadzoval medzi rukami a aby toho nebolo málo, počas hrania si predspieval nejaké nanákania a publikum opakovalo po ňom.
Na záver vyliezol spoza súpravy pred mikrofón a strihol si sólo v klepaní paličkami, tiež s publikom, až pokým nezačal priveľmi blbnúť. Vo finále sa poďakoval, hodil paličku o pódium, odrazila sa mu späť do ruky a bolo to. Záverečná vec Parchman Farm je opäť bluesový štandard, ale hraný tak rýchlo, že by z toho Usain Bolt neveriacky čumel. Kapela pochválila publikum, dokonca niekoľkokrát, vraj v USA nie je také fajn, ako na turné po Európe.
Kunes poznamenal, že ako mlaďas si nikdy nepomyslel, že raz bude niekde na Slovensku. Samozrejme, vytlieskali sme si jeden prídavok, klasický starý song Rock'n'roll Children. Následná autogramiáda ma minula, predsa len bolo treba ísť na druhý deň do práce.
Plnokrvný výkon, vynikajúci koncert, nech máme v našich končinách akýchkoľvek skvelých hudobníkov, americkí maniaci znejú akoby z inej planéty. Neďaleko bývajúci kolega mi počas koncertu poslal esemesku, že: "Dobre dávajú." A mal pravdu!
P.S. Na zmienenom DVD je koncert z minulého roka (2012), ktorý ponúka prakticky totožný playlist (dve skladby navyše) a aj celé sólo, preto sa veru oplatí vidieť.
SKLADBY:
Long Tall Sally / One Way… Or Another, 1971/
Let Me Swim /Cactus, 1970/
One Way… Or Another /One Way… Or Another, 1971/
Bro. Bill /Cactus,1970/
You Can't Judge A Book By The Cover /Cactus, 1970/
Muscle & Soul /V, 2006/
Electric Blue /V, 2006/
The Groover /V, 2006/
Evil /Restrictions, 1972/
Carmine Drum Solo
Parchman Farm /Cactus, 1970/
PRÍDAVOK:
Rock'n'roll Children /One Way… Or Another, 1971/