Don Van Vliet a Frank Zappa byli na konci šedesátých let v Čechách a na Moravě dostatečně známí hlavně díky časopisu Pop Music Expres a činnosti kapel Primitives Group a Plastic People Of The Universe, které na svých koncertech pouštěli o přestávkách jejich desky a taky hráli některé písně.
Díky Plastikům jsem je poznal i já. Počátkem sedmdesátých let po zákazu vystupování část kapely pracovala v okolí Humpolce na lesní brigádě a spolužák přinesl do školy pásek s nahrávkami Captain Beefheart & His Magic Band, Mothers Of Invention, Velvet Underground a dalšími, které jsme si nahráli. V případě Captain Beefheart & His Magic Band se jednalo o Safe As Milk, Strictly Personal a Spotlight Kid. Hudba a hlavně hlas Dona mi tehdy uchvátil.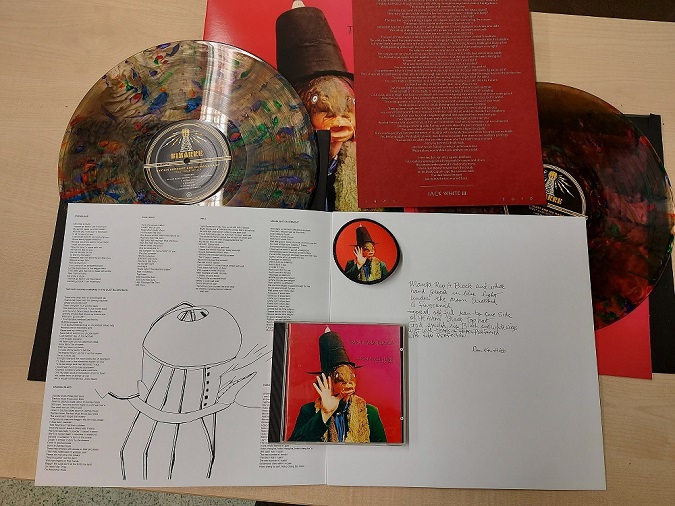 O tři roky později jsme seděli v hospodě v Brně, povídali si o bigbítu a jeden kamarád nadšeně popisoval desku Trout Mask Replica. Nedovedl jsem si to tehdy až tak představit a LP jsem chtěl mít nahranou. Nahrál mi ji tehdy kamarád, se kterým udržuji kontakt dodnes. Když jsem si tehdy pásek pustil, byla to opravdu pecka. Mimo písní Frownland, Dachau Blues, Ella Guru, Moonlight On Vermont, Veteran's Day Poppy se to nedalo poslouchat na jeden zátah. Postupně jsem si na hudbu na desce zvykl a stala se jednou z mých nejoblíbenějších. V současné době mám tento skvost ve čtyřech vydáních na LP, včetně původního z roku 1972, výročního z roku 2019 v plátěné tašce a ve dvou vydáních na CD. Moje touha je první americké vydání s textovou přílohou. Taky doufám, že vyjde v provedení mini LP a dožiju se toho.
Před vydáním desky Strictly Personal doplnil tehdejší producent Bob Krasnow nahrávku elektronickým frázováním, tím autora podle jeho slov podvedl a Don Van Vliet s ním rozvázal producentskou smlouvu. Don se obrátil s produkcí dalšího alba na svého spolužáka ze střední školy Franka Zappu. Frank Donovi slíbil, že může dělat vše, co uzná za vhodné a nebudou problémy s elektronickým blbnutím. Podle jedné legendy složil Don Van Vliet celou desku u klavíru za osm hodin, potom Magic Band rok učil písně hrát. Nahrávání probíhalo v Donově domě, a podle další z legend nechal dendrologa prohlédnout stromy v zahradě, jestli neutrpěly hlukem újmu. Z nahrávání je ještě jedna příhoda, kdy technik přinesl několik sad zvonečků. Frank se ptal, co s tím budou dělat a Don mu odpověděl – přehlušíme je.
Výsledné album vyšlo jako 2LP a obsahuje dvacet osm skladeb. Některé mají pevnou strukturu a některé byly nahrány online včetně textu, který Don průběžně skládal. Ze všech je cítit blues, jaké hrával Howling Wolf nebo Son House. Úvodní skladba Frownland patří k těm s pevnou strukturou a už tehdy mě oslovila. Po ní následuje The Dust Blows Forward 'N The Dust Blows Back, ve které online recituje Beefheart text přerušovaný vypínáním a zapínáním mikrofonu, jak postupně nachází slova. Další perlou je skladba Dachau Blues, která na bluesovém podkladu vypráví o krutém osudu Židů v koncentračních táborech. Ella Guru je pěkný odvaz s perfektním zpěvem hlavního protagonisty a dokonalou souhrou kytar. Hair Pie: Bake 1 je instrumentálka se zajímavou Beefheartovou hrou na saxofon, téměř free jazz a neméně zajímavým názvem – slangové označení dámského přirození. Moonlight On Vermont vznikla dříve, už při nahrávání předchozího alba, je to asi nejrockovější skladba na desce.
Na začátku druhé strany před skladbou Pachuco Cadaver pronese Beefheart kouzelnou vše vysvětlující větu "A squid eatin' doe in a polyethylene bag, it's fast'n bulbous, got me?", doslovný překlad "když oliheň žere koblihu v polyetylenovým pytlíku, je to rychlý a baňatý, jasný". Z téhle věty musí být každému jasné o čem jsou i ostatní písně. Vyzdvihl bych pro mě nádherné blues China Pig s hostujícím kytaristou Dougem Moonem. Perfektní souhru kytaristů Magic Bandu si můžete vychutnat v krátké skladbě Dali's Car na konci druhé strany.
Třetí strana začíná druhou částí Hair Pie: Bake 2.Stejně jako v případě první jde o instrumentálku s kouzelnou hrou Beefhearta na saxofon. Ten na desce uplatňuje názor – "na nástroj zásadně necvičím, to bych při hraní nic neobjevil". Ve skladbě Pena vypráví Jeff Cotton alias Antennae Jimmy Semens příběh a v pozadí řve Captain Beefheart. Well je opět skladba a capella, po které následuje výborná When Big Joan Sets Up a neméně dobrá Fallin' Ditch. Na závěr třetí strany je tu Ant Man Bee. Skladba se mi líbí, ale když se zamyslím nad názvem "mravenčí samec včelou", pěknej nesmysl.
Na čtvrté straně jsou nádherné skladby Wild Life, Hobo Chang Ba.V The Blimp mluví Frank Zappa přes nějaký mršič hlasu. Na závěr si nechal dvě skvělé kompozice Old Fart At Play a Veteran's Day Poppy.
LP Trout Mask Replica je naprosto ojedinělá v celé rockové historii. Svého uznání a docenění se dožila až třicet let po vydání. Já mám rád všechno, co Don Van Vliet alias Captain Beefheart vytvořil a desce nemůžu dát méně než pět hvězdiček.
SKLADBY: 1. Frownland (1:39); 2. The Dust Blows Forward 'N The Dust Blows Back (1:53); 3. Dachau Blues (2:21); 4. Ella Guru (2:23); 5. Hair Pie: Bake 1 (4:57); 6. Moonlight On Vermont (3:55); 7. Pachuco Cadaver (4:37); 8. Bills Corpse (1:47); 9. Sweet Sweet Bulbs (2:17); 10. Neon Meate Dream Of A Octafish (2:25); 11. China Pig (3:56); 12. My Human Gets Me Blues (2:42); 13. Dali's Car (1:25); 14. Hair Pie: Bake 2 (2:23); 15. Pena (2:31);16. Well (2:05); 17. When Big Joan Sets Up (5:19); 18. Fallin' Ditch (2:03); 19. Sugar 'N Spikes (2:29); 20. Ant Man Bee (3:55); 21. Orange Claw Hammer (3:35); 22. Wild Life (3:07); 23. She's Too Much For My Mirror (1:42); 24. Hobo Chang Ba (2:01); 25. The Blimp (mousetrapreplica) (2:04); 26. Steal Softly Thru Snow (2:13); 27. Old Fart At Play (1:54); 28. Veteran's Day Poppy (4:30)
SESTAVA:
Don Van Vliet alias Captain Beefheart – vocals, tenor & soprano saxes, bass clarinet, Simran horn & musette (10), composer & arranger
Jeff Cotton alias Antennae Jimmy Semens – slide guitar, Fx (4), lead vocals (15), narrator (25)
William Earl Harkleroad alias Zoot Horn Rollo – slide guitar, flute
Victor Hayden alias The Mascara Snake – bass clarinet, vocals
Mark Boston alias Rockette Morton – bass, narrator
John "Drumbo" French – drums
+
Doug Moon – guitar (11)
Gary Marker – bass (6, 28)
Frank Zappa – voice (25), producer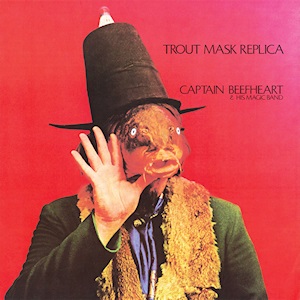 Trout Mask Replica
Captain Beefheart & His Magic Band
Psychedelic Rock, Blues Rock, Art Rock, Avantgarde, Experimental
Straight
1969
2xLP
28