Skupinu Butthole Surfers (Surfeři řitních otvorů) založil počátkem osmdesátých let bývalý basketbalista Gibson Haines se svým spolužákem, kytaristou Paulem Learym, v texaském San Antoniu. Texas nebylo pro kapelu to správné místo, proto se odstěhovali do Los Angeles. Když je v jednom losangeleském klubu slyšel Jello Biafra, angažoval je pro svou nahrávací firmu Alternative Tentacles, u které jim v roce 1983 vyšlo debutové EP s eponymním názvem. Obal této desky byl dost odpudivý, ne tak hudba.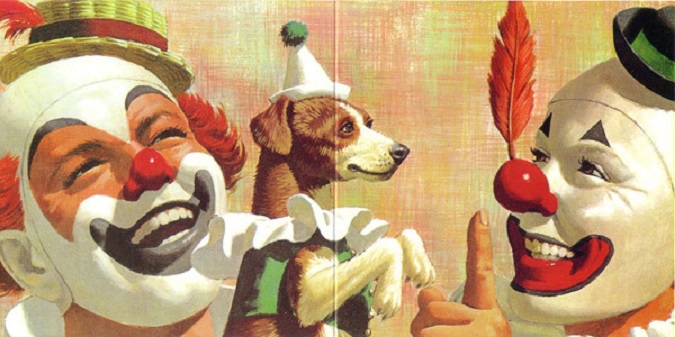 Krátce po vydání Butthole Surfers skupina přechází ke společnosti Touch And Go, u které pak vycházejí další nahrávky. Mě zaujala zmínka o této kapele v polském časopise Magazyn muzyczny, od přečtení toho článku jsem chtěl nejen slyšet, ale i mít nahranou nějakou desku. Kamarád měl nahrané debutové EP, to jsem nechtěl nahrávat z kazety, a tak jsem si první alba nahrál po revoluci z půjčovny CD v Paláci kultury.
Deska Locust Abortion Technician je všechno, co si můžete v hudbě představit. Myslím, že jsou první, kteří si dělají ze všeho legraci tak, jak před nimi Frank Zappa. Kdybych rozuměl jejich textům, myslím, že jsou stejně sarkastičtí.
V prvních vteřinách se neděje nic, ticho přechází do melodického motivu připomínajícího začátek Shine On The Crazy Diamond, ozve se dětský hlásek – "Daddy", odpověď – "Yes Son" a potom těžký riff, který připomene známou píseň. Taky se tahle záležitost jmenuje Sweet Loaf a ne Sweet Leaf, dokonalá parodie. Následující Graveyard je hodně hlučná skladba zpívaná přes nějaký mršič. Pittsburg To Lebanon je solidní acid blues s pěkně vyhulenou kytarou. Punkový nářez The O-Men přejde do skladby s garmoškou, zvonečky a bubínky, která připomíná lidovou hudbu východní Asie. Největší nářez nás čeká na závěr desky v podobě 22 Going On 23, do které je nasamplovaná telefonická zpověď znásilněné rozhlasové posluchačky. Na závěr si Gibby Haines vystřihne sólo, jako z desek kapel ze západního pobřeží. Zajímavé jsou všechny písně, každá je trochu jiná.
Pak vyšlo album s krásným názvem Hairway To Steven (1988), bez seznamu skladeb, místo názvů jsou piktogramy. Následně skupina přešla ke Capitol (EMI) a Independent Worm Saloon (1993), první desku na této značce, produkoval John Paul Jones. Butthole Surfers mají každou placku jinou, tak jak všechny dobré kapely. Tahle se mi líbí nejvíce, proto jí dávám pět hvězdiček.
SKLADBY:
01. Sweat Loaf (6:09)
02. Graveyard (2:27)
03. Pittsburg To Lebanon (2:29)
04. Weber (0:35)
05. Hay (1:50)
06. Human Cannonball (3:52)
07. U.S.S.A. (2:14)
08. The O-Men (3:27)
09. Kuntz (2:25)
10. Graveyard (2:45)
11. 22 Going On 23 (4:24)
SESTAVA:
Gibby Haynes – vocals
Paul Leary – guitar, backing vocals
Jeff Pinkus – bass
King Coffey – drums
Teresa Nervosa – drums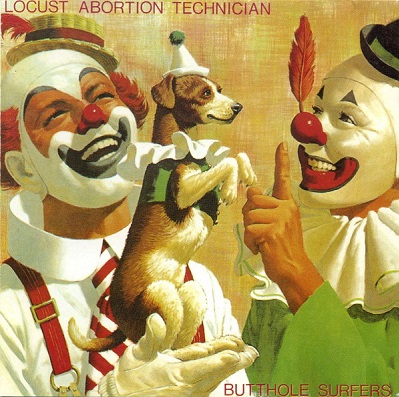 Locust Abortion Technician
Butthole Surfers
Alternative Rock, Avantgarde, Post-Punk
Touch And Go
1987
LP, CD
11