Pre mnohých (vrátane napr. takého Erica Claptona) je najlepším bluesovým gitaristom Američan Buddy Guy. Jeho vplyv na chicagský blues sotva niekto spochybní. Hral s legendami, inšpiroval legendy, skrátka, je to pojem. Podieľal sa na mnohých albumoch, jedným z jeho novších počinov je Skin Deep z roka 2008.
Kúpil som si ho naslepo (nahlucho) krátko po vydaní (aspoň sa mi marí, už sú to roky), len tak, reku, skúsim, čo vtedy sedemdesiatdvaročný borec pácha. Dostal som necelú hodinu profesionálnej a emočne vyzretej bluesovej muziky. Dvanásť skladieb sa počúva samo. Na viacerých sa podieľali rôzni hostia, mená ako Eric Clapton (Every Time I Sing The Blues) alebo Derek Trucks (Too Many Tears, Skin Deep) azda netreba predstavovať. Inde sa pridali dychy (úvodná Best Damn Fool), prípadne ďalší hráči a vokalistky. Výsledok je šťavnatý, zároveň však obrúsený tak, aby sa nemohli sťažovať spracovatelia surovej kože, že majú konkurenciu.
Samozrejme, dominantným sólovým nástrojom je gitara. A hoci sa tu sóluje s frekvenciou škandálov vládnej koalície, nemôžem povedať, že by šlo o čisto samoúčelné onanovanie. Skladby sa držia poslucháčsky vľúdnej štruktúry, tempá sa striedajú tak, aby si prišli na svoje ako slimáky, tak gepardy. Povedal by som, že sa pohybujeme na hrane komerčnej muziky. Iste, spotrebiteľské davy na blues nenaženiete, čisto z pohľadu melodiky by ste však mohli. To by však hudobnému priemyslu muselo ísť aj o viac ako o vymývanie mozgov.
Osobne mám radšej neotesané bluesrockové polohy, keď však mám chuť okoštovať čosi z vyzretého bluesového súdka, album Skin Deep mi poslúži vynikajúco. Chvíľu mi trvalo, kým som si ho pustil do osobnej zóny, odvtedy mu bude ešte dlho trvať, kým ju opustí. A podľa mňa sa mu to ani nepodarí.
Skladby:
Best Damn Fool 4:57
Too Many Tears 4:25
Lyin' Like A Dog 7:27
Show Me The Money 3:09
Every Time I Sing The Blues 7:37
Out In The Woods 5:44
Hammer And A Nail 2:58
That's My Home 2:53
Skin Deep 4:30
Who's Gonna Fill Those Shoes 4:09
Smell The Funk 4:46
I Found Happiness 5:40
Zostava:
Buddy Guy: gitara, spev
Tom Hambridge: bicie, perkusie (okrem 6)
Willie Weeks: basa
Reese Wynans: klávesy
David Grissom: gitara (okrem 10, 11)
a
Kirk Smothers: tenor saxofón (1)
James L. Spake: barytón saxofón (1)
Lannie McMillan: tenor saxofón (1)
Mark Franklin: trúbka (1)
Willie Mitchell: dychové aranžmány (1)
Susan Tadeschi: spev (2)
Derek Trucks: slide gitara (2, 9)
Bekka Bramlett: vokály, tlieskanie (4, 9, 10)
Wendy Moten: vokály, tlieskanie (4, 9, 10)
Eric Clapton: gitara, spev (5)
Richie Hayward: bicie (6, 8)
Robert Randolph: rezofonická gitara (6, 8)
Nathan Williams: akordeón (6, 8)
Quinn Sullivan: gitara (10)
Rob McNelly: gitara (10, 11)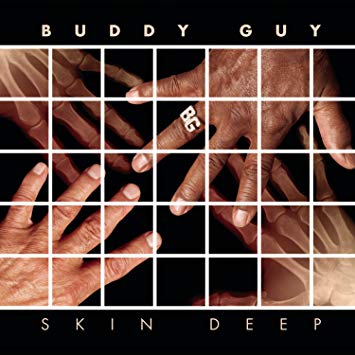 Skin Deep
Buddy Guy
blues rock
Zomba Recording
2008
CD
12