V polovině sedmdesátých let zatoužil Phil Collins, bubeník a zpěvák artrockové skupiny Genesis, po jiném způsobu sebevyjádření. Z důvodu vnitřního uměleckého přetlaku založil skupinu Brand X.
Obklopil se vynikajícími – většinou studiovými a méně známými hudebníky, kteří prosluli suverénním ovládáním svých nástrojů. Fusion music, pro který byl u nás vymyšlen název jazz rock, tak pojednou získal novou zajímavou hudební jednotku. Psal se rok 1975 a pro tento styl se v Británii mezi náročnějšími hudebními příznivci vytvořil prostor, který vedle Brand X vykryly během času i jiné skupiny, např. Bruford, Gong nebo Isotope. Třebaže míchali jazz s rockem, jejich pojetí bylo jiné než skupin Soft Machine, Nucleus nebo Colosseum. V každém případě byli Brand X hudební jednotkou mimořádné úrovně. Jisté tajemno nastiňoval i obal alba, kde za listy žaluzií (které tady v době vydání alba nikdo neznal) vykukovaly lidské oči…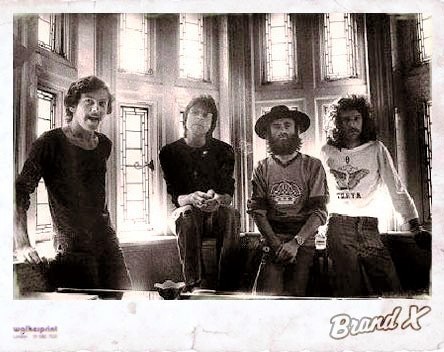 NUCLEAR BURN – Bezpražcová baskytara, neurotický jazzrockový rytmus a mlžení elektrického piana zvolna jakoby vstupovalo do tématu. Pojednou Goodsallova elektrická kytara famózním způsobem ovládne prostor, jako blesk protne nebe a jako sopečná erupce vychrlí vlnu tónových náletů. Goodsall se v interview přiznal, že jeho velkým vzorem byl John McLaughlin a že chtěl prozkoumat jeho hudební principy. Collins deklaruje technicky velmi precizní způsob hry, až si člověk říká, kam se to všechno vytratilo v osmdesátých letech.
EUTHANASIA WALTZ – Dvanáctistrunná akustická kytara jakoby meditativním způsobem vystřídá Goodsallovu elektrickou kytaru a Lumley popřeje prostor elektrickému pianu Fender-Rhodes, jehož perlivé tóny stékají jako kapky vody po skle. Úžasná práce s dynamikou a se subtilníimi smysly pro detail. Podle názvu je to valčík, ovšem zabývá se vážným tématem eutanazie, což samo o sobě je hluboké téma k zamyšlení a my popstupně zjišťujeme jak hudba nabírá na energetickém potenciálu. Jonesovy modulované baskytarové tóny byly protipólem vynálezci fretless bass (bezpražcové baskytary) portorikánskému géniovi – Jaco Pastoriovi.
BORN UGLY deklaruje funky rytmus, kdy rytmika předvádí zvláštní obrazce. Jones se svými basy doluje takové perkusivní zvuky, které do té doby nebyly v Británii slyšeny. Svižnost rytmu nástroje spojuje – Lumley za klavírem vstupuje do skladby téměř klasicizujími postupy, následně přesedá na elektrické piano a my se můžeme nechat unášet jeho lehkostí úhozu a přitom hráčskou virtuozitou. Tónové kouzlení prostorem přináší další náladotvorné imprese. Goodsallova kytara přináší odlišnou hráčskou estetiku ve stylu Santany a možná i DiMeoly. Opakující se unisonové schéma kytary, baskytary a kláves graduje v celkové atmosféře. Collins udržuje svými rytmickými proměnami cobhamovské napětí a tmelí celý hudební tvar skvěle dohromady.
SMACKS OF EUPHORIC HYSTERIA – Do jazzové nálady implantuje Goodsall ryze rockové kytarové téma, které ještě harmonicky ozvláštňuje Lumley klávesami. Collins se ve skladbě opravdu seberealizuje, jeho bubenické eskapády jsou na vysoké úrovni. Synthesizer přinese nové zvukové barvy a vyváženost podílu veškeré instrumentace se krásně doplňuje. Tajemné elektronické zvukové stěny v pozadí připomenou v propojení rozkládaných kytarových akordů Mahavishnu Orchestra, včetně úhozu na gong. Mysteriózní.
UNORTHODOX BEHAVIOUR – Modulované tóny baskytary vytvářejí jakési šamanské tajemno, které doprovází tiché tikání rytmiky, jako hodinového stroje, až se Collinsova baterie začne výrazněji probouzet z předstírané ospalosti. Jako bychom byli svědky nějakého obřadu, nad kterým se vznáší opar bzučení synthesizeru, který nikterak nenarušuje atmosféru. Ne, nebojte se, u takového typu skladby nehrozí, že byste usnuli, nebo začali zívat nudou. Je to jen subtilnější kaleidoskop kreativity Brand X. Cinkání zvonečků a rezonující zvuky vibrafonu doprovází tlumený zpěv ptáků.
RUNNING OF THREE – Důrazný úder a rytmika opět nabrala novou energii. Prostor opět ovládne pořádně zrychlený rytmus, do kterého vstupuje melodické kytarové téma, doprovázené synthesizery. Collins a Jones běží jako s větrem o závod, což samozřemě prozrazuje i název. Nádherná instrumentální prezentace! Goodsallovo kytarové téma pracuje s mimořádným technickým nasazením, ale pořád jste u vytržení nad Collinsovými ďábelskými breaky a Jonesovými kreativními basy. Lahůdka pro milovníka hudebního mistrovství!
TOUCH WOOD – Finální skladba přináší zklidnění. Akustická kytara a klavír, tentokrát za doprovodu skutečně subtilní rytmiky, uzavírá bouřlivý výlet do světa rytmů, proměnlivých harmonií, nálad a napětí. Asi jako příjemný likér na dobrou noc.
Album fascinovalo britské hudební kritiky a vyhlásili ho za nejlepší album fusion music v Británii. Rovněž i reakce posluchačské obce byla veliká a v hudebním tisku se objevily spekulace, zda úspěch startujících Brand X nebude znamenat odchod Phila Collinse od Genesis(!). To se ovšem ukázalo jako lichá informace. Collins dokázal paralelně usedat za bicí soupravy v obou skupinách a navíc se v nich realizoval i po autorské stránce. Skupinu Brand X jsem poprvé slyšel začátkem roku 1977 na tehdejším Větrníku stanice Vltava a byl jsem z jejich hudby ohromen…
Dávám plný počet hvězd – tedy pět!
SKLADBY:
1. Nuclear Burn 6:20
2. Euthanasia Waltz 5:39
3. Born Ugly 8:13
4. Smacks of Euphoric Hysteria 4:26
5. Unorthodox Behaviour 8:25
6. Running On Three 4:37
7. Touch Wood 3:03
SESTAVA:
John Goodsall – electric, acoustic (7) & 12-string acoustic (2) guitars
Robin Lumley – piano, Fender Rhodes electric piano, Moog
Percy Jones – fretless bass, marimba (5), acoustic bass (7)
Phil Collins – drums, percussion, tambourine, vibes (2)
+
Jack Lancaster – soprano saxophone (7)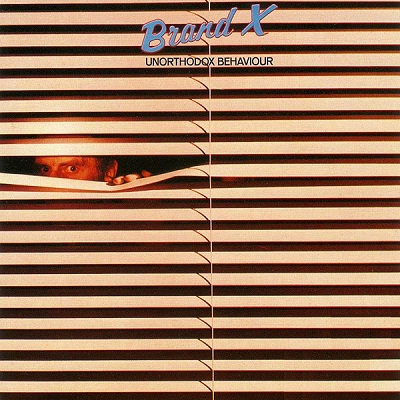 Unorthodox Behaviour
Brand X
Jazz Rock, Fusion
Charisma
1976
LP
7