Black Oak Arkansas patrí k tým skupinám južanského (southern) rocku, ktoré si nemôžete pomýliť. Na svedomí to má najmä vokálny prejav frontmana Jima Dandyho. Ten treba počuť. A môžete tak učiniť s čerstvým albumom Underdog Heroes.
Sú kapely, ktoré všetko podstatné akoby povedali už dávno. Síce žijú zo zašlej slávy, nové skladby sa však zjavujú zriedka alebo vôbec. K tým redším formáciám patrí práve Black Oak Arkansas. Od čias albumu The Wild Bunch (1999) som s ňou neudržoval kontakt. Avšak novinku som, ako vhodný narodeninový dar, kúpil pre blížneho svojho. Nakoľko nemenovaný oslávenec počúva všetko digitálne, nosič mi ostane. Win-win situácia. A čo nám to teda kapela nachystala?
Zvláštne zmixovaný južanský rock. Frontman Jim Dandy na tomto albume často vedie úvodné slovo v hovorovom tóne. Spevy si zdvojuje, väčšina skladieb je pomalšia, ako by sa na prvý stret žiadalo. Gitarové sóla (a vôbec nástroje) sú akoby potlačené do pozadia, čo ma najprv iritovalo, ale po čase som si zvykol. Vlastne je to zaujímavé vybočenie z obvyklého zvukového hluku. Celý album je tak trochu spomienkový, meditačný. V skladbe Channeling Spirits si napríklad zaspomíname na mŕtvych hudobných velikánov typu Mayfield, Cash, Mercury a pod. Inak, speváčka Samantha Barnes Seauphine vyzerá na fotkách ako metalová diva, ale spevom priveľmi nevyčnieva. Výraznejšie si ju všimnete napríklad v dialógu nazvanom The Wrong Side Of Midnight. Čo je inak príjemne temná skladba. A v The Devil's Daughter má hlavné slovo, vokalista je stíšený v pozadí a robí jej druhý hlas.
Z jedenástich skladieb sú hneď tri covery. Prinášajú vlastný vklad kapely definovaný vyššie. Ako Alan Parsons, tak Mark Farner alebo Tommy Bolin by sa určite čudovali, čo sa deje. Don't Let It Show z albumu Alan Parsons Projekt – I Robot (1977) o klávesy prakticky nezavadí, nuž tu máme gitarovú baladu. (Ruby's) Heartbreaker od Grand Funk Railroad (z debutu Time Machine z roka 1969) je zvláštne spomalená, reminiscencie na staré piesne v úvodnom slove nemožno prepočuť. Skladbu som si pri prvom počúvaní spojil až v refréne, tak je "iná". Bluesovka You Told Me You Loved Me zo sólovky Private Eyes (1976) Tommyho Bolina má k svojmu predobrazu najbližšie.
Celkovo sa mi album Underdog Heroes páči. Má zvláštnu atmosféru, divne namixovanú hlasitosť nástrojov a skôr sa zakráda ako cvála. Ak si človek zvykne, otvorí sa pred ním nenápadný, ale o to vďačnejší južanský album. A spev Jima Dandyho nestratil nič zo svojho zafarbenia.
Skladby:
Don't Let It Show 4:32
Underdog Heroes 7:07
Channeling Spirits 6:15
Ruby's Heartbreaker 5:51
The Wrong Side Of Midnight 6:31
The Devil's Daughter 4:34
Arkansas Medicine Man 5:47
Do Unto Others 5:09
You Told Me You Loved Me 4:48
Love 4 Rent 4:55
The 12 Bar Blues 7:04
Johnnie Won't Be Good 4:11
Zostava:
Jim Dandy: spev, valcha, gitara
Rickie Lee Reynolds: gitara, klávesy, basa
Samantha Barnes Seauphine: spev, valcha
Lonnie Hammer: bicie
Billy Little: basa
Randall X Rawlings: gitara
a
Shawn Lane (posmrtne): gitara (8)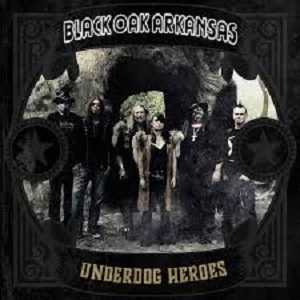 Underdog Heroes
Black Oak Arkansas
southern rock
Purple Pyramid Recodrs
2019
CD
11