Birth Control, nemecká hardrocková veličina, od ktorej väčšej azda ani niet, má na konte viacero parádnych albumov, dnes by som rád upriamil pozornosť na Hoodoo Man, tretí štúdiový počin z roka  1972. Teší sa obľube u fanúšikov i kritiky, právom? 
Album som si kúpil vo Frankfurte nad Mohanom v druhej polovici apríla 2007. Viem to pomerne presne, nakoľko to bol môj druhý letecký zážitok v živote. Šiel som tam na knihovnícku konferenciu (vydarenú) a vo voľnej chvíľke som prešiel mostom do historického centra mesta. Bol som zvedavý, čo objavím. Predstavte si, v jednej uličke som zrazu zazrel hudobný antikvariát. Presnoril som ho a vybral si hneď tri cédečka. Na prvom bola skvelá džezrocková záležitosť Os Munndi – 43 Minuten (1972), ďalšie dva kúsky sa venovali kapele Birth Control. Albumy Hoodoo Man a Live (1974), o ktorom na Rockovicu určite raz niečo napíšem. V prípade štúdiového albumu ide o staré vydanie od Sony/Columbia z roku 1994, myslím, že dokonca o prvé vydanie tohto diela na cédečku. Ostatne, ak nepočítam digipak od Repertoire o dekádu neskôr, moc iných oficiálnych vydaní na trhu nenájdete.
Kapelu som už nejaký čas poznal, k cédečkam som sa však príliš neprepracoval, mal som akurát stručný (slušný) výber Definitive Collection (1996), ktorý som, paradoxne, tiež kúpil v bazári, akurát v Bratislave. Išlo o jednodiskovú verziu. Za jej najväčší chyták na vnímavého poslucháča považujem to, že v nej spieval bubeník. Nie je to ľahké, pri tom, čo musí odbúchať.
Nemecký vkus na ženy by som nerád zovšeobecňoval na základe kresby na obale albumu. Kapela rada provokovala, už na minulom albume, Operation (1971), zaujala kobylkou, ktorá buď požiera alebo vyvracia malé deťúrence (vyberte si podľa miery vášho vnímania odpornej reality). Tu sa nachádza niečo, z čoho by feministky dostali mindrák. Obria oblá žena s kopou odporných detvákov za zadkom naťahuje kľúčik na úplne vyšťavenom mužičkovi.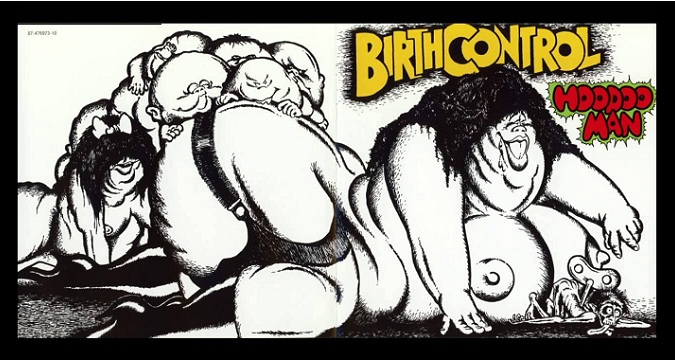 A čo núka samotná muzika? Prvotriedny klasický hardrock vyznačujúci sa poznávacím znakom "párplovskej" proveniencie, a síce ide o nástrojovú dvojicu Hammond-gitara, no nekúp to! Buy! Klávesová rýchlovka Suicide (tento kontext znie nepríjemne cynicky, ale mne šlo o tempo skladby) utešene odsýpa, podobne ako parádna valcovačka Get Down To Your Fate. Azda najznámejšia skladba kapely, takmer desaťminútová smršť Gamma Ray, je okrem hardrockového pnutia doplnená o perkusijno-spevácke sólové pasáže, skrátka, je to nálož hodná atómovej apokalypsy. Osobne sa mi najviac páči titulná skladba. Hoodoo Man má parádne stopky, ktoré vybíjajú srdcový rytmus so zručnosťou predsedu spolku za šírenie arytmie. Záverečná (jediná) krátka blbinka na odľahčenie ťaživej nálady albumu, Kaulstoss, má miestami až šenkový charakter a uchytila by sa hádam aj vo Westerne.
Birth Control radím na vrchol potravinového reťazca nemeckej rockovej produkcie. Hoodoo Man je super.
Skladby:
1. Buy! 7:10
2. Suicide 6:16
3. Get Down To Your Fate 7:58
4. Gamma Ray 9:44
5. Hoodoo Man 8:25
6. Kaulstoss 2:40
Zostava:
Bruno Frenzel: gitara, spev
Bernd Koschmidder: basa
Wolfgang Neuser: klávesy, vibrafón
Bernd Noske: bicie, perkusie, spev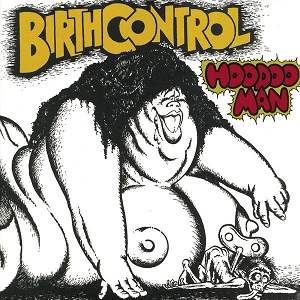 Hoodoo Man
Birth Control
hard rock
CBS
1972
LP, CD
6