Bývali doby, kedy bubeník bol hviezdnym členom rockovej kapely. V tom čase bolo neoddeliteľnou súčasťou rockového koncertu bubenícke sólo a niektoré bubenícke osobnosti dokonca vydávali sólové albumy. V roku 1973 tak učinil aj Billy Cobham s dielom Spectrum.
Necítim sa byť odborníkom na fusion, moderný džezrock. Do zbierky som si zaradil len niekoľko desiatok titulov, pričom jediným kritériom bolo, či sa mi ten alebo onen album zapáčil. Spectrum som si napálil kdesi na prelome fenoménu Y2K a dnes ho vlastním v japonskom CD vydaní z roka 2014. Nie som zástanca drahých japonských vydaní, ale tu došlo k akémusi omylu. Objednal som si obyčajné vydanie za pár eur a prišlo japonské. Nič proti tomu.
Billy Cobham je eso medzi všetkými bubeníkmi, čo ich zem niesla, nesie a bude niesť. Jeho výnimočnosť mi prízvukoval otec, predovšetkým preto, lebo hral s Mahavishnu Orchestra. Ale on hral s nesmiernym množstvom svetových veličín džezu a fusion, spomeniem aspoň Milesa Davisa, Larryho Coryella alebo hoci Stanleyho Clarkea. U nás doma sa tešil obľube aj videozáznam z Rockpalastu z roka 1980, kde hral s Jackom Bruceom (basgitarista z Cream, keby ste náhodou nevedeli). Mimochodom, keď vyšli tri Bruceove koncerty z Rockpalastov v roku 2005 na DVD, neváhal som a hneď som ich otcovi kúpil a venoval. Dnes mám toto cenné dedičstvo doma a v rámci novoročného covidového zaracha si ho veru pustím. Ale späť k veci. Ja si Cobhama pamätám predovšetkým z jeho bubeníckej školy, ktorú sme mali nahratú kdesi na VHS. Zahral tam veľmi pomaly nejaký rozklad na celú biciu súpravu a potom ho opakovane zrýchľoval až do stavu, ktorý bol úplne mimo chápania a realizovania pre začínajúceho bubeníka vteleného do mojej maličkosti. Nikdy na tú traumu nezabudnem.
Spectrum je album, ktorý sa teší veľkej popularite v rámci žánru. Cobham sa obklopil majstrovskými hráčmi, z ktorých vyčnieva účasť Jana Hammera a Tommyho Bolina, ktorého hviezdne chvíle nasledovali až po tomto džobe. Najprv sa uchytil v James Gangu a potom nahradil Blackmorea v Deep Purple. Z desiatich skladieb prispel na štyri a sú to veru gitarové orgie. Keďže štyri skladby sú iba krátke sólové vstupy buď Cobhama alebo Hammera, hrá vlastne vo všetkom podstatnom. Mimochodom, všetku hudbu si Cobham podľa informácií z obalu zložil sám. Nakoľko to platí aj pre tie Hammerove vsuvky, ponechám na každom poslucháčovi, podstatné je, že tu máme album, ktorý je úplne v réžii bubeníka. To sa už dnes nevidí, nepočuje. Inak, štyri skladby sú akoby zložené ako medley, čiže sa zdá, že je na albume iba šesť kompozícií, tie spomínané sólové vsuvky sú však počuteľne oddelené, a tak som informácie o skladbách a hudobníkov rozpočítal na desať kúskov, tak, ako sú natrackované na cédečku.
Vybrať najlepšiu skladbu je pre mňa vcelku ťažké. Album začína zostra. Tvrdý nadupaný (doslova) rockový rytmus bicích podkresľuje gitarovú exhibíciu a keď sa pridá swingujúca basa, je z toho razom priam pozitívna energetická bomba nazvaná Quadrant 4. Samozrejme, ide o inštrumentálku, na albume sa nespieva. Cobham sa blysne sólom  a. Searching For The Right Door, ktoré tvorí intro k smooth náladovke b. Spectrum. Bubenícke sólo číslo dva – a. Anxiety, nevybočuje z dobových mantinelov, cca v polovici svižnej skladby b. Taurian Matador Bolin roztrhal hrubšiu éčkovú strunu, ale to ho nezastavilo a došiel až do konca. Desaťminútový výlet do vesmírneho psychedelického oparu Stratus ani chvíľku nenudí. Napokon, skladba sa po niekoľkých minútach pretaví do ďalšej džezovej náladovky, ktorej tón udáva plná basa. Hammer sa emotívne vyhrá v dvoch áčkových medzihrách a. To The Woman In My Life a a. Snoopy's Search a aj v b. Le Lis má nadostač priestoru Záverečný smooth kúsok b. Red Baron by sa nestratil ako podmaz v žiadnej počítačovej hre typu Beach Life.
Mám tento album rád. Je v ňom množstvo nespútanej energie, napokon, basgitarista Sklar spomína, že album nahrali za pár dní a všetky skladby dali na prvú, sem-tam na druhú dobrú. To svedčí o sile prezentovaného. Žiadne nekonečné štúdiové úpravy a popravy spontánnosti, ako býva u ambicióznych diel (ne)dobrým zvykom. Takto mi to vyhovuje. A vám?
Skladby:
Quadrant 4 4:20
a. Searching For The Right Door 1:24
. Spectrum 5:09
a. Anxiety 1:41
b. Taurian Matador 3:03
Stratus 9:50
a. To The Woman In My Life 0:51
b. Le Lis 3:20
a. Snoopy's Search 1:02
b. Red Baron 6:37
Zostava:
Billy Cobham: bicie (1-6, 8, 10)
Jan Hammer: klávesy (1, 3, 5-10)
Lee Sklar: basa (1, 5, 6, 10)
Tommy Bolin: gitara (1, 5, 6, 10)
Ron Carter: ak. basa (3, 8)
Ray Barretto: congas (3, 8)
Jimmy Owens: lesný roh (3, 8), trúbka (8)
Joe Farrell: flauta (3), soprán saxofón (3), alt saxofón (8)
John Tropea: gitara (8)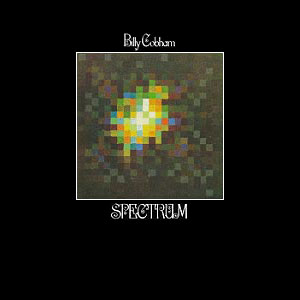 Spectrum
Cobham, Billy
fusion, jazz rock
Atlantic
1973
CD (Atlantic, 2014)
6 (10)