Black Sabbath – Paranoid. Čo dodať?
Že je všetkých osem skladieb klasikou? Načo. Skúsim si radšej nostalgicky zaspomínať na mladosť.
Mal som pätnásť, začal som sa učiť hrať na bicie a skrz debut Wishbone Ash som sa definitívne odklonil od svojho punkového obdobia smerom k rockovej muzike z dôb, kedy šesťdesiate roky odovzdávali štafetový kolík sedemdesiatym. To bola doba walkmanov, prístrojov, ktoré boli malé, mali slúchadlá a šli do nich také tie malé kazety, ktoré súčasnej omladine pripomenul film Strážcovia galaxie. Bol to skvelý vynález, dalo sa s ním chodiť do školy, zo školy, do podnikov, z podnikov a tak ďalej. A počúvať muziku, bez toho, aby vás rušili zvuky mesta (dopravy, rekonštrukčných prác a pod.).
Prirodzená zásoba kaziet v rodičovských policiach ponúkala množstvo lákadiel, z ktorých niektoré ma držia v hrsti dodnes. Paranoid je jedným z týchto opiátov. Keď si k tomu pripočítam fakt, že s mojou prvou kapelou (Earpick) sme hrali hneď niekoľko skladieb (a niektoré dokonca aj celé), nakoľko bol náš basák asi najväčší fanúšik Black Sabbath, akého som kedy stretol, je jasné, že album jednoducho nemôžem zaradiť inam, ako na prvé miesto v celej diskografii skupiny.
Aby toho nebolo málo, 14.9.1995 na bratislavský Amfiteáter pri Horskom parku (dnes už neexistuje, žiaľ) zavítala kompánia okolo Iommiho (Rondinelli, Butler, Martin, Nicholls) v rámci turné k Forbidden. Bol to pamätný koncert, predkapela sa volala Tiamat a v podstate nikto ju nepoznal. To sa zmenilo. Celý večer pršalo, prestalo akurát na Black Sabbath. Amfiteáter bol prepchatý, dnes už by sa v našich končinách na rockový koncert toľko ľudí nedostavilo, hold, nie je pohoda ako Pohoda.
S koncertom sa spája kúzelná historka, predchádzala mu intervencia cirkevného predstaviteľa Sokola (áno, presne toho), ktorý s kresťanskou láskou chrlil pekelný oheň na túto, údajne, satanistickú hudbu. Mali sme vtedy na strednej jednu pani učiteľku, ktorá bola silno veriaca a cítila povinnosť nás všetkých varovať, aby sme tam nešli. Ako puberťákovi mi stačilo málo. Hneď som jej oznámil, že na koncert samozrejme pôjdem a basta! Nikdy sa na mňa nikto nepozrel s takou hrôzou v očiach ako táto pani. A to som raz musel ísť na ministerstvo financií na nejaké mega závažné rokovanie v rifliach a tričku, čo vyvolávalo paniku v kolegyni, ktorá tam musela ísť so mnou. Nedá sa porovnať!
Ale späť do garáže. Nikto, kto to myslel s rockovou muzikou aspoň trošililinku vážne, nemohol nezahrať Paranoid. Časom dokonca s ukončením á la Heaven And Hell, ktoré sa k nej hodí ako Laurel k Hardymu. Osobne neviem pochopiť mnohých ľudí, ktorým sa časom tieto ikonické skladby histórie opočúvajú, i keď to rešpektujem. Mne sa veci ako Whiter Shade Of Pale, Whole Lotta Love, Smoke On The Water (OK, toto je skladba, ktorú vo všeobecnosti k životu nepotrebujem) alebo hoci Nights In White Satin neopočúvajú nikdy. Rovnako sme museli drtiť aspoň prvú polovicu War Pigs, diela, ktoré je natoľko geniálne, až by z neho Mensa dostala komplexy. To platí aj o zdrvujúcej pecke Iron Man, hrať ju, to je extáza! My sme si ešte radi precvičovali dynamiku na atmosferickom kúsku Hand Of Doom, hoci sme ho nikdy nenacvičili celý.
Tiež sme chceli hrať i Planet Caravan, vymykajúci sa trip po vesmíre, ale neznelo to. A pokiaľ si dobre spomínam, tak aj Fairies Wear Boots sme skúšali a určite sme aspoň náznakom brnkli do Electric Funeral.
Z môjho walkmanového obdobia mi však aj tak utkvela v pamäti predovšetkým parádna bubenícka exhibícia Rat Salad. Keďže som sa v tej dobe snažil vstrebať čo najviac z rockového bubnovania, aj keď som ledva zvládal základné rytmy a základy paradidlov, mlátiace sóla od Gingera Bakera, Carla Palmera, Iana Paicea, Bonza atď. som nasával ako svojho času materinské mlieko. Bill Ward mal svoj ťažkopádny kotlový štýl v malíčku, nuž je radosť počúvať ho aj dnes. Tá skladba má navyše skvelý hardrockový odpich, v tých dobách kapely bubeníckym sólam venovali svoje najlepšie rify, akoby si nepripúšťali, že raz prameň inšpirácie vyschne a zídu sa na riedenie produkcie. Dobre im tak!
Pokiaľ ste to dočítali až sem, je vám jasné, že o albume ste sa veľa nedozvedeli. Ja jednoducho nepredpokladám, že toto dielo nejaký rocker nepozná, minimálne s miliónov opisov vo všetkých médiách. A ak aj náhodou nie, tak si ho vypočujte. Ikonickejšiu hardrockovú klasiku by ste ťažko našli!
P.S. Akurát si nevšímajte ten gýčový odporný obal.
Skladby:
War Pigs 7:57
Paranoid 2:48
Planet Caravan 4:32
Iron Man 5:56
Electric Funeral 4:53
Hand Of Doom 7:08
Rat Salad 2:30
Fairies Wear Boots 6:15
Zostava:
Tony Iommi: gitara, flauta (3)
Geezer Butler: basa
Ozzy Osbourne: spev
Bill Ward: bicie, kongá (3)
a
Tom Allom: klavír (3)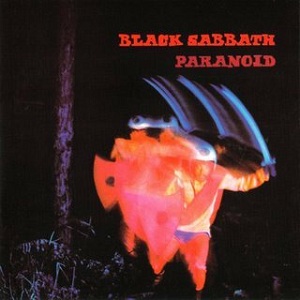 Paranoid
Black Sabbath
hard rock
Vertigo
1970
LP, CD
8