Počiatkom 90. rokov sme si užívali novú chuť takzvanej demokratickej slobody, čo okrem iného znamenalo aj narušenie embarga na "prehnitú" západnú muziku. Dodnes si pamätám, že v dobe vydania albumu niektorá naša rádiová stanica (meno mi už vyšumelo) predstavila tento album vo vysielaní.
Pre otca to bol šok a ako vtedy ešte holdoval kazetám a platniam, tak sa toto CD pokúsil zohnať (a nahrať si ho, originálne nosiče stáli "majland", pirátske weby boli zatiaľ iba sci-fi). Musíte si uvedomiť, že to bola doba bez internetu, informácie o novej muzike sa na nás valili z televízie (nekecám), rádií a predovšetkým z hudobných časopisov (Rock & Pop vo veľkom novinovom formáte, Muzikus a pod.), a preto zachytenie každej takejto perly bolo sviatkom. V tom roku som sa navyše rozhodol, že sa naučím hrať na bicie (vyzeralo to jednoducho, v praxi i v notovej osnove). Možno to vyznie ako totálna magorina, ale bolo mi povedané, že každý hráč musí mať nejaké vzory. V tej dobe som sa začal postupne odpútavať od punku, za čo ďakujem niekoľkým albumom v poradí Wishbone Ash – Wishbone Ash (1970), Emerson, Lake & Palmer – Emerson, Lake & Palmer (1970), Jethro Tull – Benefit (1970) a Mountain – The Road Goes Ever On (1972). Moje "vzory", ak to tak nazvať sa postupne vykryštalizovali do mien ako Steve Upton, Carl Palmer, Jim Fox a Ian Paice.
Ale na počiatku "kariéry" ma táto problematika zaskočila. Našťastie, deti sa vždy, chtiac-nechtiac, dajú ovplyvniť rodičmi. Dobrá rada nad zlato, môj nemenovaný rodič, nadšený obdivovateľ Cream a všetkého navôkol, ukázal prstom na skladbu Toad a dal mi tak prvú lekciu z bubeníckej náuky. Preto som s veľkými očakávaniami začal počúvať toto dielo (v tej dobe sme ešte hudbu počúvali spoločne, neobmedzovala sa na slúchadlá a počítačovú izoláciu, zlaté časy) a viete čo? Okamžite som si ho zamiloval. Niektoré diela majú to šťastie, že sa k človeku dostanú v okamihu, kedy sa otvára myseľ, transformuje svetonázor, formuje dlhodobý vkus. Album Around The Next Dream to "vymákol" s načasovaním hodným geniálneho stratéga.
Od prvého hrabnutia do strún je jasné, že sa chystá niečo monštruózne. A naozaj, rázna bluesrocková muzika dominuje skladbe Waiting In The Wings. Jack Bruce spieva stále neopakovateľne a presvedčivo, o mäkkej a neposednej base ani nehovorím, Moore vie kvákať, voľne plynúť, skrátka, robí to, čo má. A Baker? Hrá to, čo si táto muzika vyžaduje a na svoj vek je stále dostatočne razantný. Podobne svižná a svieža skladba City Of Gold má neskutočne ľahko pôsobiaci rytmický spodok, Moore šťavnato sóluje a podmanivo vyspevuje, takto si predstavujem šťavnatý bluesrock. Zmena nálady sa volá Where In The World, akustická gitara, klávesové šumenie, je to skrátka balada, v ktorej sa Moore cíti ako doma. A štartujeme "športiak". Can't Fool The Blues veru nič neogabá, hutne v skvelo posadenom tempe rozohrá ďalší "majsterštyk". Pokojnejšia, ale rozhodne nevhodná na polnočný "lepák", je zasa záležitosť High Cost Of Living. A máme tu vrchol albumu. Glory Days má všetko. Neskutočne majestátny úvodný motív, ktorý priam láka plebs do prvých rád pešieho vojska, bez ohľadu na to, že štatisticky je ich šanca na prežitie mizivá. Spevné slohy i refrény, ohromujúce gitarové sólo, čo viac si priať. Radím si ju osobne na úroveň White Room (poznáte ju, všakže?). Baladická superpecka Why Does Love (Have To Go Wrong)? má neskutočnú súmračnú náladu a v sólach sa rozbúri ako oceán v búrkovom období. Majstrovské! O triedu pokojnejšia skladba Naked Flame je krehká a podmanivá. Moore si odohrá svoje typické sólo z pomalého ranku, radosť počúvať. Svižný kúsok I Wonder Why (Are You So Mean To Me?) sa počúva sám a záver patrí ďalšej úplne pokojnej piesni Wrong Side Of Town, tentoraz sa v nej žiadne vzopätie citov nekoná, skôr je to taká melancholická bodka za albumom.
Around The Next Dream milujem a je to nádherná ukážka toho, ako hrať starú muziku v modernom šate bez toho, aby sa stala karikatúrou.
Waiting In The Wings 3:42
City Of Gold 3:57
Where In The World 5:23
Can't Fool The Blues 5:15
High Cost Of Living 5:14
Glory Days 4:23
Why Does Love (Have To Go Wrong)? 8:47
Naked Flame 6:06
I Wonder Why (Are You So Mean To Me?) 5:00
Wrong Side Of Town 4:00
Zostava:
Ginger Baker: bicie, perkusie
Jack Bruce: basa, čelo, spev, klávesy (10)
Gary Moore: gitara, spev
a
Tommy Eyre: klávesy
Arran Ahmun: bicie (3)
Morris Murphy: trúbka (6)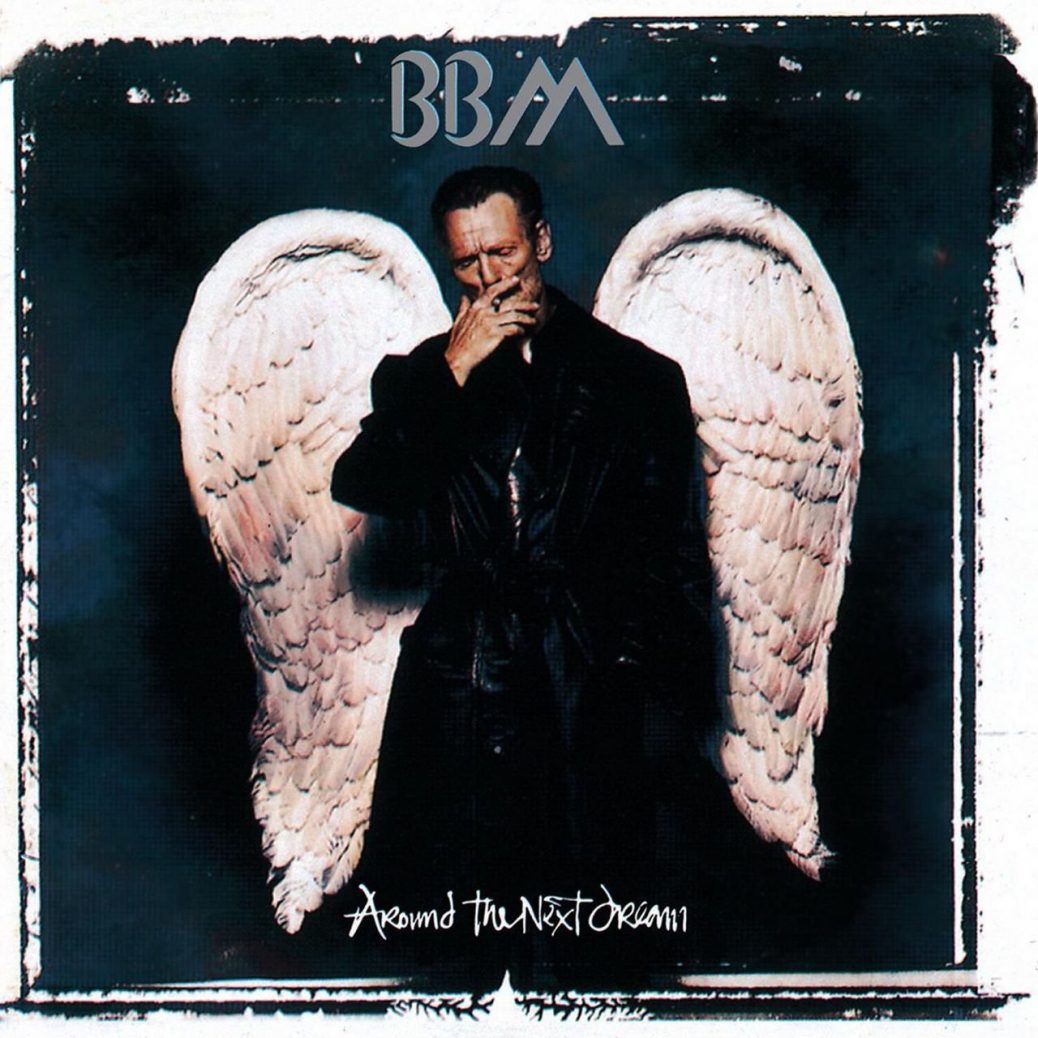 Around The Next Dream
BBM
blues rock
Virgin
1994
CD
10