Keď sme sa s bratom koncom 90. rokov ponorili do južanského rocku, sledovali sme nielen klasikov žánru, ale aj pomerne veľkú množinu amerických kapiel, ktoré sa zviezli na popularite reunionovej vlny Lynyrd Skynyrd (a neutíchajúcej reinkarnácie Molly Hatchet). V záplave kapiel ako Screaming Cheetah Wheelies, American Dog, Allgood, Chain Lightning, Raging Slab, Dr. Hector & The Groove Injectors a pod. bola aj formácia Barefoot Servants, ktorá mala rozhodne na viac, než len na zabudnutie.
Jej krstným otcom bol bluesový gitarista Jon Butcher. Už v sedemdesiatych rokoch na seba upozornil vo formácii Johanna Wild, v 80. rokoch pokračoval s Jon Butcher Axis. V roku 1991 kapela prestala fungovať, nuž založil ďalšiu – Barefoot Servants. Popri nej vydával aj sólové albumy, ale to nie je podstatné. Podstatné je, že v roku 1993 nahral album Barefoot Servants, ktorý vyšiel na značke Epic v roku 1994. V zostave mal trojicu muzikantov, menovite Bena Schultza (gitara, hral v kapele KGB), Raya Brinkera (bicie) a Lelanda Sklara (basa).
Ťažko povedať, nakoľko kapela fungovala v ďalších rokoch, zdá sa, že príležitostne, pričom zostavy sa dynamicky menili, každopádne jej v roku 2005 vyšiel album 2, na ktorom bubeníka Brinkera nahradil Neal Wilkinson. A o rok neskôr spáchalo duo Butcher "featuring" Schultz koncertný album Two Barefoot Servants Live "Straight Through Ohio". Obe diela vydalo vydavateľstvo Atom Records. Butcher je tiež majiteľom produkčnej firmy Electric Factory, s ktorou sa venuje multimediálnym projektom a tiež tvorí hudbu k známym seriálom pre HBO, CBS, UPN, ABC a ďalšie skratky.
Pamätám si, že som si debutový album kúpil v (ako inak) Roxy. Letmé nahryznutie pri počúvaní v obchode sa skončilo chvíľku na to, ako sa začalo, pretože úvodná akusticky poňatá bluesová pecka Jealous Man ma dostala po pár taktoch. Album obsahuje štrnásť vecí, pričom dve sú skôr polminútové medzihry. Hudba je to jemne "skynyrdovská", štipku bluesová a tiež z nej cítiť prejav rockerov z prelomu 80. a 90. rokov. Inými slovami, okrem toho, že je hutná, má aj, podľa mňa, komerčný potenciál. Teda, aspoň v tých časoch mala. Gitary sú všade a tak to aj znie. Vyzdvihol by som (okrem už spomínanej pecky) predovšetkým našliapnutú Better Off Dead a vkusný, bluesom načuchnutý, slaďák Blackbird. Ono na viacerých miestach sa tak trošku ozýva Stevie Ray Vaughan (jeden príklad za všetky – Muscle Car), čo nie je na škodu.
Barefoot Servants. Štipka južariny, kusisko blues, kompletka kvalitnej muziky. Album, ktorý som nepočul hádam desať rokov a aj tak ho mám rád. Možno zaujme aj vás.
Skladby:
Jealous Man 3:31
Box Of Miracles 3:43
Love's Made A Fool 3:32
It Hurts Me Too 4:41
Foolish Behavior 4:11
Drinking Again 3:10
Whiskey Man 0:35
Red Handed 3:40
Fire And Gasoline 3:30
Better Off Dead 2:42
Blackbird 5:15
Muscle Car 4:18
Bound For Glory 4:17
Railroad Line Revisited 0:23
Zostava:
Jon Butcher: spev, gitara
Ben Schultz: gitara, mandolína, slide gitara
Ray Brinker: bicie, perkusie
Leland Sklar: basa
a
Bill Payne: piano
Craig Doerge: organ
Chris Pierce: vokály
Meredith Marshall: vokály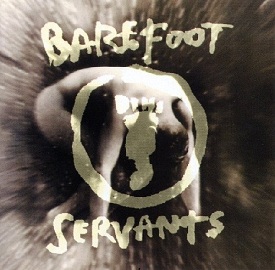 Barefoot Servants
Barefoot Servants
blues rock, southern rock
Epic
1994
CD
14