V časoch masmediálneho otupovania akéhokoľvek náznaku premýšľania, v dobách, kedy internetoví diskutéri pojedli všetku múdrosť sveta, namiesto aby si ju pestovali v hlavách, čo má za následok prekvitanie hlúposti v miere dosiaľ historicky nezaznamenanej, dobre padne opustiť virtuálnu realitu a pokúsiť sa jednoducho – žiť. A ako krajšie tráviť čas, než s milovanou bytosťou? Personifikovanou napríklad do muziky? Nazvime si ju hoci Barclay James Harvest and other short stories.
Na počiatku bola údajne tma a potom prišla svetelná revolúcia, nič už nebolo ako predtým. Prvotným lúčom tohto diela je skladba Medicine Man a vystihuje ju dvojica slov – orchestrálna melodika. Vokálne prívetivá skladba Someone There You Know sa opálila kdesi na plážach 60. rokov. Do tretice sa jasná žiara vylieva z Harry's Song. Hudba je to zdanlivo jednoduchá, ale nedajte sa zmiasť. Má v sebe niečo, čo na hranici vnímania narúša očakávané zážitky. A znie to prirodzene. Pokiaľ máte radi vychádzky po jarnom lesíku, tak sa vám pravdepodobne bude zaliečať Ursula (The Swansea Song). A to platí aj o Little Lapwing, či Song With No Meaning. Trošku vzruchu prináša až Blue John's Blues, paradoxne mi táto ráznejšia skladba s kĺzavou gitarou k zvyšku albumu nesedí. Akoby som počul Rolling Stones. Disneyovská rozprávková selanka The Poet má za úlohu ukolísať poslucháča, nakoľko na finále sa chystá budíček. After The Day je najambicióznejšia kompozícia na albume. V okamihu ma unáša do ríše fantázie, keby ma niekto hoci aj naťahoval na škripec, prišiel by som na to dávno potom, čo by som trhol guinnessov rekord o najdlhšieho muža planéty. A potom, že čas nie je relatívny!
Neodpustím si poznámku k textom, ktoré opustili prosté rýmy a vrhli sa na voľný verš. Ono, rýmovať v angličtine je tak ľahké, že pokiaľ chce niekto budiť dojem sofistikovaného poetu, neostáva mu iné, než zaobaliť svoje obrazy do prozaicky formulovaných viet. Oproti minulému albumu je badať posun vpred, čo určite zástancov slov v muzike naplní radosťou.
Milý album jemnej muzičky s jednou nevšednou artrockovou skladbou rozhodne utíši aj nepokojného ducha.
(pôvodne uverejnené na progboarde)
Skladby:
Medicine Man 3:52
Someone There You Know 3:43
Harry's Song 3:49
Ursula (The Swansea Song) 2:51
Little Lapwing 4:54
Song With No Meaning 4:18
Blue John's Blues 6:45
The Poet 4:55
After The Day 9:33
Zostava:
Les Holroyd: basa, piano, gitara, spev
John Lees: gitara, spev, perkusie
Mel Pritchard: bicie, perkusie, efekty, kongá, tympany
Woolly Wolstenholme: klávesy, Mellotron, spev, ak. gitara
a
Orchester
Martyn Ford: tamburína (5)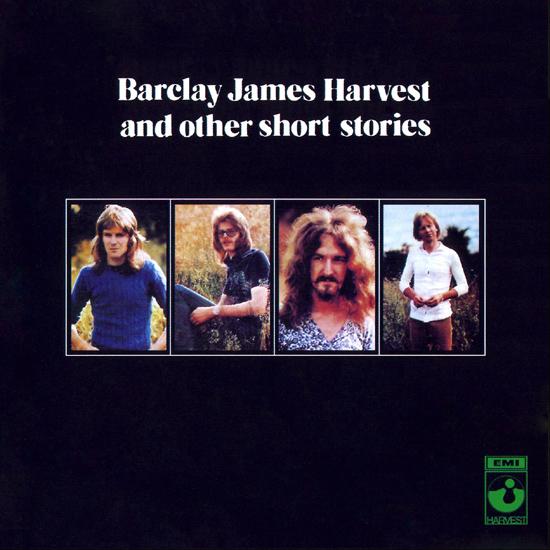 And Other Short Stories
Barclay James Harvest
art rock
Harvest
1971
LP, CD
9