Úsečný hardrock. Že neviete, čo je to? Pustite si Bad Company. Bárs aj album Straight Shooter.
Po rozpade kapely Free sa jedinečný spevák Paul Rodgers a nemenej osobitý úsporný bubeník Simon Kirke spichli s basákom Boz Burellom, ktorý mal tú česť sekundovať chvíľku Robertovi Frippovi a jeho King Crimson. Posledným, hoci nie významom, členom kapely Bad Company sa stal gitarista Mick Ralphs. Ten pôsobil v Mott The Hoople, kde sa cítil nevyužitý. V novej kapele tento pocit rozhodne nemal! V roku 1974 zmienená štvorica vydala debutový album, ktorý sprevádzal singel Can't Get Enough a bolo jasné, že na poli brit(s)kého hardrocku vyšla nová hviezda. Na jeseň toho roku chalani nahrali aj materiál na druhý album, ktorý vyšiel počiatkom roka 1975 pod názvom Straight Shooter.
Hudba je to navlas rovnaká ako na debute, a teda sa pripravte na dávku ráznych rockových pesničiek typu Good Lovin' Gone Bad alebo Deal With The Preacher, ako aj na podmanivé pomalé skladby, ktoré však nikdy neskĺznu do lacných slaďákov, naopak, ide o parádne posadené pecky (Call On Me, Feel Like Makin' Love, Shooting Star). Občas akoby sa sem zatúlala muzička od Free, taká Weep No More, prípadne Wild Fire Woman by mohli hviezdiť na ľubovoľnom albume spomínanej veličiny.
Debata o tom, či je lepšia Free alebo Bad Company mi príde zbytočná. Vnímam to ako prirodzený a pomalý vývoj muziky združenej okolo Paula Rodgersa. A som rád, že bývali doby, kedy sa tento zdanlivo jednoduchý, ale o to presvedčivejší druh muziky dostával na bodované miesta v hitparádach. Áno, v neúprosnom komerčnom svete sa chvíľku darilo prirodzenej a nekompromisnej rockovej muzike, zažiť to tak na vlastnej koži!
Aspoň, že nám tu ostali nahrávky, ktoré si môžeme kedykoľvek pustiť, zatvoriť oči a kochať sa poriadnou muzikou. Viete, ako to je. Poriadna hudba je neporiadna.
Skladby:
1. Good Lovin' Gone Bad 3:35
2. Feel Like Makin' Love 5:12
3. Weep No More 3:59
4. Shooting Star 6:14
5. Deal With The Preacher 5:01
6. Wild Fire Woman 4:32
7. Anna 3:41
8. Call On Me 6:03
Zostava:
Paul Rodgers: spev, gitara, piano
Mick Ralphs: gitara, klávesy
Boz Burrell: basa
Simon Kirke: bicie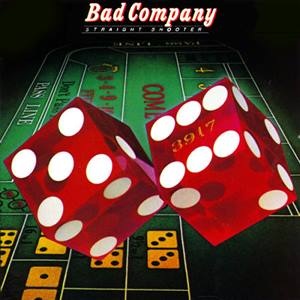 Straight Shooter
Bad Company
hard rock
Island Records
1975
LP, CD
8