Zdalo by sa, že predstavovať rockovému publiku Bad Company, skupinu s legendárnym Paulom Rodgersom v čele, sa rovná povestnému noseniu dreva do lesa. Poznáte však naše lesy vo vybraných lokalitách s koncentráciou osadníkov, ktorých nemožno diskriminovať. Bez ohľadu na to, koľko kubíkov dreva vyložíte, koľko ratolestí vysadíte, o chvíľku akoby sa ani nestalo. A preto nezaškodí pozrieť sa na zúbok albumu Burnin' Sky, škaredému káčatku diskografie pôvodnej zostavy.
Nahrávanie prebehlo v lete 1976, nakoľko sa však zjari na výslní vyhrieval album Run With The Pack, padlo rozhodnutie, že sa s vydaním chvíľku počká. Chvíľka sa napokon pretiahla do marca 1977. Kebyže vezmeme strohé čísla, moc mu to nepomohlo. Rebríčkovo ani singlovo sa Burnin' Sky na svojho predchodcu nedotiahol, o nasledujúcom Desolation Angels nevraviac (overte si to hoci na Wikipédii). Lenže!
Objektívne sa síce na ňom nenachádza ani len spolovice tak parádna skladba, akou je titulná vec z "Runu", zato však pri počúvaní pôsobí o kúsok konzistentnejšie. Jasné, nájdu sa tu uletené polohy, na ktoré by rocková kapela nikdy nemala ani len pomyslieť.  Upísať dušu teplomilnej démonickej sile pre niečo ako Everything I Need sa skrátka nevypláca. K mekotaniu koktavého vykastrovaného kozla si rovno zarátajte aj bizarnú kratochvíľu Knapsack. Nevonia mi ani dlhšia skladba Master Of Ceremony, príde mi vcelku bezcieľna. Zväčša však znejú jednoduché (ale nie prostoduché) hard i "nehard" rockové kúsky, ktoré šliapu s vervou príslušníčky nemenovaného historického remesla na začiatku šichty, a tiež balady, ktoré znejú ako znejú. Paul Rodgers by mohol predsedať spolku podomových obchodníkov, pretože dokáže predať aj ten najbanálnejší slaďák ako niečo, čo má v sebe prebytok antickej drámy a shakespearovskej dramatizácie. Pokiaľ ste ho nikdy nepočuli spievať, pripravte sa na niečo neopakovateľné. Ostatok nástrojového obsadenia hrá kompaktne, jednoducho, ale o to presvedčivejšie (a verte mi, keď hovorím, že hrať jednoducho a výborne je nesmierne zložité), takže vo výsledku dostanete necelú trištvrte hodinu rockovej muziky, akú dnes nehrá nik. Pretože to tá, hudobným biznisom ohobľovaná, mládež jednoducho nedokáže.
Kebyže mi niekto priloží k hlave palnú zbraň a núti ma niečo osobitne vyzdvihnúť, zbabelo by som uviedol, že mám slabosť pre ranné lúče skladby Morning Sun, preferujem však štvoricu ráznych hardrockových smrští Leaving You, Heartbeat, Too Bad, či dokonca Man Needs Woman (gýčový saxofón beriem na milosť).
Burnin' Sky je naozaj dobrý album, zľahka plynie, počúva sa sám a mám ho radšej ako ten minulý. Na hodnotenia kade-tade po nete sa pokojne vykašlite a smelo do neho!
Skladby:
Burnin' Sky 5:19
Morning Sun 3:57
Leaving You 3:24
Like Water 4:18
Knapsack 1:20
Everything I Need 3:22
Heartbeat 2:36
Peace Of Mind 3:22
Passing Time 2:30
Too Bad 3:47
Man Needs Woman 3:43
Master Of Ceremony 7:10
Zostava:
Paul Rodgers: spev, piano, gitara, akordeón
Mick Ralphs: gitara, klávesy
Boz Burrell: basa
Simon Kirke: bicie
a
Mel Collins: saxofón, flauta
Tim Hinkley: klávesy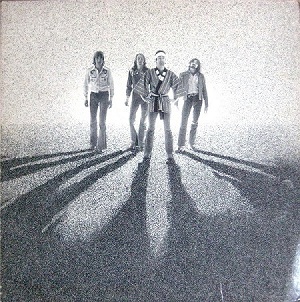 Burnin' Sky
Bad Company
hard rock
Swan Song
1977
LP, CD
12