Som tu opäť s mojou obľúbenou formou počúvania muziky v podobe best of. Dnes to bude výber z prvých troch albumov skupiny Babe Ruth nazvaný Grand Slam.
Kým sa tu strhne obligátna diskusia na tému – výberovky nikdy!, dovolím si spokojne zavrnieť nad holandskou značkou Music On CD (má aj variáciu Music On Vinyl). Už osem rokov sa špecializuje na skvelú záslužnú činnosť, a síce vydávanie albumov, ktoré sú na trhu nedostupné. Vezme ich a v slušivom šetrnom zvukovom prevedení opäť vydá. Pridá obsažný booklet (alebo aspoň základnú repliku pôvodného obalu) a hurá na pulty. Iste, vydáva naozaj všetko, čo kedy zavadilo o populárnu hudbu, ale podstatné je, že nevynecháva aj pomerne raritné formácie alebo albumy. Vrátane výberoviek, ktoré kedysi vyšli a dnes ich nedostať.
Tým sa dostávam do pokoronovej doby, kedy sa opäť otvorili obchody a ja som zavítal do miestneho lokálneho hudobného obchodíka, aby som si vyzdvihol dávku objednaných cédečiek a nakukol, čo je v regáloch. Oko mi hneď padlo na titul Grand Slam. Kapelu Babe Ruth poznám už dlho, ale v zbierke mám iba debutový album First Base. Nakoľko aj neskoršia tvorba nie je zlá, povedal som si, že mám príležitosť pomôcť obnove podnikania na Slovensku a tento titul som si jednoducho kúpil.
Nebudem sa hrať na dôležitého a rovno skonštatujem, že neľutujem. Šestnásť skladieb z troch albumov ponúka päticu z debutu First Base (1973), doplnenú o sedem skladieb z Amar Caballero (1974) a kolekciu uzatvára štvorica kúskov z albumu Babe Ruth (1975). Skladby sú radené takmer chronologicky, akurát tretí album spolovice vpasovali medzi prvý a druhý album (skladby Dancer a The Duchess Of Orleans). Úplne na záver pripichli ešte Black Dog z debutu a We Are Holding On z druhého albumu. To najlepšie na záver, ako sa vraví.
Hudobne je to jedinečná rocková jazda odbiehajúca tu k westernovým klasikám od Morriconeho, tam k španielskym a mexickým náladám. World music? Možno, ale stále riadne rockujúce! Speváčky vhodné k podobnej muzike sú dnes vzácne, Janita Haan bola vzácna i vtedy. Množstvo hudobných nástrojov nad rámec očakávaných bicích, basy, gitary a klávesov je funkčne zapracovaných do celkového vyznenia prezentovanej muziky (uf, to je desivá "odborná" veta!), skrátka, netreba sa báť dychov, perkusií alebo hoci celého orchestra.
Pre človeka, ktorý túto kapelu ešte nepočul, je táto kompilácia veľmi príjemným a podmanivým lákadlom na ďalšie spoznávanie. Pre mňa je to zasa vyše hodinová extáza s muzikou, ktorá je energická, dravá a umne zahratá. Čo viac si priať?
Skladby:
Wells Fargo
The Mexican
For A Few Dollars More
Joker
Dancer
The Duchess Of Orleans
If Heaven's On Beauty's Side
Lady
Doctor Love
Gimme Some Leg
Jack O'Lantern
Amar Caballero (Sin Ton Nit Son): a) El Caballero de la Reina Isabella, b) Hombre de la Guitarra, c) El Testement de n' Amelia
Broken Cloud
A Fistful od Dollars
Black Dog
We Are Holding On
Zostava:
Janita Haan: spev
Dave Hewitt: basa
Chris Holmes: piano, organ
Dick Powell: bicie, perkusie
Dave Punshon: piano
Alan Shacklock: gitara, vokály, klávesy, orchestrácia
Ed Spevock: bicie, perkusie
Steve Girl: klávesy
a
Gaspar LawaL: perkusie (1-4, 7-10, 12, 13, 15, 16), hovorené slovo (10)
Angelito Perez: perkusie (5-14, 16)
Steve Gregory: tenor saxofón (7-10, 12, 13, 16), flauta (7-10, 12, 13, 16)
Brent Carter: tenor saxofón (1)
Buddy Beadle: barytón saxofón (7-10, 12, 13, 16)
Ron Carthy: trubka (7-10, 12, 13, 16)
Ray Harris: lesný roh (13)
Ramond Vincent: husle (16)
The London Symphony Orchestra (7-10, 12, 13, 16)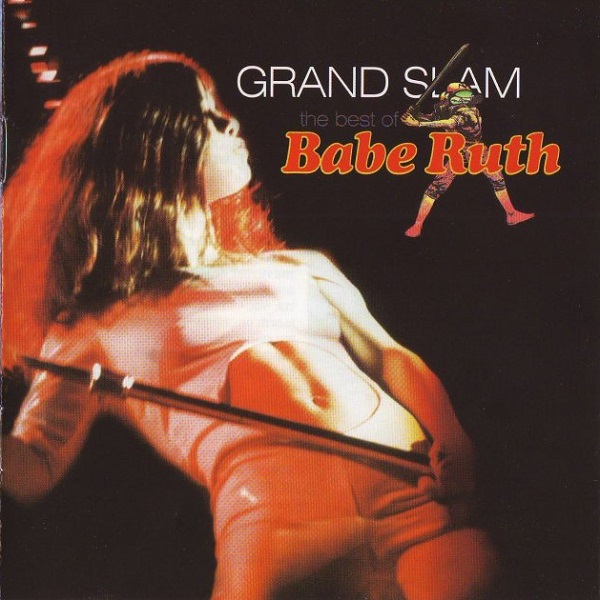 Grand Slam
Babe Ruth
art rock, hard rock, progressive rock
Parlophone Records
1994
CD (Music On CD, 2018)
16