CD btf.it – VMCD032   /2011/
Méně známé, ale pěkné album z první poloviny sedmdesátých let a zároveň další odškrtnutej rest z mé utěšeně bobtnající italské sbírky…
Skupina Blocco Mentale pochází z provincie Viterbo a vznikla v roce 1972 z členů kapely Oleum, ke kterým se připojil basista a zpěvák Aldo Angeletti. O rok později se přihlásila melodickým singlem  L'amore muore a vent'anni / Lei è musica, po kterém následovalo album Ποα a tady jistě zpozorní každej řeckomil. Jeho název je skutečně v řečtině, psanej alfabétou a v překladu znamená něco jako "tráva". Vzhledem k ekologicky zaměřeným textům je to však pochopitelné a dostatečně vypovídající je i fotografie na vnitřní straně rozkládacího alba.
Deska vyšla u malé, lokální firmičky Titania (BM 2301) v počtu 2000 kopií, ovšem bez jakékoliv podpory a promotion ze strany labelu a tak nemohla vzbudit větší pozornost. Počátkem roku 1975 se skupina kvůli povinným odvodům do armády rozešla, ale už o pár let později byla zpátky pod jménem Limousine. Ta koncem sedmdesátých let vyhrála pár písničkovejch soutěží, natočila několik komerčně orientovanejch singlů a měla našlápnuto k slušně se rozjíždějící kariéře, ale potom, co jí kvůli těžkým depresím opustil klávesista Filippo Lazzari se definitivně rozpadla.
Album Ποα vyšlo v laminovaném, rozkládacím obalu a jistou zvláštností je malý výřez v jeho vrchní části, skrz který je vidět fotografie kopretiny umístěné uvnitř. Na discogs by bylo pár kousků na prodej, ovšem v cenové relaci 930 – 2000 Euro. Na trhu je však několik sběratelsky zajímavých reedic od společnosti BTF (na různobarevnejch vinylech) a problém by neměl být ani s CD. To moje pochází z roku 2011 a jako součást Remaster series se může pochlubit i italským OBI. Rozkládací mini vinyl replika je poměrně věrnou reprodukcí původního alba (ovšem bez onoho výřezu) a osmistránkovej booklet obsahuje fotky středových štítků originální LP, biografii Blocco Mentale a rozhovor s bubeníkem Michele Arenou. V italštině i anglině.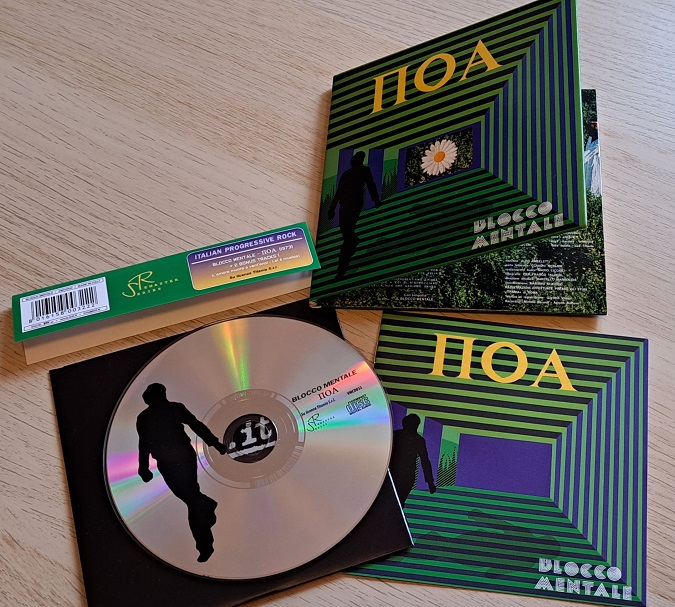 Necelých čtyřicet minut dlouhé album nabízí sedm skladeb, ale nejnovější CD reedice obsahují rovněž výše uvedený singl L'amore muore a vent'anni / Lei è musica. Muzika je to pěkná, melodická, s archaickými klávesami a výtečně sezpívanými vokály. Však je tady všem pěti členům kapely připsanej i zpěv, dvakrát sólo a zbytek v doprovodech. Tehdy téměř nepostradatelnou flétnu doplňuje ságo a ve folkově laděné skladbě Io e me dostala hodně prostoru aj foukací harmonika.
Už úvodní, necelejch pět minut dlouhá Capita mě dokáže svou bezprostředností a milou naivitou úplně odzbrojit (její nástup mi trochu připomíná kapelu Rocky's Filj) a v nemlich tom samém módu pokračuje i následující Aria e mele. Dobovej, trochu kostrbatej prog rock je k sežrání, ovšem jakmile se ozve zpěv, jdu do kolen. Nevím, kterej z vokalistů je právě tady tím hlavním, ale ta melodie nemá nejmenší chybu. Trochu strojená, obřadní vznešenost z ní dělá pěknej tyjátr, ale tohle je prostě Itálie tak, jak ji mám rád.
Čáku na jednu z nejambicióznějších položek celé kolekce si dělá osm a půl minuty dlouhá Impressioni. Z větší části dramaticky patetická, s pastorální flétničkou, mellotronem a sólo zpěvem bez nějakých excesů. Ovšem poslední tři minuty, to už je energickej prog s několika stopkami, nečekanými zvraty a dlouhým saxofonovým sólem. První strana původního vinylu končila semiakustickou baladou Io e me. Zdánlivě "obyčejnou", ale vkusnou folkově orientovanou písničkou s jemnými vokály a pěknou harmonikou.
Je fakt, že tady to album poněkud usíná, ale následující a řádně rozmáchlá La nuova forza mi nalije dávku čerstvé krve do zkornatělejch žil. Po okázalé instrumentální předehře přichází krátká, ale o to intenzivnější rubanice, kde rozeznávám něco jako dva kopáky. Michele Arena uhání, jak dobře namazanej stroj a úplně stejnou figurou celá, osm minut dlouhá skladba také končí. Ten zbytek už je vyhrazen akustickým kytarám, pianu s mellotronem a do ukrutnejch výšek tahaným vokálům.
Hlavní zpěv v předposlední Ritorno se podobá tomu v Aria e mele a taky je to úplně stejné divadlo. V okamžiku, kdy spustí "Tornerò, nelle strade senza tetto blu…" mám co dělat, abych se nezačal smát, ale nemyslím to nijak zle. Tohle je jeden z trademarků RPI a bez něj by to nebylo prostě ono. Kór, když je tady těch vokálů jen tolik, aby se neřeklo a zbytek písně je energetickou bombou. V jejím závěru se ozve motiv z úvodu desky a posluchač tak podvědomě očekává její konec, ale ještě je tady symphonic popová a pěkným mini moogem vymalovaná balada Verde.
Z podobně pomalého, hyper melodického soudku jsou i obě bonusové skladby a i když nepřinášejí nic vyloženě zajímavého, jsem rád, že je vydavatel vyhrabal a přidal. Aspoň mám kompletní, profesionálně zaznamenanou tvorbu Blocco Mentale pěkně pohromadě. Zvuk sice lupe a praská, jako kdybych seděl u gramofonu, ale jinak je v pohodě, v širokém stereu a bez známek přehnané komprese. Je tedy nad slunce jasné, že jde o reedici pořízenou z originální vinylové desky, ale jiná možnost už dnes asi není…
Je to opravdu pěkné, melodické album a fanoušek RPI by se s ním neměl rozhodně minout. A nejenom ten. V žádném z žebříků věnovaných nejlepším nahrávkám italského progresivního rocku ho sice nenajdete, ale to přece vůbec nic neznamená. Nebo ano?
SKLADBY:
1. Capita  4:41
2. Aria e mele  4:30
3. Impressioni  8:19
4. Io e me  4:22
5. La nuova forza  8:05
6. Ritorno  4:53
7. Verde  3:54
Bonus tracks:
8. L'amore muore a vent'anni  3:56
9. Lei è musica  3:46
SESTAVA:
Bernardo "Dino" Finocchi – Voce solista, sax, flauto
Aldo Angeletti – Voce solista, basso
Gigi Bianchi "Roso" – Voce, chitarre
Filippo Lazzari – Voce, tastiere, armonica
Michele Arena – Voce, percussioni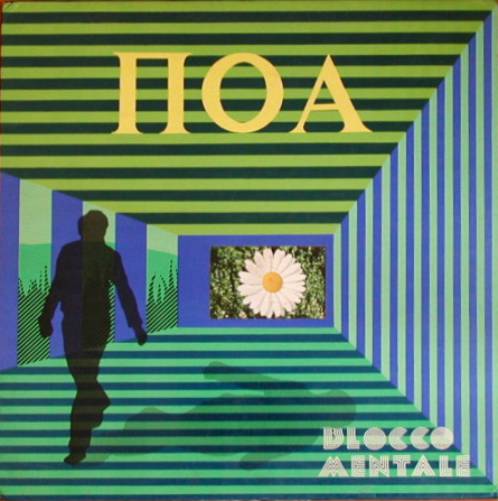 Ποα
Blocco Mentale
Prog Rock
Titania
1973
LP
7
CD btf.it – VMCD032 /2011/