Skupinu The Beatles jsem viděl poprvé v Televizních novinách. Chodil jsem tehdy do třetí třídy základní školy. Byl tam spot, jak hrají na náměstí v Londýně za mřížemi a kolem nich rozvášněný dav pubertálních převážně holčiček. Začínala beatlemanie.
V té době byl mým idolem Vinnetou, představovaný Pierrem Bricem, zájem o hudbu přišel později a Vinnetoua vystřídala tehdy devatenáctiletá Helenka Vondráčková. S Helenkou jsem začal poslouchat rádio, kde ještě nepanovala normalizace a v pořadech pro mládež bylo možné slyšet novinky pop music z celého světa, mezi jiným i The Beatles.
Magnetofon mi rodiče koupit nechtěli, tak jsem byl odkázán na rádio a movitější spolužáky i kamarády. Ve vsi, kam jsem jezdil k babičce, měli kamarádi klíče od takzvané "klubovny". Starší kluk tam přinesl magnetofon B4 a pouštěl nám co se mu podařilo nahrát. Po prázdninách roku 1969 nás překvapil páskem, na kterém bylo kompletní album The Beatles, sice výběr, ale nahraný přímo z desky.
Za dva roky na to jsem si koupil magnetofon B400 za peníze z brigád a konečně si mohl nahrávat své idoly. Věděl jsem, kdo tuhle výběrovku má a požádal jsem jej o zapůjčení. Donesl mi ji v troskách obalu, ale se sleevenote od Jiřího Černého. Desku jsem si nahrál a pak pořád dokola přehrával. Po čase ji na pásku nahradila jiná, ale nezapomněl jsem na ní.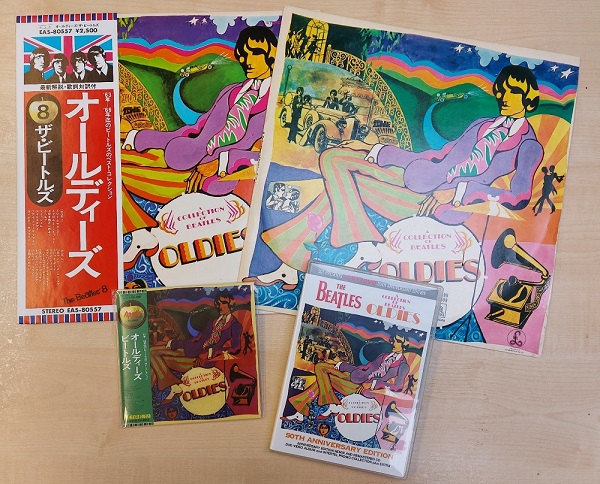 Postupně jsem si koupil japonské vydání na vinylu, japonské vydání na mini LP, výroční vydání CD spolu se dvěma DVD a na závěr jsem sehnal skoro v dokonalém stavu supraphonské vydání i s přílohou.
Revoluci, kterou ve světě pop music způsobila britská čtveřice z Liverpoolu, nenechala bez povšimnutí ani tuzemská scéna, včetně sdělovacích prostředků. Jejich písničky i covery nacházely místo v rozhlasových pořadech pro mládež. Vznikající beatové skupiny hrály jejich písně. Situace na hudební scéně byla u nás na dobré cestě; nebýt nevím kolikátého sjezdu KSČ, který svrhl současného prvního tajemníka Antonína Novotného a do čela strany nastoupil Alexandr Dubček, čím došlo k určitému uvolnění ve všech směrech. Nejen big beat, hlavně návrat svobodného podnikání se nelíbil soudruhům v Sovětském svazu. A ti, v čele s Leonidem Brežněvem, si pozvali Alexandra Dubčeka do Moskvy, kde vyjádřili hrubou nespokojenost s vývojem u nás.
Alexander Dubček nás zradil a podepsal co po něm požadovali. Soudruhům to nestačilo a 21.8.1968 vstoupila vojska SSSR na území tehdejšího Československa. Dubček byl odvolán a jeho místo zaujal Gustáv Husák. To byl nástup normalizace. Slibně se vyvíjející stav byl zmařen a v rozhlase mohlo být vysíláno pouze mizivé procento zahraničních interpretů ze západu, za to bylo více místa pro produkci z lidově demokratického bloku.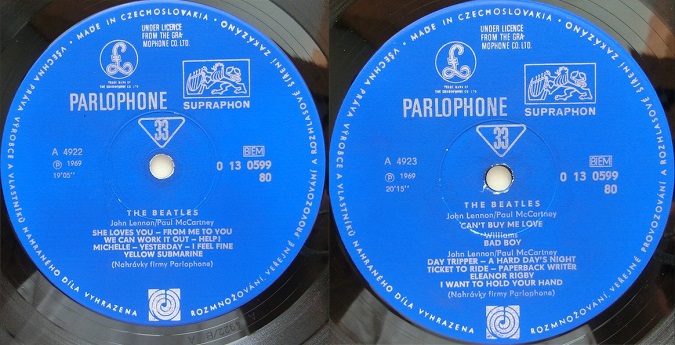 Supraphon sice vydával desky zahraničních interpretů, ale The Beatles ne a ne. Nakonec vyslyšel přání fanoušků a 17.9.1969 vyšla první celá dlouhohrající deska The Beatles, ale byl to výběr z roku 1966. Supraphon mohl vydat Revolver i Sgt. Pepper's Lonely Hearts Club Band, ale rozhodl se jít cestou výběrů. Deska má nádherný psychedelický obal, kde je na titulní straně nakreslen George Harrison a v pozadí skupina kolem limuzíny ze třicátých let, na zadní straně foto skupiny ve studiu.
Na desce je jedenáct singlů, jedna převzatá skladba (Bad Boy), čtyři písničky z desek (Yesterday, Michelle, Yellow Submarine a Eleanor Rigby). První singl se jmenoval Love Me Do, ale pro začátek desky zvolili She Loves You, píseň přesně s textem "ona tě miluje a ta druhá tě nemiluje, yeah yeah" a podobné výkřiky. Tohle jim později kritici vyčítali, ale bylo jim tehdy dvacet (George) a dvacet tři (Ringo a John), holky se jim líbily, a tak to hráli a zpívali pro ně. Po úvodních tónech následující From Me To You slyším slova "zvonek samotu protíná" a Adresát neznámý. Píseň, kterou zpíval Karel Gott za doprovodu Olympicu.
Singl We Can Work It Out z roku 1965 je už trochu progresivní a je na něm slyšet velký posun. Po vzoru Vanilla Fudge tuto skladbu upravila brněnská skupina Progress Organization. O filmu Help! mi vyprávěla kamarádka, která na něm byla v Českých Budějovicích. Celý ten příběh o prstenu bohyně Kálí mi tehdy připadal dost praštěný, ale John takový byl. Film Help! jsem poprvé viděl v kině Mír v Bedřichově, kinosál naprásknutý jihlavskými máničkami, sedělo se i na schodech a promítač věděl jakou má nastavit hlasitost – "volume doprava". Michelle je Paulova píseň, částečně zpívaná francouzsky a objeví se v ní smyčce, to samé platí o následující Yesterday, v podstatě jejich nejslavnější píseň. Následuje I Feel Fine s nechtěným feedbackem na začátku. Jedním z největších hitů roku 1966 byla Yellow Submarine z desky Revolver a tahle skladba byla i základem jejich kresleného filmu. Je to taková spíše dechovka, česká slova "prosíme vylízat" uprostřed stojí za to. Když slyším Can't Buy Me Love, tak vidím The Beatles ve filmu A Hard Day's Night, jak letí dolů po schodech do zahrady, kde až neuvěřitelně blbnou. Jedinou převzatou písní je Bad Boy od Larryho Williamse. Day Tripper je druhá strana singlu We Can Work It Out a když tuhle desku poslouchám nyní, tak tuhle skladbu mám čím dál radši.
A Hard Day's Night je titulní skladba z LP i stejnojmenného filmu. Nedávno mě rozesmálo, jak někdo v televizi vzpomínal na své hudební začátky a při produkci na ně křičeli zahrajte "Isbinu". Ticket To Ride pochází z filmu Help! a sekvence k této skladbě se nahrávala v rakouských Alpách. Paperback Writer patří už k písním, kde začali The Beatles experimentovat a líbila se mi už tehdy.
Eleanor Rigby je druhá skladba z LP Revolver a Paul jí dal opět smyčcové aranžmá. Byla to píseň, která oslovila Alana Aldridge k vytvoření knihy The Beatles v písních a obrazech, díky verši "měla hlavu ve džbánu u dveří". Závěr desky patří jednomu z prvních singlů I Want To Hold Your Hand. Ta píseň je tak jednoduchá, až je krásná.
The Beatles pro mě představují životní kapelu, od které mám rád všechno. Všechny desky jsou pro mě za pět hvězdiček, takže i tento výběr. Červený a modrý výběr z počátku sedmdesátých let je reprezentativnější, ale tenhle má pro mě větší kouzlo, protože to byla první deska od The Beatles, kterou jsem měl nahranou z LP.

SKLADBY:
01. She Loves You (2:18)
02. From Me To You (1:54)
03. We Can Work It Out (2:12)
04. Help! (2:16)
05. Michelle (2:40)
06. Yesterday (2:02)
07. I Feel Fine (2:17)
08. Yellow Submarine (2:36)
09. Can't Buy Me Love (2:10)
10. Bad Boy [Williams] (2:17)
11. Day Tripper (2:49)
12. A Hard Day's Night (2:28)
13. Ticket To Ride (3:03)
14. Paperback Writer (2:15)
15. Eleanor Rigby (2:04)
16. I Want To Hold Your Hand (2:22)
All songs written by John Lennon and Paul McCartney, except where noted.
SESTAVA:
George Harrison – lead guitar, backing vocals
John Lennon – rhythm guitar, lead vocals (1-4, 7, 10-13, 16), backing vocals, harmonica
Paul McCartney – bass, lead vocals (1-3, 5-6, 9, 11-12, 14-16), backing vocals, rhythm guitar, piano, harmonium
Ringo Starr – drums, percussion, lead vocals (8)
+
George Martin – piano, organ, percussion 
A Collection Of Beatles Oldies
The Beatles
Rock
Parlophone
1966
LP
16
LP Supraphon ‎– 0 13 0599 /1969/