První polovina sedmdesátých let, jak už bylo vícekrát řečeno, se stala velkým prostorem pro jedinečné talenty na rockové půdě. Záplava skupin, které bojovaly o své místo na výsluní popularity a slávy, byla nekonečná. Odborní kritikové a hudební příznivci neměli skutečně lehkou úlohu stanovit priority. Velkou roli zde pochopitelně hrála reklama a marketing vydavatelských firem a samozřejmě práce manažerů. Mezi špičkové soubory, které na britských ostrovech rozčeřily v daném období hladinu virtuálního rockového moře, patřila bezesporu skupina Atomic Rooster.
Jejím zakladatelem byl vynikající hráč na varhany a klavír, skladatel Vincent Crane. Koncem šedesátých let působil v extravagantní skupině Crazy World Of Arthur Brown. Po jejich rozpadu se rozhodl založit vlastní kapelu. Oslovil bubeníka Carla Palmera a baskytaristu i zpěváka Nicka Grahama. S nimi natočil eponymní album, které se stalo příslibem do budoucna.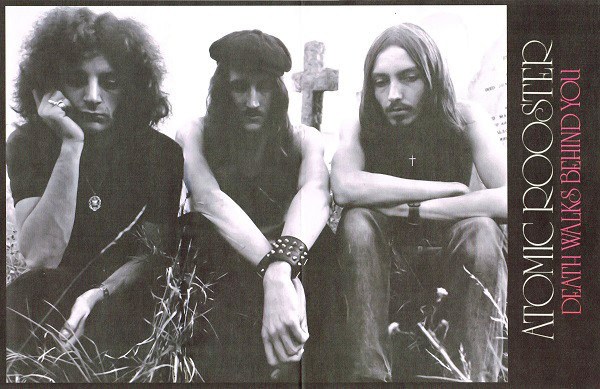 Personální změny skupinu sice načas ochromily, ale Crane zanedlouho našel dva nové spoluhráče, kteří se jednoznačně přiblížili jeho progresívnímu rockovému cítění. Kytarista John Cann (později znám pod názvem John DuCann) měl za sebou působení v lokálně úspěšné skupině Andromeda a méně známé Richard Shirman's Attack. Palmer nečekaně skupinu opouští, což zamíchalo s Craneovými představami. Místo něho přijal méně známého bubeníka Paula Hammonda. Koncem r. 1970 vychází druhé album Atomic Rooster, které bylo pojmenováno varovným názvem Death Walks Behind You. Na rozdíl od předešlého albového debutu byla tímto dílem jednoznačně potvrzena tvrdá rocková linie, díky syrovým a nekompromisním playbackům elektrických kytar, ale i celkově hutnějšímu soundu. Británie už tehdy žila hardrockovou vlnou a Atomic Rooster vstoupili do virtuálně rozjetého vlaku daného žánru.
Originální byl samotný obal alba. Autorem obrazu, nazvaného Nebuchadnezzar, byl malíř William Blake. Motivem byla mýtická postava nahého poločlověka vylézajícího z jeskyně. Jenom doplňme, že originál obrazu je vystaven v Londýně v síni známé Tate Gallery.
Crane, ve snaze odlišit sound a hudební obsazení skupiny, se rozhodl nezařadit do nástrojového inventáře baskytaru, nástroj, bez které, podle logiky věci, nemohla fungovat žádná kapela v rockové oblasti. Tento počin byl na britských ostrovech ojedinělý. V USA The Doors sice také v sestavě neměli baskytaru, ale v nahrávacích studiích měli vždy k dispozici nájemního hráče. Atomic Rooster se bez baskytary dokázali obejít jak na koncertech, tak ve studiu!
DEATH WALKS BEHIND YOU – Úvodní skladba přichází s velmi tajemným entrée. Potemnělé klavírní akordy jakoby nastiňovaly atmosféru ponurého horroru. Připojuje se krátký kvílivý ostrý rockový nářek a klavírní akordy se propadají do hlubin, aby uvolnily prostor výraznému hardrockovému riffu, který se s železnou neodbytností zarývá do mysli posluchače. Cannovy kytarové party, stejně jako jeho zastřený hlas a zemité bicí nástroje, se ženou vpřed. V náhlém zklidnění otevírá Crane svůj klavírní motiv, aby píseň opět gradovala. Skladba byla původně zkomponována pro krátký experimentální film s názvem The Vortex. Vynikající úvodní kousek!
VUG – Druhá skladba je instrumentální a kompozičně náročnější. Výrazný prostor zde dostávají Craneovy hammondky, na které vynikajícím způsobem rozehrává dané téma za podpory playbackovaných kytar a kreativních bicích nástrojů. Absenci baskytary, podobně jako v jiných skladbách, Crane řeší silovým úderem levé ruky a používáním basového pedálu. V celkové hutnosti soundu její nepřítomnost zaregistrují jenom citlivější posluchači.
TOMORROW NIGHT – Stejně jako jiné rockové skupiny, i Atomic Rooster v té době potřebovali mít ve svém repertoáru hit. Třetí skladba na albu splňuje tato kritéria. Skladba se probojovala nejen do britských, ale i německých a holandských žebříčků a zviditelnila jejich existenci. Střední tempo a silný melodický motiv se prolíná s klavírními, varhanními a kytarovými pasážemi s přesně šlapajícími bicími nástroji. Úplný závěr se nese do ztracena psychedelické zvukové impresi.
7 STREETS – Téměř kostelní zvuk hammondek otevírá silné rockové téma s výraznějším energetickým potenciálem. Polyrytmické breaky Hammonda se propojují s kytarovými party rozpoutaného Canna, který je autorem rockového riffu, kterému zdatně sekundují v unisonech Craneovy varhany. Běsnění kláves a elektrické kytary se ve stereofonním efektu přelévá z kanálu do kanálu ve velkém dobovém stylu. Jedinečná muzikantská prezentace!
SLEEPING FOR YEARS – Cann zde pracuje s elektronickým vibrátem v masivním syrovém soundu. Jeho vystavěný hardrockový riff má mocnou účinnost. Craneovy hammondy vytvářejí zástěnu v pozadí a semknutým pojetím zastřešují celou kompozici. Cann zde rozjíždí jedno ze svých famózních sól, pravděpodobně nejsilnějším na celém albu.
I CAN'T TAKE NO MORE – Melodická rocková kompozice mírně ubere na agresivitě, aby lépe vynikly jednotlivosti v sofistikovaných aranžmá, přesně seřízených s rytmickými pasážemi a akcentovanými přízvuky. Precizní souhra a kytarové sólo jsou neoddiskutovatelnými pozitivními aspekty skladby, která měla mít singlové ambice.
NOBODY ELSE – Vzrušené studiové hlasy přecházejí výraznému zklidnění. Crane usedá za koncertní klavír a rozehrává svoje partitury, z pozadí kolorované varhanami a utlumenou kytarou. V další části se skladba rozbíhá opět v rockovém duchu ve středním tempu s melodickým kytarovým sólem s playbackovaným zdvojením. Závěr se opět vrací k původnímu klavírnímu tématu.
GERSHATZER – Závěrečná skladba je instrumentálním mistrovským kouskem po všech stránkách. Crane, jako už v řadě jiných případů, dokázal, že je skutečným mistrem kláves. Jeho razantní hra a bezpečná technická práce obou rukou byla na vysoké úrovni a střídání napětí a dynamických odstínů mělo na posluchače jedinečný dopad. Hammond se ve skladbě blýskl svým masivním bubenickým sólem s dramatickým podtónem.
Atomic Rooster se tímto albem zařadili mezi pionýry heavy rocku, ze kterého se následně vyvinulo označení hardrock. Jejich cítění bylo odlišné od Led Zeppelin, Deep Purple, Uriah Heep. V ponuré atmosféře skladeb, zejména ovšem na koncertních vystoupeních mohli být srovnáváni s Black Sabbath, ale na rozdíl od nich, jejich muzikantský potenciál byl na daleko vyšší úrovni, stejně tak v kompozičním pojetí. Britská hudební kritika je ovšem zařadila do předobrazu satanistického rocku s určitými ponurými aspekty a emocionálně neohraničenými prezentacemi. Album se dodnes dá poslouchat jako jedinečný milník přelomu šedesátých a sedmdesátých let.

Dodejme, že album se dočkalo několika reedic na CD formátu (i jako digipak). Dostalo se mu velké pozorností příznivců a znalců daného žánru, jako opravdový hudební majstrštyk.
Pět hvězdiček je legitimních!
SKLADBY:
1. Death Walks Behind You (Crane/Du Cann) – 7:24
2. Vug (Crane) – 5:03
3. Tomorrow Night (Crane) – 4:02
4. Seven Lonely Streets (Du Cann) – 6:47
5. Sleeping For Years (Du Cann) – 5:30
6. I Can't Take No More (Du Cann) – 3:36
7. Nobody Else (Crane/Du Cann) – 5:04
8. Gershatzer (Crane) – 8:01
SESTAVA:
Vincent Crane – piano, organ [Hammond], vocals
John Du Cann – guitar, lead vocals
Paul Hammond – drums, percussion
Death Walks Behind You
Atomic Rooster
Hard Rock, Prog Rock
B & C Records
1970
LP
8