Londýnska skupina Armada patrila k tomu nespočetnému množstvu rockových skupín pôsobiacich na začiatku siedmej dekády v Anglicku, ktoré napriek faktu, že boli založené talentovanými muzikantmi, zostali úplne zabudnuté a nedocenené. Skupine Armada sa nedoprialo vydať ani len album počas ich zhruba štyroch rokov pôsobenia na scéne.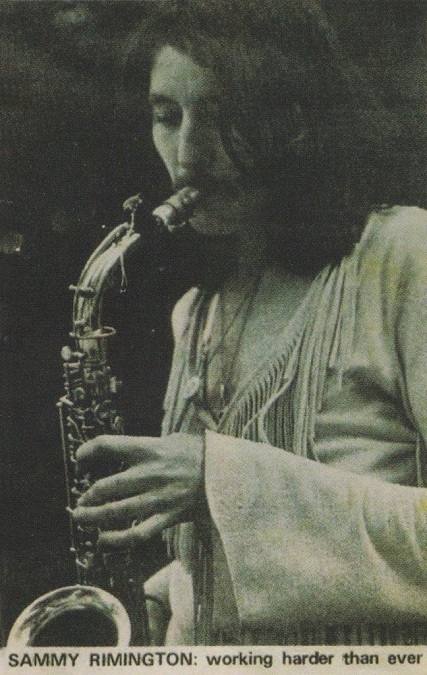 Sammy Rimington, džezový saxofonista s imidžom hardrockera, pôsobil v muzikantskom fachu od začiatku šesťdesiatych rokov. Koncom dekády sa usadil v Londýne, privyrábal si predajom hudobných nástrojov v predajni Boosey & Hawkes a po večeroch hrával s príležitostnými džezovými zoskupeniami na zákazky prichádzajúce od divadiel alebo nočných barov. Bolo to obdobie, keď sa striktné hranice medzi rôznymi hudobnými žánrami rozplynuli v progresívnom opare, čo mnohým džezmenom Rimingtonovej generácie umožnilo zbaviť sa pút akademického džezu, nasledovať svoj inštinkt a prejaviť svoje skladateľské ambície v oveľa voľnejšom prostredí novovznikajúcej progrockovej scény. Počas roku 1971 odpovedal na inzerát uverejnený v časopise Melody Marker a následne sa stal členom ambiciozného rockového  zoskupenia Armada, ktoré bolo založené členmi bývalej skupiny Open Mind. V čase, keď sa Sammy Rimington prihlásil na inzerát, z pôvodných zakladajúcich hudobníkov v skupine pôsobil už len spevák Terry Schindler. V skupine ďalej hrali na basgitare Rik Kenton, na gitare Graham "Kirby" Gregory a na bicích Mick Nichols. Po odchode Schindlera sa ku skupine na krátke obdobie pridáva skvelý spevák Elmer Gantry, známy z jeho pôsobenia so skupinou Velvet Opera. V nasledujúcich mesiacoch aktívne účinkovali na rôznych podujatiach, predskakovali známejším interpretom, napríklad s Davidom Bowiem absolvovali turné po Walese. Zostava sa však nakoniec neukázala byť trváca a životaschopná, skupinu prvý opúšťa Rik Kenton, jeho meno sa neskôr objavilo na jednom zo singlov skupiny Roxy Music. Nasledoval ho Elmer Gantry a nakoniec odišiel aj gitarista Gregory, ktorý prijal lano od skupiny Curved Air. Gantry s Gregorym sa neskôr zaplietli aj do škandálu, keď pôsobili vo falošnej zostave skupiny Fleetwood Mac. Sammy Rimington v roku 1972 nakoniec zostáva sám nositeľom značky Armada. V rozhovore spomína, ako ho to veľmi mrzelo, že s prvou zostavou nevznikli žiadne štúdiové nahrávky, v tom období sa totiž hudba skupiny pohybovala v približne rovnakých sférach, ako tvorba skupiny King Crimson. S úmyslom udržať skupinu pri živote a pokračovať v rockovej kariére, tentokrát inzerát do Melody Makeru podáva on. Zakrátko sa ku skupine pridávajú gitarista Geoff Scates, spevák a hráč na flautu Terry Cooke, na basgitare Colin Ellar, ktorého o rok neskôr vystriedal Američan Brian Stanley. Nakoniec sa ku skupine pridal bubeník Alan "Sticky" Wickett z Birminghamu.
Ustálená zostava umožnila Rimingtonovi sa v kľude venovať skladaniu hudobného materiálu, ktoré bolo ovplyvnené obdobím, kedy sa džezrockové postupy stali bežnou súčasťou repertoáru mnohých progrockových zoskupení. Rimingtonovi, džezmenovi s rockovými ambíciami, táto fúzia dvoch hudobných fenoménov náramne hrala do karát a tiež sa netajil obdivom k interpretom Mahavishnu Orchestra, King Crimson či Zappa. Hudbu skladal doma na gitare, hudobný materiál zaznamenával na štvorstopový kotúčák Revox a s textom ku skladbám mu pomohla jeho vtedajšia manželka, Nina Buck. Čerstvý repertoár skupina Armada otestovala na spoločných vystúpeniach so skupinami Rare Bird a Wishbone Ash a ich hudba zaznamenala pozitívny ohlas publika. V 1973-om Melody Maker uverejnil dvojstránku venovanú Sammymu Rimingtonovi a jeho skupine Armada a v tomto bode sa zdalo, že cesta k úspechu je kvalitne vydláždená. Ako každá iná skupina v tejto fáze svojej kariéry, nahratie albumu sa aj pre Armadu stalo prioritou číslo jeden. Na nešťastie, ich manažér Troy Dante vidinou čo najskoršieho zárobku prišiel s nahrávacou zmluvou od vydavateľstva MAM Records, s ktorou členovia skupiny neboli vôbec ale vôbec nadšení, nakoľko komerčný hudobný profil vydavateľstva bol diametrálne odlišný od toho, čo skupina v tej dobe hudobne ponúkala. 
V rokoch 1973 a 1974 im MAM vydáva dva single, na A stranách s piesňami od cudzích autorov a na oboch na B strane s rovnakou Rimingtonovou skladbou Dragon Song. Vrcholom všetkého bolo, že napriek tomu, že skupina Armada legitímne existovala, prvý singel vyšiel pod menom Rimington a druhý ako skupina Rats. Skupina tieto nahrávky úprimne neznášala. V snahe riadiť osud skupiny po svojom Sammy Rimington prevzal iniciatívu do vlastných rúk, z vlastného vrecka zaplatil session v londýnskom hudobnom štúdiu RG Jones Studios, nahrali vlastný hudobný materiál, ktorý rozoslali majoritným hudobným vydavateľstvám. O hudbu v podaní predsa len neznámeho zoskupenia však už vydavateľstvá v tomto období neprejavili záujem, nadšenie spred troch, štyroch rokov spôsobené nástupom progrocku bolo nenávratne preč a taktovku prevzal biznis. Pod neúspechom sa najpravdepodobnejšie podpísali stratené roky spôsobené nešťastnou nahrávacou zmluvou a zlým manažovaním záležitostí okolo skupiny, fakty, ktoré sa ukázali osudovými. O hudbu skupiny Armada, po ktorej by na začiatku siedmej dekády siahali vydavateľstvá všetkými desiatimi, v roku 1974 už neštekol ani pes. Každé vydavateľstvo malo svojich zabehnutých favoritov a stavili na istoty bez rizika straty ziskov. Rozčarovaný neúspechom Armady a tiež pomermi vládnucimi v rockovom biznise sa Sammy Rimington vrátil k svojej pôvodnej hudobnej láske a prijal post klarinetistu v zoskupení nazývanom The Legends Of Jazz, s ktorým sa zúčastnil turné po Európe. Takto skupina Armada predčasne ukončila svoju kariéru a hudobníci sa roztrúsili do každých končín sveta.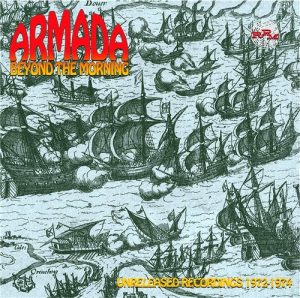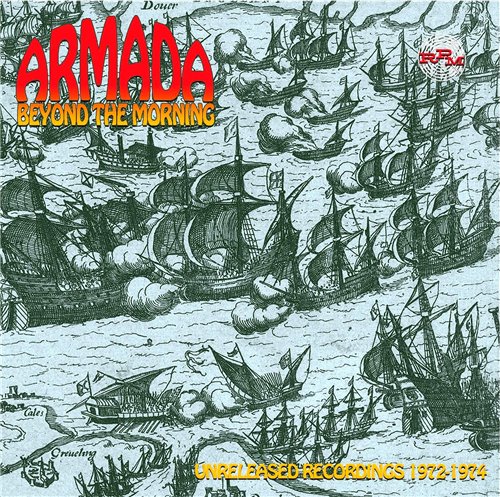 V roku 2011 sa súčasťou osláv Sammyho polstoročia strávenom na pódiách stalo i kompilačné CD Armada – Beyond The Morning (Unreleased Recordings 1972-74) vydané spoločnosťou RPM Records. Ako vôbec prvý nosič ponúka možnosť s odstupom 40-tich rokov konečne spoznať ich hudbu tak, ako by si to boli muzikanti želali na svojej nezrealizovanej debutovej LP. Pesničky sa kvalitou v pohode vyrovnajú valnej väčšine skupín hrajúcich progrock počas raných 70-tych rokov. Skladby sršia energiou, Rimingtonove sóla na saxíku posúvajú hudbu do džezrockových končín a mnohokrát je počuť aj vplyv Canterbury sound, obzvlášť toho v podaní skupiny Caravan z jeho sivoružového vrcholoveho obdobia. Nahrávky znejú dobre, kvalitou zvuku nezaostávajú za štandardom iných nahrávok rovnakého obdobia. Akurát posledná skladba, živák z roku 1973 Steeplechase, je na tom zvukovo horšie, dáva však ochutnávku o tom, ako skupina znela na pódiu. Mojimi vrcholmi cédéčka sú skladby Beyond The Morning #2, práve tu je v druhej polovici piesne silne prítomný ten spomínaný vplyv Canterbury sound. Skladba Mockingbird je krásny melodický flautový slaďák, povinný to prvok na albume skoro každej britskej progrockovej skupiny na vrchole tohto hudobného smeru. Myslím si, že hudbe skupiny Armada sa oplatí venovať čas na spoznanie ich nahrávok, ich vypočutie určite nebude premárneným časom a nesklamú poslucháča. Kompletný album je uploadnutý na Youtube a tiež na Spotify.
SKLADBY:
01. Beyond The Morning #1
02. Fortunes Fool
03. Sad Song
04. Beyond The Morning #2
05. Mockingbird
06. One In Ten
07. Highway Girl
08. Jester
09. Obsessions
10. Dragon Child
11. Sail Away
12. Steeplechase
ZOSTAVA:
Sammy Rimington – Akustická a elektrická gitara, tenor a alt saxofón, klarinet, flauta
Terry Cooke – Spev, flauta, bongá
Geoff Skates – Gitara
Alan Wickett – Bicie, xylofón
Colin Eller – Basgitara (1974)
Brian Stanley – Basgitara (1973 – 74)
John Donaldson – Klávesy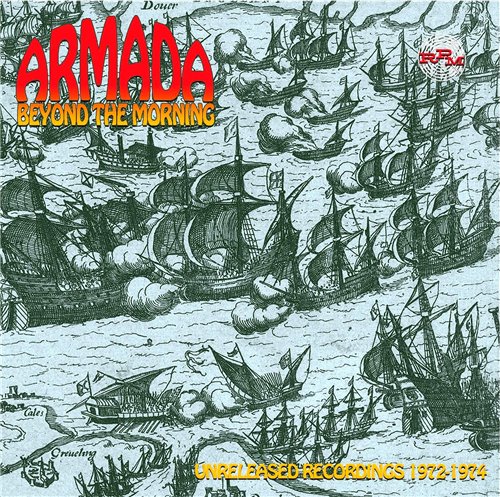 Beyond The Morning (Unreleased Recordings 1972-74)
Armada
Progresívny rock
RPM Retrodisc Retro 901
2011
CD
12
CD