Arcadium bola anglická psychedelická skupina, ktorá nahrala jediný album Breathe Awhile.
Vyšiel v roku 1969, všetky skladby zložil Miguel Sergides a produkoval ho Austin John Marshall na značke ovplyvnenej Tolkienom, a síce Middle Earth Records. Zostavu tvorila pätica hudobníkov, Graham Best (basa), Allan Ellwood (klávesy), John Albert Parker (bicie), Robert Ellwood (gitara) a Miguel Sergides (gitara, spev). Názov si zvolila po známom historickom území, ale na rozdiel od neho skupina vyfučala z histórie i povedomia verejnosti. Prakticky okamžite. Pred albumom vydala jediný singel Sing My Song/Riding Alone (1969) a v roku 1970 sa skladba I'm On My Way zjavila na výberovke labelu s názvom Earthed.
Som rád, že som sa začal od polovice 90. rokov motať okolo hudby, a tak som zachytil vlnu obrodenia, kedy na CD začalo vychádzať množstvo raritných skupín zo 60. a 70. rokov. Často takých, ktoré sa do pozornosti obyvateľov spoza Železnej opony nemali šancu dostať. Bola to zábava. Nabehnúť do Roxy, kúpiť novinku od Repertoire alebo nejakej inej, často pirátskej značky (Fox Records a pod.), dôjsť domov a s výkrikom: "Pozri, čo mám. Nepoznáš?" sme začali rodinnú počúvaciu seansu. Nostalgia je slovo, ktoré určite vymysleli pre takéto spomienky. V roku 2000 takto vyšiel aj počin Breathe awhile.
Dvanásťminútová I'm On My Way sa vyznačuje pomerne zastretou psychedelickou náladou, nejde o ohromujúce inštrumentálne výkony, tobôž o nejakú rafinovanú kompozičnú zdatnosť. Monotónne plochy si často len tak zadumane plynú, občas sa ozve dobová "kyselinová" sólová gitara a bicie aby človek hľadal pod mikroskopom. Mám rád okamih, až sa z toho vylúpne full forte hard rock (koniec skladby). Najradšej mám však ráznu pecku Poor Lady. Hammondky a naliehavý spev ju vhodne dopĺňajú. Rockovejšie znejú aj veci ako Walk On The Bad Side alebo Woman Of A Thousand Years. Rockový slaďák s vybudenými plochami Change Me je lahôdkou pre každého 60's/70's rockera. Dvojica tvrdších vecí It Takes A Woman a Birth, Life And Death sa v rinčiacom rockovaní tiež vcelku vyžíva, takže jej nemôžem nič vytknúť. Druhá menovaná navyše ponúka pomalú citlivú spevnú pasáž, akoby vypadla z albumu Vanilla Fudge.
Vydavateľstvo Repertoire prilepilo k albumu aj singel. Sing My Song stavia na pokojnejšom tempe, sladkobôľnom prejave, skrátka, snaha o hit sa nezaprie. Béčko Riding Alone je na tom lepšie. Psychedelický sound známy zo skladby Dragonfly od Fleetwood Mac nemá chybu.
Toto dielko nepočúvam často, ale občas mi pripomenie pohodu a spomienky. A preto pridávam protekčnú hviezdičku k hodnoteniu.
(upravené, pôvodne zverejnené na progboarde)
Skladby:
 I'm On My Way (11:50)
Poor Lady (3:58)
Walk On The Bad Side (7:34)
Woman Of A Thousand Years (3:37)
Change Me (4:45)
It Takes A Woman (3:51)
Birth, Life And Death (10:17)
Zostava:
Graham Best: basa, vokály
Allan Ellwood: organ, vokály
John Albert Parker: bicie
Robert Ellwood: gitara, vokály
Miguel Sergides: 12-strunová gitara, spev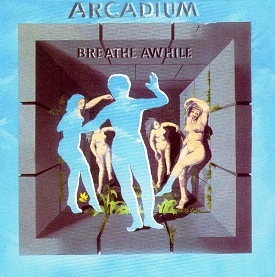 Breathe Awhile
Arcadium
psychedelic rock
Middle Earth Records
1969
LP, CD
7