Zmeny v zostave majú spravidla dva efekty. Jednak sa hudba zvykne posunúť k niečomu inému, novému, schválne netvrdím, že lepšiemu, pretože druhý efekt sa prejavuje tým, že sa často zmení charakter muziky natoľko, až znechutí nielen starých, ale i nových fanúšikov. Našťastie, keď Teda Turnera vystriedal Laurie Wisefield, s Wishbone Ash to ani nehlo! Aspoň spočiatku. Dôkazom je album There's The Rub.
Nebudem sa tváriť, že píšem detektívku, nuž odhalenie je takéto:
There's The Rub je jeden z najlepších albumov Wishbone Ash. Prináša citlivo namiešaný koktejl toho naj, čo hudbu skupiny zdobí. Či už je to melodický rock najvyššej akosti (Silver Shoes), vrchol baladickej rockovej tvorby vôbec (Persephone, Lady Jay), troška tvrdšieho korenia (Don't Come Back, Hometown), nechýba obligátny výlet do nečakaných experimentov (inštrumentálka F.U.B.B.)… Všetko je to zaobalené do nádherných gitarových motívov, sól a melódií. Nad tým sa nesie charakteristický vokálny prejav Martina Turnera, bez ktorého si tvorbu Wishbone Ash ťažko predstaviť (a už dlhšie chýba aj v inak chytľavej súčasnej tvorbe kapely, škoda že sa posekali s Powellom a každý si ide to svoje).
Status nesmrteľnosti dosiahla nedostižná balada Persephone, ten ústredný motív je skrátka geniálny a nečudo, že sa z nej stala koncertná perla. Pri sólach mám často chuť vyskočiť z kože a rozglejiť sa ako voľajaký orientálny mních so schopnosťou vstupovať do astrálneho sveta.
Pre mňa je však, napriek uvedenému, vrcholným kúskom tragická balada Lady Jay o nenaplnenej láske. Táto téma sa zvykne často zvrhnúť do trápneho a gýčového kŕča plného sladkobôľneho fňukania. Avšak, chmúrny a melancholický text podľa starej anglickej legendy je zaobalený do neskutočne clivého hudobného sprievodu, emócie by zasiahli aj kus žuly, nieto živú bytosť, a tie sóla! Vždy, keď sa z dnešného šoubiznisu ozve žvást o tom, ako sú gitarové sóla prekonané, tak by som im obúchal o hlavu Wishbone Ash! Nie, nie sú prekonané! Žiaľ, nakoľko muziku dnes ovláda spotrebný priemysel, ostávajú tie sóla, čo vznikli z umu, citu a túžby po úprimnom vyjadrení hudobníkov, neprekonateľné. A nie preto, že by dnes muzikanti nevedeli hrať tak dobre. Naopak, často vedia zahrať ďaleko viac, než tí minulí, akurát, že im chýba to najpodstatnejšie. Zmysel, prečo to robia. Len peniaze nestačia. Tie ešte z nikoho umelca nespravili. Tobôž geniálneho.
Keď som mal to šťastie, že som kapelu videl naživo v Bratislave, prekvapilo ma, že do repertoáru zaradili inštrumentálku F.U.B.B. (vulgárny názov skrytý za iniciály si vygúglite), nakoľko je to len sotva typický kúsok z portfólia kapely. O to viac som si ju vychutnal a tento zážitok sa následne pripomína vždy, keď počúvam album.
Krásno vo svojej podstate, to je There's The Rub.
Skladby:
Silver Shoes 6:36
Don't Come Back 5:12
Persephone 7:02
Hometown 4:48
Lady Jay 6:00
F.U.B.B. 9:33
Zostava:
Martin Turner: basa, spev
Andy Powell: gitara, vokály, mandolína
Laurie Wisefield: gitara, vokály, bendžo
Steve Upton: bicie, perkusie
a
Albhy Galuten: klávesy (3)
Nelson Flaco Padron: kongá (6)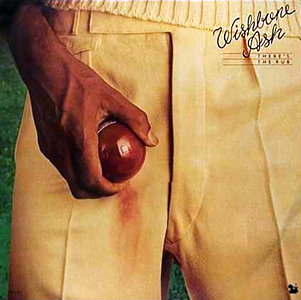 There's The Rub
Wishbone Ash
rock, hard rock
MCA Records
1974
LP, CD
6