Občas sa stane, že sa krása snúbi s poznaním, umenie s remeslom, cit s rozumom. Výsledkom je dielo, ktoré vykročí z brehov časopriestorového kontinua a stane sa večným. Nie všetky reakcie na zjavenia z iného vesmíru sú pozitívne, nič to však neuberá na vzácnosti nositeľa všetkých zmienených parametrov. Album Argus od Wishbone Ash má to šťastie, že sa stal nielen album roka 1972 (podľa Melody Maker i Sounds), ale aj etalónom baladického hardrocku, ku ktorému sa, povedzme si úprimne, dodnes nikto nepriblížil.
Dnes, v dobe letných hitov a spotrebných singlov, to možno znie neuveriteľne, ale boli časy, kedy ste ani nemuseli mať singel a prerazili ste. Formácia Wishbone Ash vytvorila celistvý album, kompaktné hudobné dielo, ktoré sa síce tvári ako sedem samostatných skladieb, ich sled i vyznenie je však slovníkovou definíciou synergického efektu.
Veľkolepé pokojné plochy dopĺňajú rázne osviežujúce pasáže (často v jednej skladbe), žiadna z prezentovaných skladieb sa nikam nenáhli, až na jednu sa bavíme o extáze trvajúcej cca šesť až desať minút. Ako postupovať, keď máte v kapele dvoch rovnocenných gitaristov? Argus je názov vysokoškolských skrípt, habilitačnej práce, priam profesúry na danú tému.
Nepamätám si nič, čo by som dokázal prirovnať k pocitom, keď počúvam ostrú prekáračku The King Will Come, nespútaný refrén Warrior alebo spletané dvojité gitarové sóla v Throw Down The Sword (dalo mi námahu naučiť sa to celé nôtiť spamäti tak, aby sa dueto zachovalo aj v jednom ľudskom hlase). Huspenina pôsobí ako žulová skala v porovnaní s chcením môjho vnútra (a nie, ani hnačka tento stav nepripomína), viac k tomu nemám čo dodať.
Nevýhoda nelietavých tvorov tkvie v tom, že keď sa vyštverajú na vrchol, kde si ešte aj poskočia, nemajú moc možností, len sa zberať opäť nadol. Wishbone Ash síce zostupovali slimačím tempom a s takmer "kaliňákovskou" (ne)chuťou vzdať sa dosiahnutých mét, a preto prišli ešte ďalšie vrcholné albumy, žiaden však nedokázal vytlačiť z trónu "toho" panovníka menom Argus. Melodické rockové orgie pripomínajú vkusnú erotiku v záplave nechutného porna, vznešené správanie v prízemnom pajzli, kde sa koná výročná stretávka krivánskeho klubu holohlavých mozgových trustov. Iste, hrozí mu, že ho popľujú, rozčesnú lebku, vymlátia dušu, ale jedno je isté, vždy bude pôsobiť ako zjavenie. A viete čo? Nechcel by som, aby tomu bolo inak!
P. S. Album dnes možno zohnať v rôznych vydaniach s rôznymi bonusmi, je na vás, či si vyberiete to so singlom No Easy Road (pôsobí veľmi rušivo), hento s tromi koncertnými skladbami z EP Live From Memphis z roku 1972 s Phoenixom v čele (skvelá voľba) alebo ono s celým diskom nahrávok z BBC Sessions (tiež solídna voľba).
Skladby:
Time Was 9:42
Sometime World 6:55
Blowin' Free 5:18
The King Will Come 7:06
Life And Stream 3:55
Warrior 5:53
Throw Down The Sword 5:55
Zostava:
Martin Turner: basa, spev
Andy Powell: gitara, vokály
Ted Turner: gitara, vokály
Steve Upton: bicie, perkusie
a
John Tout: organ (7)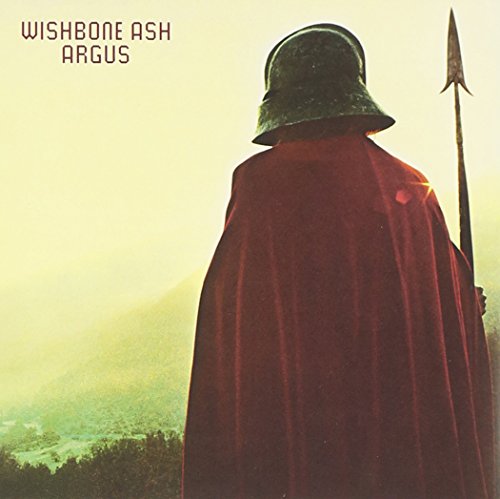 Argus
Wishbone Ash
hard rock
MCA Records
1972
LP, CD
7