K AC/DC mám nevyhranený vzťah. Nie, že by ma Youngovci nebavili, ale… Je to ideálna skupina do "best of" riešenia. Ibaže! Došlo na dvojdiskovú  Live – 2CD Collector's Edition.
Ono je to tak, že AC/DC vlastne nevydali ani jednu normálnu spotrebnú výberovku. Ich výberové boxy a pod., keď už vôbec vyšli, obsahovali skôr raritky a nevydané veci, ako prierez hitmi. A o tie mi v súvislosti s touto kapelou ide. Ako, jasné, zo všetkých albumov som si zadovážil dva (nielen) pre mňa najpodstatnejšie, a síce Highway To Hell a Back In Black. Čosi som si v dávnych dobách i napálil, ale po nudnom a nevýraznom sklamaní nazvanom Ballbreaker (1995) som na skupinu zanevrel. A to až do albumu Black Ice, ktorý som si po vydaní kúpil len tak a vcelku sa dá. Fór je v tom, že jediná použiteľná "výberovka" toho, čo od AC/DC chcem, je vlastne album Live (1992). Ten som mal dlho napálený, ale v čase Covid-karantény som sa opäť obzeral, či neexistuje nejaké elegantné riešenie. A naskytla sa možnosť kúpiť si dvojdiskovú verziu Collector's Edition.
Okrem chýbajúceho kúsku Big Gun (titulný song k filmu Last Action Hero z roka 1993) je to veľmi vydarená kolekcia skladieb obsahujúca prakticky celý prierez tvorbou a so všetkými hitmi, ktoré si človek pamätá z videoklipov. Turné k The Razors Edge zachytilo kapelu v skvelej forme. Na dvojdiskovej edícii je pôvodná prirodzená kolekcia hitov doplnená o niekoľko skladieb, ktoré pochádzajú ako z 80. rokov, tak z obdobia s Bonom Scottom. A práve tieto ukazujú AC/DC ako kapelu, ktorá dokáže zahrať aj viac ako párminútové odrhovačky "na jedno brdo". Jailbreak má takmer štvrť hodinu, Let There Be Rock dvanásť minút a High Voltage desať a pol minúty. Počúvať Angusa, ako to mydlí na gitare, je zážitok.
Ono, samotná hudba ničím neprekvapí. Je to AC/DC. Johnson s kovovým hrdlom škrieka o dušu, rytmika šliape, no a sólová gitara si robí, čo chce. Pravdepodobne každý rockový poslucháč si pri niektorej skladbe dokáže zanôtiť s kapelou, keď už nie slová, tak aspoň melódiu. Ozaj! Ako kuriozitka je na rozšírenej edícii zaradená minútová skladba Bonny, čo je popevok z jednej starej írskej ľúbostnej balady. Keby jej nebolo, nič sa nestane, ale tak, je tu pre zberateľov.
Jediná nevýhoda kolekcie sa vtelila do dlhých niekoľko sekundových páuz medzi skladbami, čo narúša ilúziu koncertu. Zvyknúť sa na to dá, ale myslím si, že ich mohli zrušiť (alebo aspoň výrazne skrátiť).
Som rád, že som si tento dvojdiskový variant zaobstaral. Priamočiary hard rock, štipka blues, známe skladby, v podstate nič viac od kapely nepotrebujem.
Skladby:
CD1:
Thunderstruck 6:34
Shoot To Thrill 5:23
Back In Black 4:28
Sin City 5:40
Who Made Who 5:16
Heatseeker 3:37
Fire Your Guns 3:40
Jailbreak 14:43
The Jack 6:56
The Razor's Edge 4:35
Dirty Deeds Done Dirt Cheap 5:02
Moneytalks 4:21
CD2:
Hells Bells 6:01
Are You Ready 4:34
That's The Way I Wanna Rock' N 'Roll 3:57
High Voltage 10:32
You Shook Me All Night Long 3:54
Whole Lotta Rosie 4:30
Let There Be Rock 12:17
Bonny 1:03
Highway To Hell 3:53
T.N.T. 3:48
For Those About To Rock (We Salute You) 7:09
Zostava:
Brian Johnson: spev
Angus Young: gitara
Malcolm Young: gitara, vokály
Cliff Williams: basa, vokály
Chris Slade: bicie, perkusie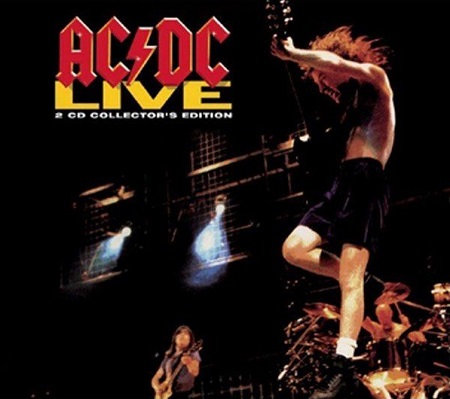 Live – 2CD Collector's Edition
AC/DC
hard rock
Albert
1992
CD
23