Predstavte si troch výborných a rešpektovaných hudobníkov, ktorí sa spojili čisto náhodne, pridajte k tomu rozhodnutie, že namiesto doprevádzania iných hviezd začnú vydávať albumy, pričom každý bude obsahovať deväť skladieb a muzikanti prispejú rovnakým dielom – teda 3 kompozíciami, potom si môžete začat vytvárať predstavu o tom, o čom sú vlastne The Aristocrats. 
Chlapci sa pripomenuli štvrtou štúdiovkou You Know What…?, na ktorej produkujú hudbu, na ktorú by bol hrdý i Frank Zappa, s prístupom a postojom, ktorý nepatrí do tohto storočia a je o to lepší. Trio The Aristocrats tvoria gitarista Guthrie Govan (Asia/GPS, Steven Wilson, Hans Zimmer), basgitarista Bryan Beller (Steve Vai, Joe Satriani, Mike Keneally, Dethlok) a bubeník Marco Minnemann (Adrian Belew, UKZ, Steven Wilson, Joe Satriani, Necrophagist, Steve Hackett, plus 20 sólových albumov).
Z hudobného hľadiska je to od základov sympaticky vybudovaný a vymakaný materiál, pričom každý muzikant rešpektuje ostatných kolegov, takže pri počúvaní skladieb vlastne nie je možné určiť, ktoré z nich sú dielom gitaristu, s čím prišiel basgitarista alebo čo zložil bubeník. Je to krajina funky, s otázkami i odpoveďami – jazzovou fúziou, progresívnym rockom a množstvom hudby, pričom sa Aristokrati odmietajú usadiť v akomkoľvek priečinku. Jednoducho, robia to, čo sa im páči. Pre každého z nich by bolo ľahké odísť a urobiť z toho samostatný album, ale toto je skutočná skupina, bez akéhokoľvek ega. Pôsobí to dojmom, že chlapci mali v štúdiu neuveriteľnú pohodu, čo sa prejavuje aj na samotnej hudbe, ktorá je od začiatku do konca skvelou zábavou.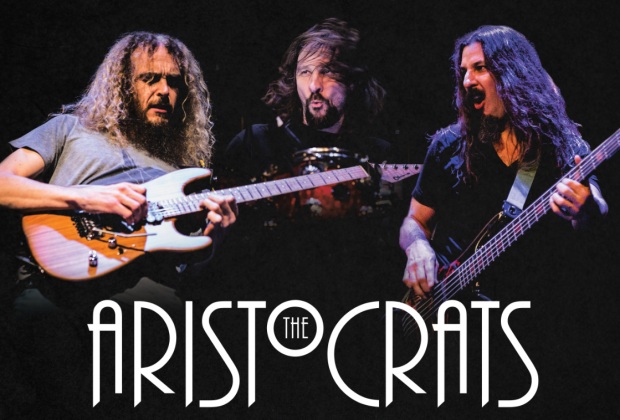 Dopĺňajú sa navzájom, prelínajú i provokujú. Keď je vhodný čas, prinášajú bezchybné basy i jemné zvuky a ak to situácia vyžaduje, otočia kormidlo. Niektoré inštrumentálne albumy Vám môžu znieť rovnako, alebo pôsobia extrémne nudne, ale títo chalani naozaj chcú, aby ste reagovali a bavili sa – rovnako ako oni. Teraz už len, aby mi niekto dokázal vysvetliť, čo symbolizujú tie dve ošípané a kura na obale CD, ale zrejme to ani netúžim vedieť.
SKLADBY:
1. D-Grade Fuck Movie Jam /Bryan Beller/ (6:31)
2. Spanish Eddie /Guthrie Govan/ (6:56)
3. When We All Come Together /Marco Minnemann/ (6:16)
4. All Said And Done /Bryan Beller/ (4:43)
5. Terrible Lizard /Guthrie Govan/ (6:30)
6. Spiritus Cactus /Marco Minnemann/ (5:59)
7. The Ballad Of Bonnie And Clyde /Bryan Beller/ (7:37)
8. Burial At Sea /Marco Minnemann/ (6:35)
9. Last Orders /Guthrie Govan/ (8:32)
ZOSTAVA:
Guthrie Govan – guitar
Bryan Beller – bass
Marco Minnemann – drums
You Know What...?
The Aristocrats
Prog Rock, Jazz Rock, Fusion
BOING! Music LLC.
2019
CD, LP
9