Od prvních tónů, které mi pronikly do sluchové soustavy, jsem ucítil vibrace, které signalizovaly, že přijde nespecifikovatelně osobitý zážitek. Tak jako už vícekrát mě tento vypěstovaný instinkt nezradil. Předobraz německé skupiny Amon Düül II byli Amon Duul. Jejich název byl odvozen od staroegyptského boha Amona. To bylo ovšem ještě ve druhé polovině šedesátých let, kdy se skupina nacházela v hlubokém undergroundu a patřila k politicky aktivním studentům, kteří na jaře 1968 stávkovali na univerzitách, čímž si vysloužili pozornost policejních složek a vládního aparátu. Od počátku sedmdesátých let jejich hudba vykrystalizovala a nabídla suverénní umělecký tvar.
SURROUNDED BY THE STARS začíná tajemnými zvuky akustických kytar, než do tématu vstoupí silné rockové téma s řeřavou elektrickou kytarou a energickými bicími nástroji podporované baskytarou, synthesizerem, varhanami, housle s tajemným bubláním a varovným syčením činelů. Nad tím se vznáší germánsky vyostřený projev anglicky zpívající Renate Knaup. Její hlas má naléhavost, ale chvíli jsem si na něj musel zvyknout – připadala mi přesvědčivější ve vyšších polohách, ale pak jsem ji akceptoval se vším všudy. Harmonické proměny a barvy se před vámi rozestírají jako plátno impresionistického obrazu.
GREEN BUBBLE RAINCOATED MAN – Po potemnělém úvodu se částečně rozjasní. Nejen hlas Renate Knaup, ale i melodická varianta německého progresivního rocku, ale jen v prvních dvou slokách, potom přijde zvrat. Skladba zrychlí svůj běh s přesně pracující rytmikou a výtečnou baskytarou, až přijde ke slovu syrová rocková kytara s wah wah pedálem s dlouhým dozvukem a následným neurotickým chvatem za podpory kláves v pozadí. Instrumentální mezihra má svou pompéznost pojetí v téměř tanečním duchu, ale stále na rockové platformě za svištění větru a varovného vrčení imaginární šelmy.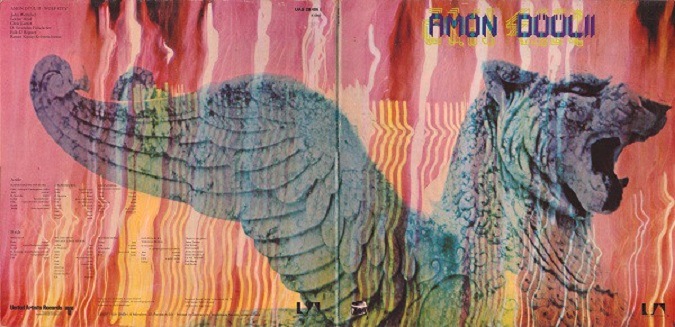 JAIL-HOUSE FROG – Rychlé tempo zůstane zachováno v germánském duchu hymnického sborového zpěvu, který posléze ustoupí klavírnímu tématu doprovázenému psychedelickými zvuky bublající vody, skřehotání ptáků, kvákání žab, záhadnými zvuky pralesa a varovným vrčením, které spojuje varhanní sound do jednoho celku. Velmi zvláštní skladba už na první poslech. Hned potom se vrací zpět úderné rockové téma s připojeným saxofonem.
WOLF CITY – Tohle je underground až do morku kostí. Tajemné zvuky v úvodu připomenou vlčí vytí a poté se skladba pumpujícími rytmy za absolutní sevřenosti rozbíhá vpřed s tajemně znějícími vokálními přiznávkami, jimž vévodí nakřáplý šamansky znějící hlas (jakoby předobraz Kurta Cobaina!?). Velmi sugestivní celek s emocionálním dopadem, ale ještě z toho nejsme venku!
WIE DER WIND AM ENDE EINER STRASSE – Tajemné ponuré zvuky v úvodu a náhlý zlom nás přivede do psychedelické meditace. Přítomnost indických instrumentů navodí rozpínavost mysli orientálních témat. Nad strojovou rytmiku se vznáší varhanní a synthesizerový opar, sférické ornamentální housle, ale i saxofon. Po předešlých depresivních obrazech velmi podmanivé a vnitřně uvolňující. Jako indická rága je skladba v závěru uváděna do účinné katarze a astrálního nekonečna.
DEUTSCH NEPAL nás ale zase vrací do hutného rockového tématu, téměř wagnerovského germánského eposu. Jediná zpívaná skladba v němčině připomene v patetickém projevu (s odkašláváním) jednoho nebezpečného čalouníka s knírkem, který fatálně ovlivnil osudy Evropy první poloviny minulého století.
SLEEPWALKER'S TIMELESS BRIDGE ovšem přináší opět harmonické uvolnění a kouzlení akustických a elektrických kytar s výtečnou baskytarou, varhanami do téměř rozjásaného tvaru. Jsme ale stále na rockové půdě a skladba je hnána s velkou energii vpřed, za podpory agresivní Weinzierlovy elektrické kytary. Závěrečná fáze promění rytmickou strukturu a přivádí do harmonií zpěv s mellotronovým oblakem nad dusající rytmikou a zvoněním akustických kytar až do finále.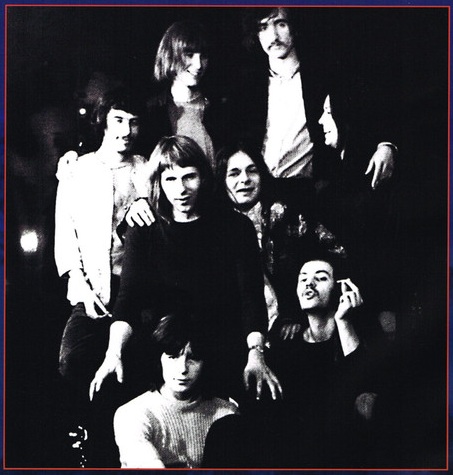 Výlet za progresivní německou hudbou první poloviny sedmdesátých let skončil. Když si člověk uvědomil, že za Berlínskou zdí se v masových dryáčnických estrádních pořadech Ein Kessel Buntes hrála taková hudba, jaká se hrála – Amon Düül II mi připadají jako hudební signál z Marsu a představa, že by ulbrichtovsko-honeckerovské NDR něco takové pustilo do televize, vysílající i na východ od jejich hranic, mě uvádí na pokraj fantasmagorie.
Pět hvězdiček dávám zcela vědomě!
SKLADBY:
1. Surrounded By The Stars (7:46)
2. Green-Bubble-Raincoated-Man (5:04)
3. Jail-House Frog (4:54)
4. Wolf City (3:20)
5. Wie Der Wind Am Ende Einer Strasse (5:42)
6. Deutsch Nepal (3:00)
7. Sleepwalker's Timeless Bridge (4:55)
SESTAVA:
Renate Knaup – vocals
Chris Karrer – 6- & 12-string acoustic & electric guitars, violin (1,5,7), soprano sax (3)
John Weinzierl – electric guitar, vocals (3,4)
Falk Rogner – organ, clavioline, synthesizer (5)
Lothar Meid – bass, bass synthesizer (1), vocals (3,4)
Daniel Fichelscher – drums, vocals (4,7), electric & acoustic guitars (7)
+
Rolf Zacher – vocals (3,6)
Peter Leopold – vocals (3), synthesizer (2), kettle drums (5)
Olaf Kübler – vocals (3), soprano sax (5), co-producer
Jimmy Jackson – piano (1,3,6), choir organ (1-3,6)
Peter Kramper – synth (3)
Al Sri Al Gromer – sitar (5)
Paul Heyda – violin (5)
Pandit Shankar Lal – tablas (5)
Liz van Neienhoff – tambura (5)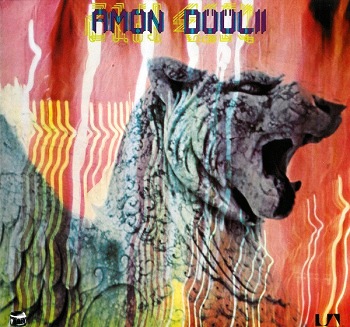 Wolf City
Amon Düül II
Krautrock, Psychedelic Rock
United Artists Records
1972
LP
7