The Allman Brothers Band je pro mě ryzí americká skupina každým coulem. V jejich melodiích a instrumentálním uchopení je krásně cítit, že taková hudba nemůže vzniknout nikde jinde než na americkém Jihu. Domnívám se, že v plejádě dalších kapel tzv. jižanského rocku se právě oni dotkli toho pomyslného Parnasu a jasným způsobem potvrdili svoji neopakovatelnost. Třebaže jim Lynyrd Skynyrd, Black Oak Arkansas, The Ozark Mountain Daredevils, Sea Level, Wet Willie a další dýchají na záda, osobně se domnívám, že právě The Allman Brothers Band lze vnímat jako krále na trůnu daného žánru.
Velmi smířlivě působí obal alba, na nemž malý chlapec šťourá klackem do listnaté půdy, zatímco uvnitř obalu se krásně vyjímá vzájemná lidská pospolitost mužů, žen a dětí amerického Jihu. Album Brothers And Sisters možná ztratilo původní ostří a větší razanci (Duane Allman byl opravdu velkou kytarovou personou, jehož ztráta byla citelná), ale na druhé straně se skupina v žádném případě nepropadla do nějakého hudebního suterénu a tímto dílem deklarovala svůj nový hudební názor, který byl stále ukotven v tematickém prolínání rock and rollu, blues, boogie a jižanského country, odlišného od standardního (místy poněkud kýčovitého) nashvillského soundu.
WASTED WORDS se nese ve správném odvazovém tónu. Skladba šlape ve středním tempu. Dickey Betts, který po Duanovi Allmanovi převzal roli sólujícího kytaristy, ohýbá tóny velmi přesvědčivě, také klavír Chucka Leavella má správný odpich a rytmika šlape ve správných proporcích, zatím co Greg Allman stylově frázuje a celek zní velmi přesvědčivě.
RAMBLIN' MAN – Ano, tohle je pravá hudba pro trucky na dálnicích, které lemují nekonečné prérie USA. Dickey Betts si skladbu sólově zazpívá a správně tepající rytmika, klavírní doprovody a kytarové ornamenty prokreslují píseň v bezprostředním duchu s příjemnou zpěvností. Tohle je jižanské country podle mého gusta. Hostující kytarista Les Dudek zároveň ví něco o gradování napětí ve skladbě a tak klouzavě a s hadovitou ohebností sází tóny jako drobné mince do automatu.
COME AND GO BLUES – Klavírní běhy a a přesné kytarové doprovody sekundují Gregu Allmanovi v jeho interpretačním projevu. Kytarové akcenty se propojují s klavírem a upozadněnými hammondkami. Leavell krásně a se suverénním tahem na bránu sází klavírní tóny. Allman má lehce přiškrcený timbr v hlase a slušelo by mu více přitlačit na ostří. V mezihře si jednotlivé instrumenty krásně podávají dané téma s opravdovou sebejistotou a zpěvností. Harmonicky relativně pestrá bluesová forma se správným odpichem a švihem, jak je mezi jižanskými rockery poměrně běžně zvykem.
JELLY, JELLY je blues podle tradičních pravidel, v tempu, harmonickém uchopení, s tremolem hammondek, klavírním doprovodem a Bettsovými kytarovými vyhrávkami. Greg Allman si v uprostřed skladby dopřeje sólo na hammondky. Ne nijak omračující, ale přesto stylotvorné. Střídá ho brilantní Leavell na klavír, který nijak nezastírá jazzovou průpravu z minulosti. Píseň krásně graduje. Betts si skvěle pohrává se svým kytarovým tónem a dovádí skladbu do závěru.
SOUTHBOUND představuje energičtější příspěvek. Už od první skladby si uvědomujeme jistou anomálii – ve skupině hrají dva hráči na bicí nástroje a neustále šlapou jako dobře namazaný motorový dvoutakt. Nijak neexhibují, ale drží tempo a jsou přesní jako hodinky. Klavírní pasáže a Bettsovo kytarové kouzlení je hráno opravdu s velkým napětím, ale i nadšením. Rockandrollový sound dodává hlavně Leavell a k tomu ta hutná rytmika. Žádná nuda, ale plnokrevné muzikantství a sólové vstupy podle všech pravidel žánru. Žádná tónová zkreslení, ale jasné barvy, stále cítíte velké nasazení.
JESSICA – Akustické kytary rozběhnou další skladbu a Dickey Betts se svou slide kytarou prokresluje atmosféru. Zdá se, že právě zde definitivně potvrdil svou legitimitu hráčského sidemana po všech stránkách a ostatní to plně respektují. Les Dudek si zahraje svoje akustické vstupy na kytaru a opět výtečný Chuck Leavell nabídne svoje klavírní kreace. Vynikající instrumentální příspěvek po všech stránkách, který s neutuchající energií působí jako přílivová vlna Mexického zálivu do plání amerického Jihu.
PONY BOY – Zase tu máme blues v klasičtější podobě se základní instrumentací a správným frázováním. Akustické kytary a klavír se krásně propojují s jednoduše šlapajícím rytmem. Betts si zároveň zazpívá a ve víceméně poklidném tempu je skladba vedena až do závěru. Ryze americké a přímočaré, bez nadměrných kudrlinek.
Albu zcela určitě prospěla digitalizace, protože původní záznam byl zvukově velmi zahlcený poněkud utopeným zvukem, bez nějakého nápadného odlišení ve výškách, středech i basech, což samotné hudbě docela ubližovalo. Vrcholný majstrštyk skupiny, Live In Fillmore East (1971), asi zůstane nepřekonán, ale i tak tohle album, alespoň podle mého soudu, vedle zmíněného krále patří jako "kralevic" hned za něho. Dávám pět hvězdiček, aniž bych byl ovlivněn nějakými žebříčkovými postaveními tohoto díla.

SKLADBY:
1. Wasted Words (Allman) 4:20
2. Ramblin' Man (Betts) 4:48
3. Come And Go Blues (Allman) 4:55
4. Jelly, Jelly (Allman) 5:46
5. Southbound (Betts) 5:10
6. Jessica (Betts) 7:31
7. Pony Boy (Betts) 5:51
SESTAVA:
Gregg Allman – lead vocals (1, 3, 4, 5), background vocals (2), organ (2, 3, 4, 5, 6) & rhythm guitar (1)
Richard Betts – lead vocals (2, 7) lead (2, 3, 4, 5, 6) and slide (1) guitar, dobro (7)
Berry Oakley – bass (1, 2)
Lamar Williams – bass (3-6), acoustic bass (7)
Chuck Leavell – piano (1-7), electric piano (3, 6), background vocals (2)
Jaimoe – drums, congas
Butch Trucks – drums, percussion, tympani, congas
+
Les Dudek – lead guitar (2), acoustic guitar (6)
Tommy Talton – acoustic guitar (7)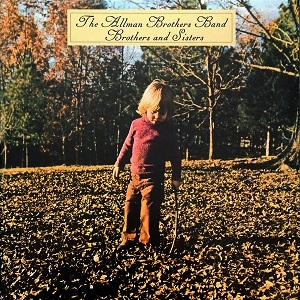 Brothers And Sisters
The Allman Brothers Band
Southern Rock, Blues Rock
Capricorn Records
1973
LP
7